Calamansi Juice is the Filipino version of lemonade and limeade. It is super refreshing and best served ice cold.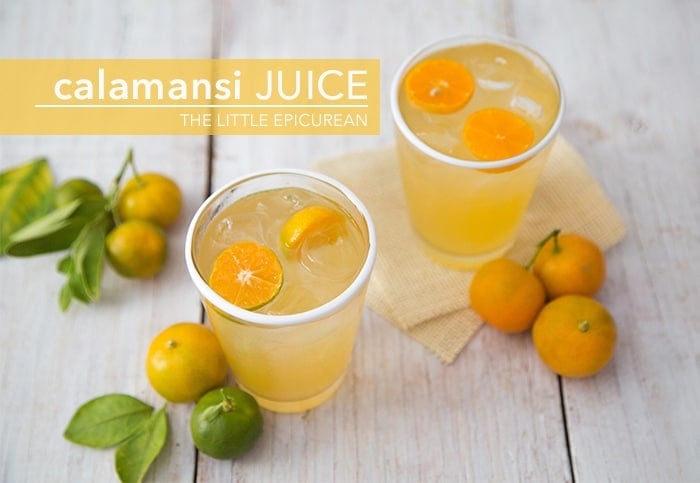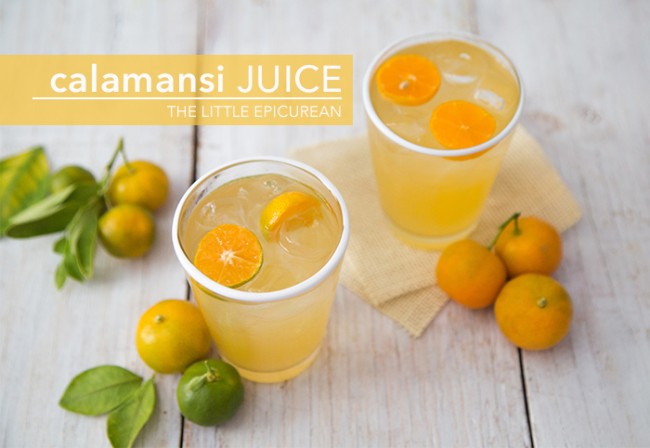 As I've mentioned in previous posts, my dad is an avid gardener. Growing up, he introduced me to all sorts of gardening know-how, from how to deal with weeds to when to pick fruits.
Ever since he has retired, his garden has multiplied and flourished. He has all sorts of fruit trees thriving in the backyard: Fuji apples, persimmons, avocados, pomelos.
But one tree that bears fruit all year long- the calamansi tree, better known in America as calamondin.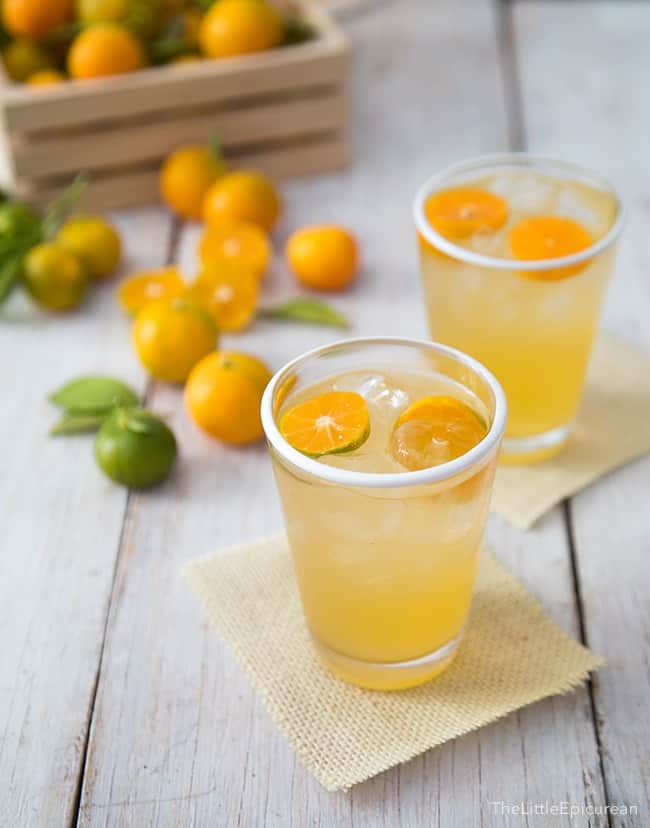 What is Calamansi Fruit?
Calamansi (also spelled kalamansi) is used extensively in Filipino cooking– it's squeezed on pancit noodles, used a marinade for meats, and used to make desserts.
It also has multiple purposes outside of the kitchen as well. I've heard people use it as a whitener for dark knees and elbows and as an alternative to bleach for lightening hair.
Calamansi is a citrus fruit similar to lemon and limes. It is often called calamondin in America.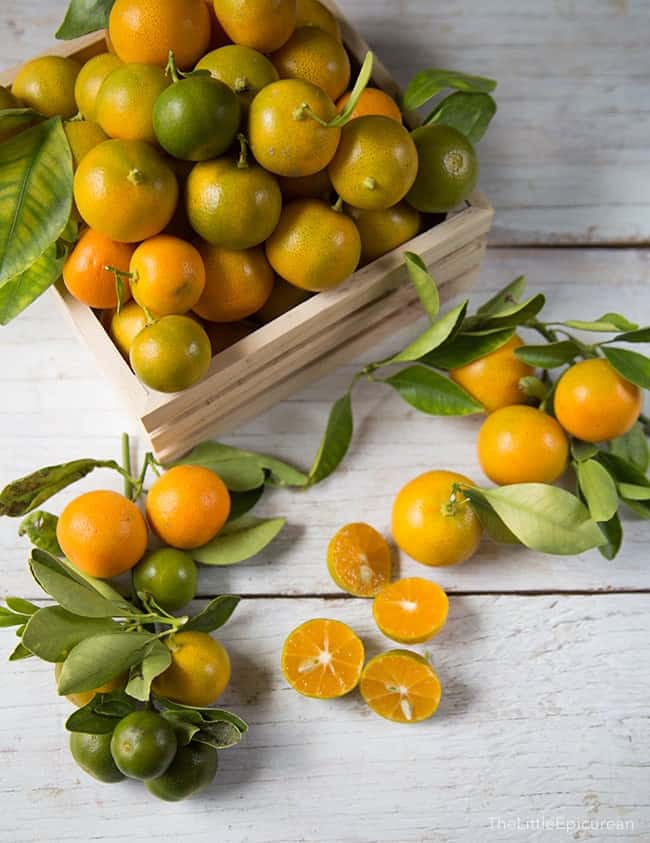 The calamansi starts off as a green fruit and slowly turns yellow-orange as it matures on the tree. You can use it at either stage. Regardless of the skin color, the juice will be very tart.
The photo above only shows a quarter of what my dad and I harvested that particular day. His calamansi tree bares this much fruit all year long, which makes him pretty popular among my mom's cooking friends.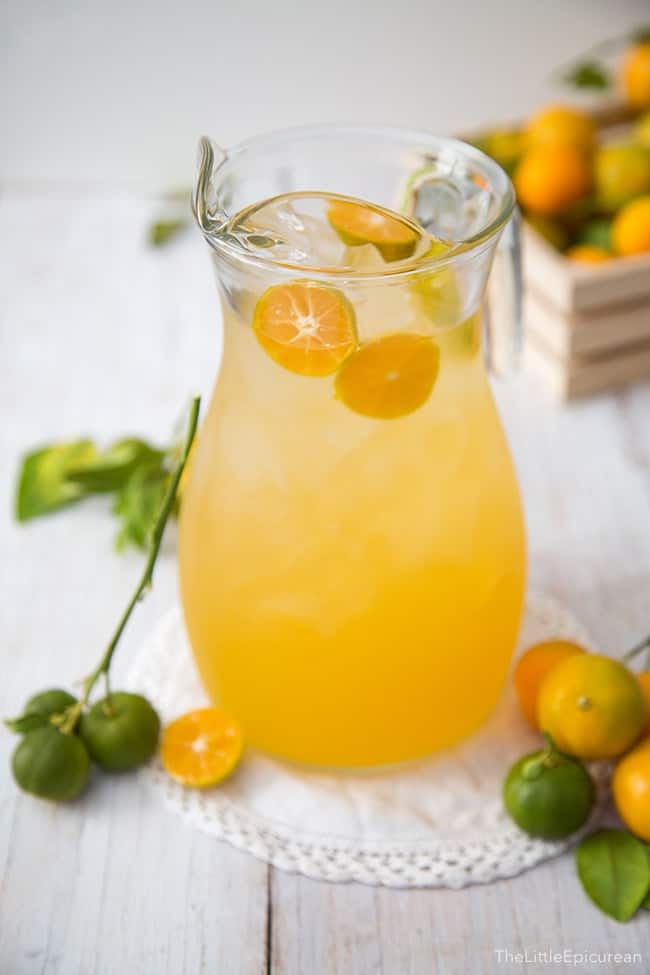 How to make Calamansi Juice (Filipino Lemonade)
Calamansi juice is excellent with honey and sugar. It is pretty similar to lemonade and just as refreshing. It tastes like a lemonade-limeade hybrid, but more tropical and aromatic.
My parents would make me calamansi honey ginger tea whenever I had a sore throat as a kid. And for as long as I can remember, I've been making calamansi juice ever summer.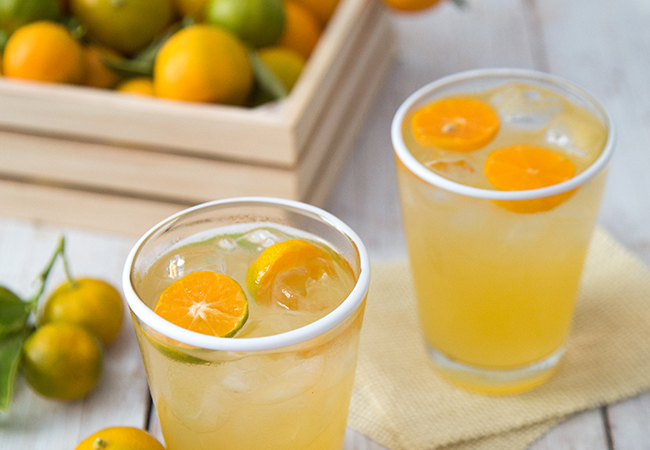 Calamansi Juice (Filipino Lemonade)
Calamansi Juice is the Filipino version of lemonade and limeade. It is super refreshing and best served ice cold.
Yield: about 1 quart
Ingredients
1

cup

fresh squeezed calamansi juice, discard seeds and skin

2

cups

water

¾ -1

cup

simple syrup,

depending on desired sweetness

ice,

to serve
Simple Syrup:
1

cup

water

1

cup

granulated sugar
Instructions
In a pitcher, combine calamansi juice, water, and 3/4 cup simple syrup. Stir to combine. Store in fridge until chilled.

Stir before serving. Serve with ice. Add more water or simple syrup to your liking.
Simple Syrup:
In a sauce pot, bring water and sugar to a boil until sugar has dissolved. Remove from heat and allow to cool to room temperature. Store excess syrup in the fridge and use within 2 weeks.
Notes
Since I like to serve calamansi juice with a lot of ice, I keep my recipe a little on the tart/sour side.  As the ice melts, the calamansi juice won't get watered down.