Boozy frozen pops! These mango lassi popsicles are spiked with dark rum.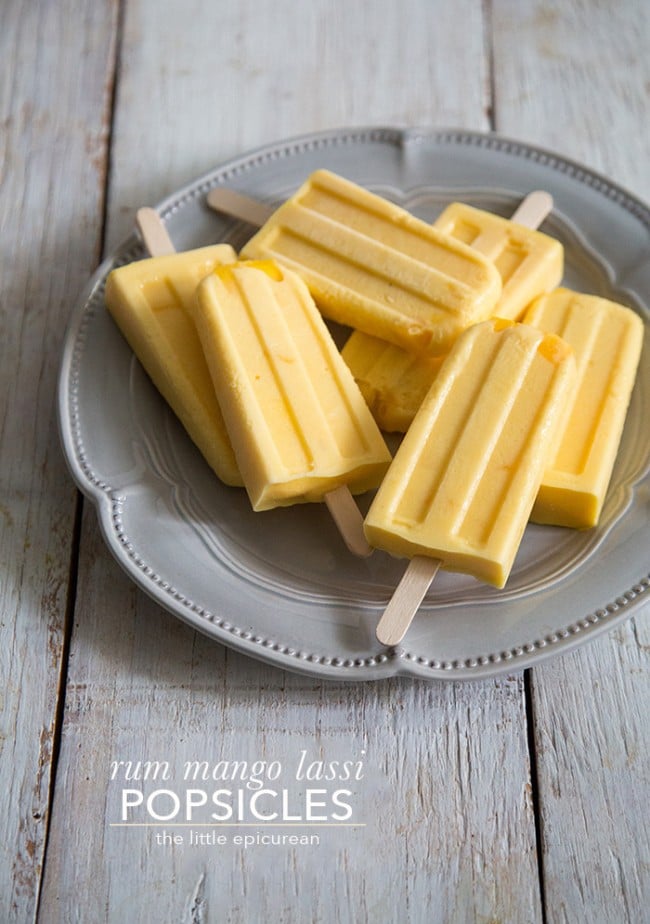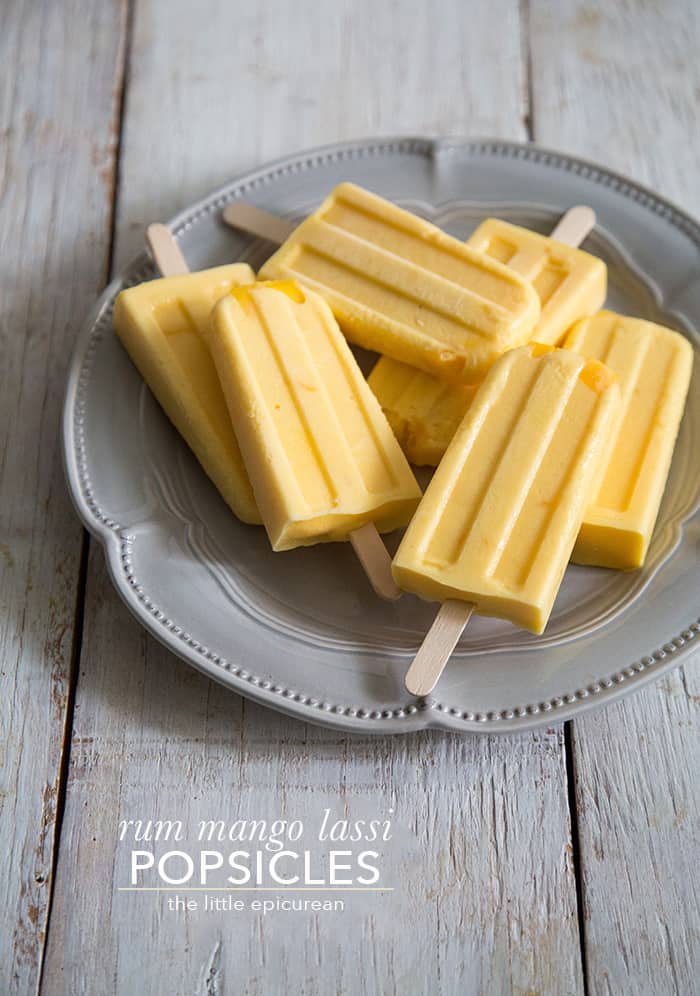 Popsicles are frozen and alcohol doesn't freeze. Technically alcohol DOES freeze, however only a super freezer will ever fall to that temperature.
However, that shouldn't discourage you from making boozy pops!
There is a fine balance when it comes to freezing liquids with alcohol. If you strike the right amount, you'll be rewarded with a tasty treat.
If you happen to add a little too much booze, have no fear. The popsicles will not freeze solid. But, you will end with a delicious slushy alcoholic beverage instead!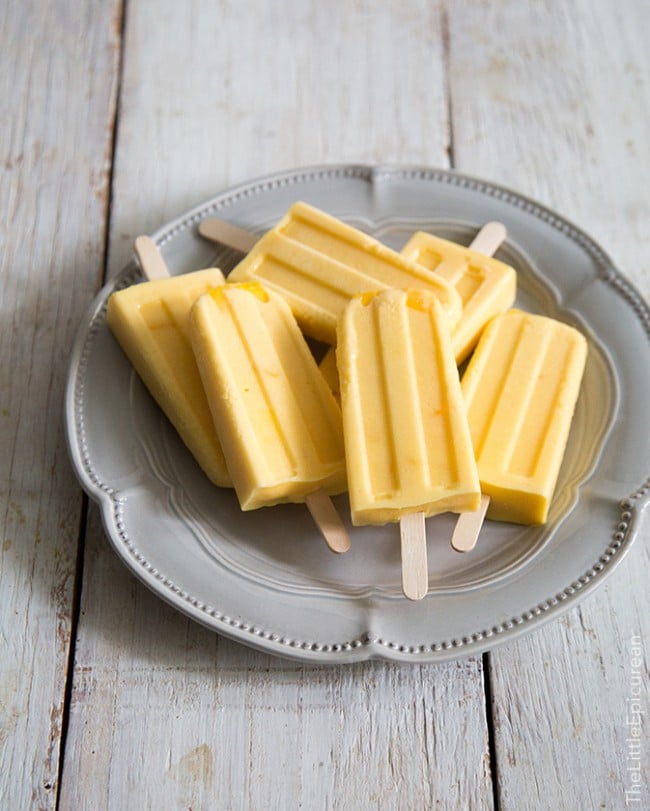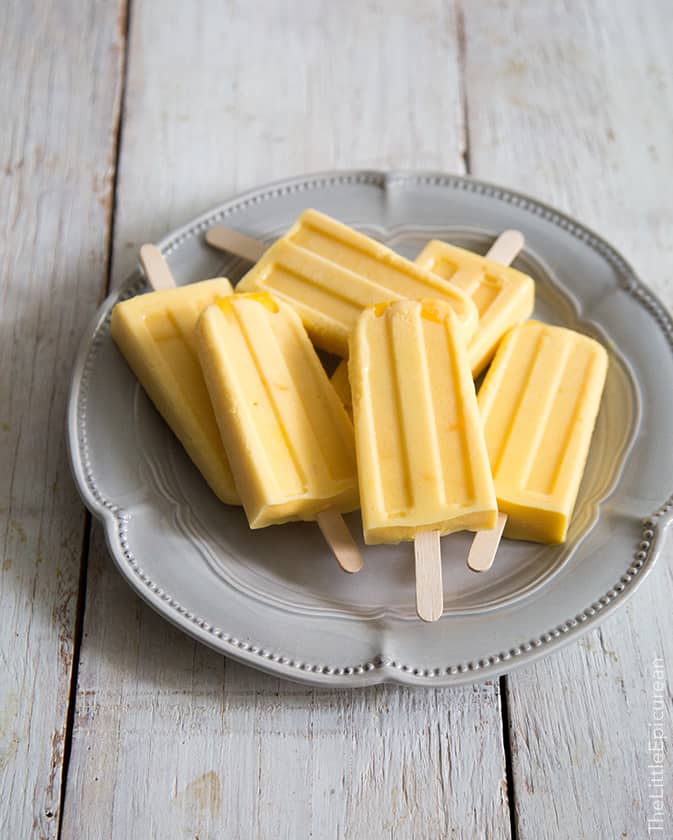 Frozen Mango Lassi Pops
This mango lassi is super simple and easy to make. Simply throw together frozen mango chunks, some yogurt, a splash of milk and little bit of sugar.
The recipe can be made with fresh or frozen mango. If you don't have mango, you may substitute in other fruits as well. Stone fruits like peaches, plum, and apricots work well. Other soft fruits like strawberries and raspberries are great alternatives, too!
Tips for making boozy pops
I recommend using this popsicle mold. These flexible silicone molds are another great option.
Don't be tempted to add more rum than the listed amount in the recipe. Adding too much alcohol will result in a popsicle that will break and fall apart when trying to unmold.
I used low-fat yogurt, however, you may use any yogurt fat of your choice. The more fat content, the creamier the pop.
Use ripe mangos! Adding more sugar than the listed amount will also affect the texture of the resulting popsicles. Too much sugar will prevent the pops from freezing solid.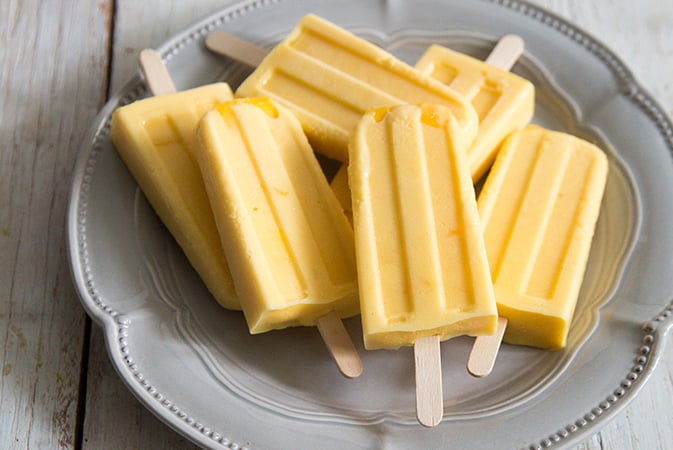 Rum Mango Lassi Popsicles
Boozy frozen pops! These mango lassi popsicles are spiked with dark rum.Yield: 12 popsicles
Ingredients
2 ½

cup

mango chunks,

fresh or frozen

1

cup

plain low-fat yogurt

¼

cup

whole milk

¼

cup

granulated sugar,

adjust according to mango sweetness

½

cup

dark rum

additional mango chunks,

if desired
Instructions
In blender, combine mango, yogurt, milk, sugar and rum. Process until smooth.

Add additional mango chunks to popsicle mold. Fill popsicle molds with mango lassi.


Place in freezer and let chill for 1 hour. Remove from freezer and insert wooden sticks in molds. Return to freezer for another 4 hours until popsicles are solid.