Rosemary Blackberry Limonata is a refreshing beverage that combines berries and lemon with vodka. It's a bright and colorful drink to enjoy all year long!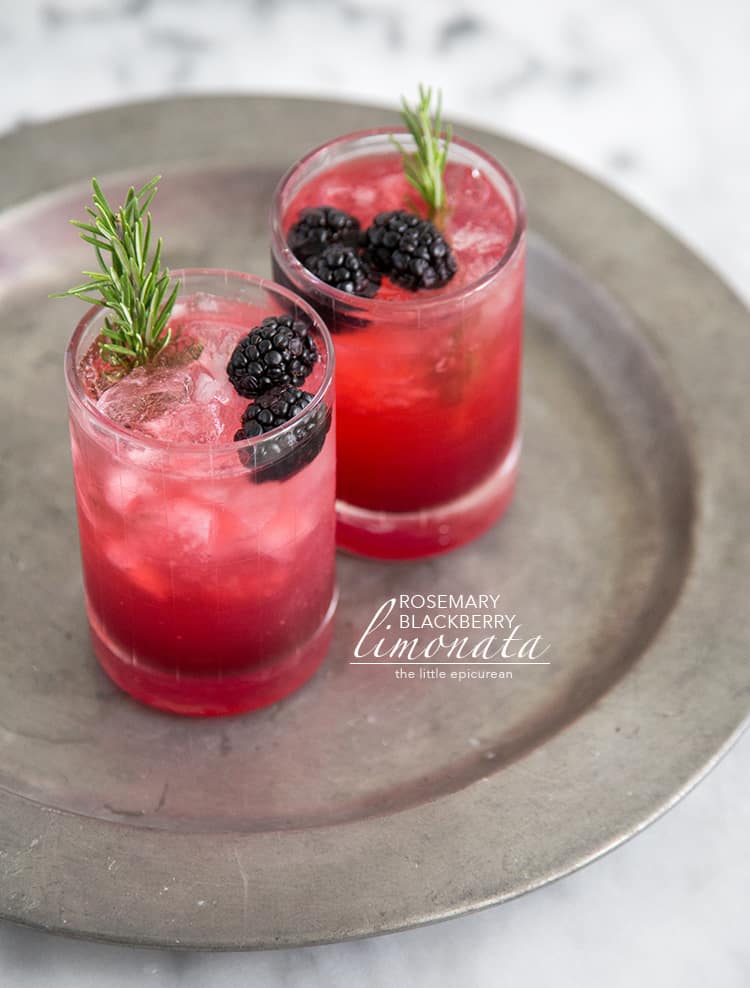 I don't know about you, but I've already seen my fill of eggnog, mulled wine and hot chocolate.  
Every time I turn on my car or enter a store, I'm bombarded with holiday music.  
I've already grown tired of Christmas music when the big day is still weeks away!
I love all the giving, cheer, and happiness that stems from the holidays.  
But I do need a break from the rest of the holiday hoopla. I need a sip of this rosemary blackberry limonata!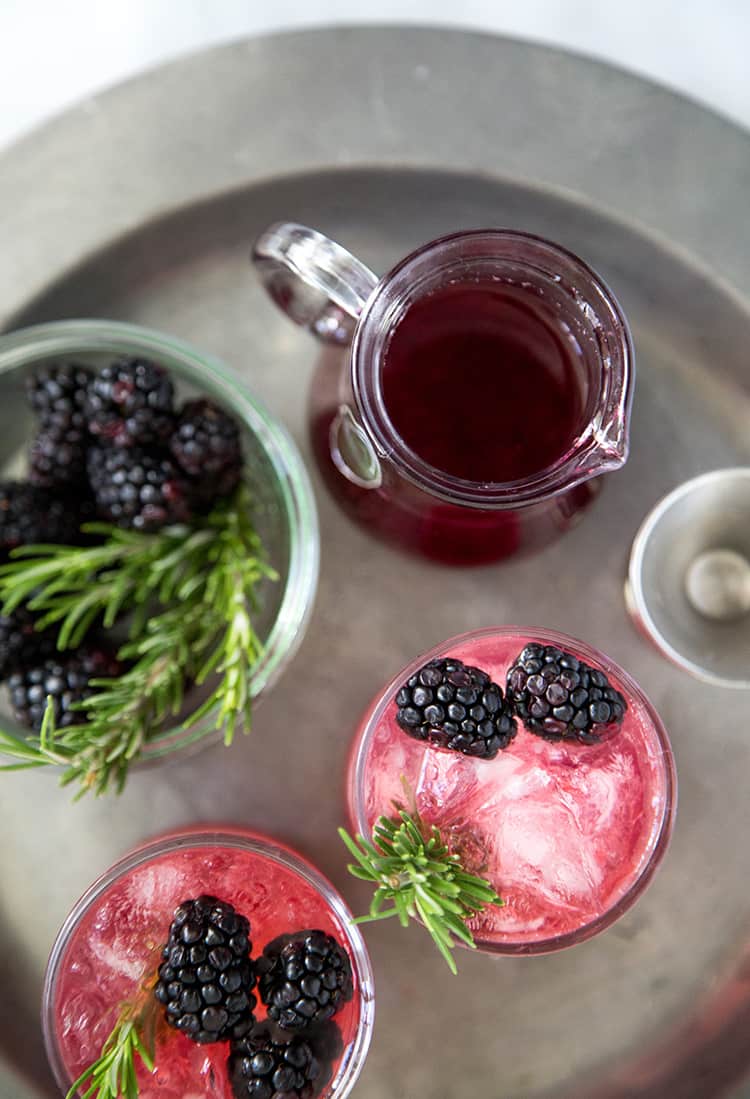 Vodka Holiday Cocktail
For the most part, my cocktail recipes are inspired by what I found at the market, what I drank at a restaurant/bar, or something relating to the season. And then some cocktails are born spontaneously.
This particular cocktail was the product of a visit to my fridge.  
On this particular day, I opened the fridge and saw a bowl of blackberries beside a container of rosemary.  
Once I pulled those ingredients out, I found a lonely can of limonata (sparking lemon soda).  The brain started ticking and I grabbed the vodka.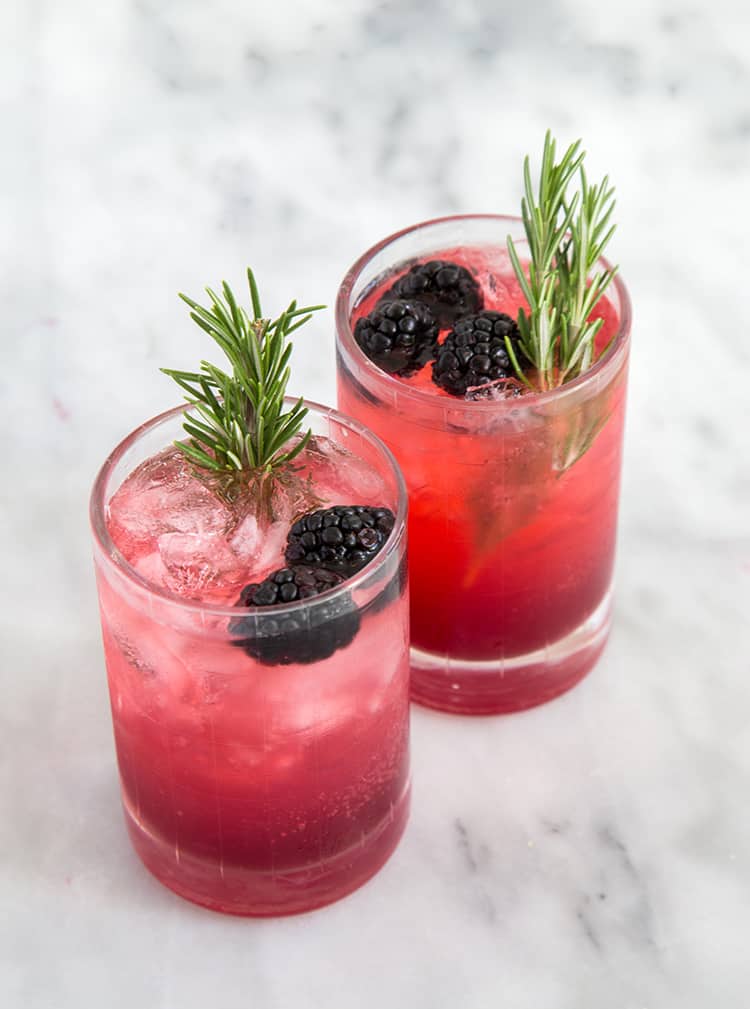 I knew these items would come together to create one heck of a cocktail.
While a majority of traditional holiday beverages are suited for cold, wintery weather, they're not that refreshing.  
A mug of hot chocolate with melted marshmallow doesn't exactly quench one's thirst.
I need something cool, fresh, and bright to reinvigorate my holiday cheer!  
And this vodka holiday cocktail does the job wonderfully.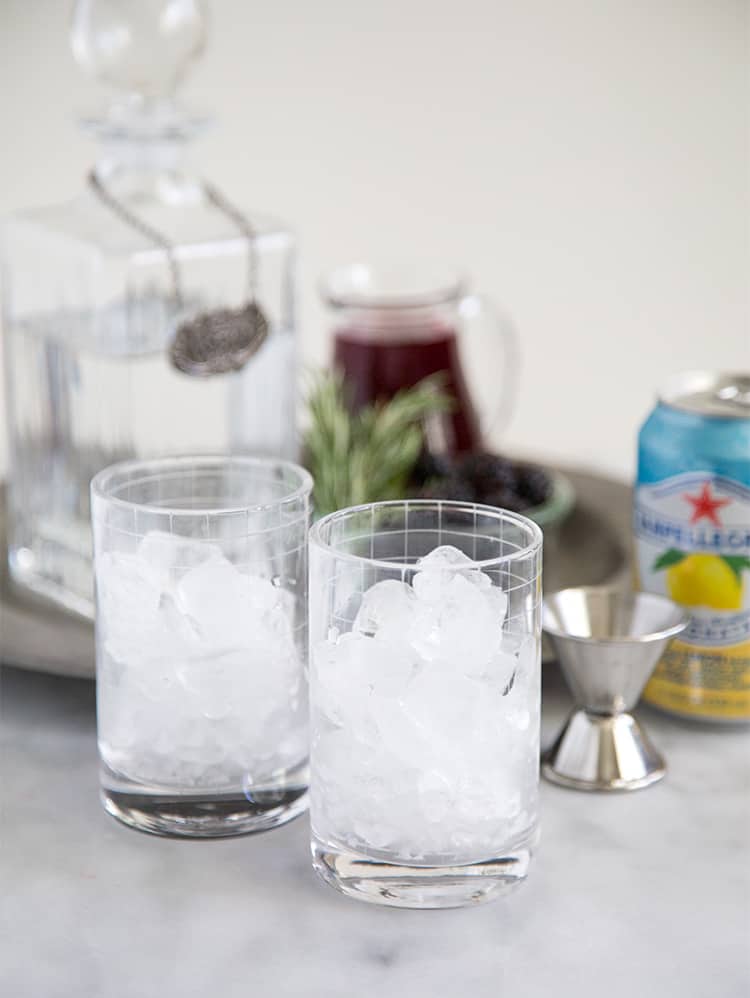 Assemble the Cocktail
1. Fill serving glasses with ice.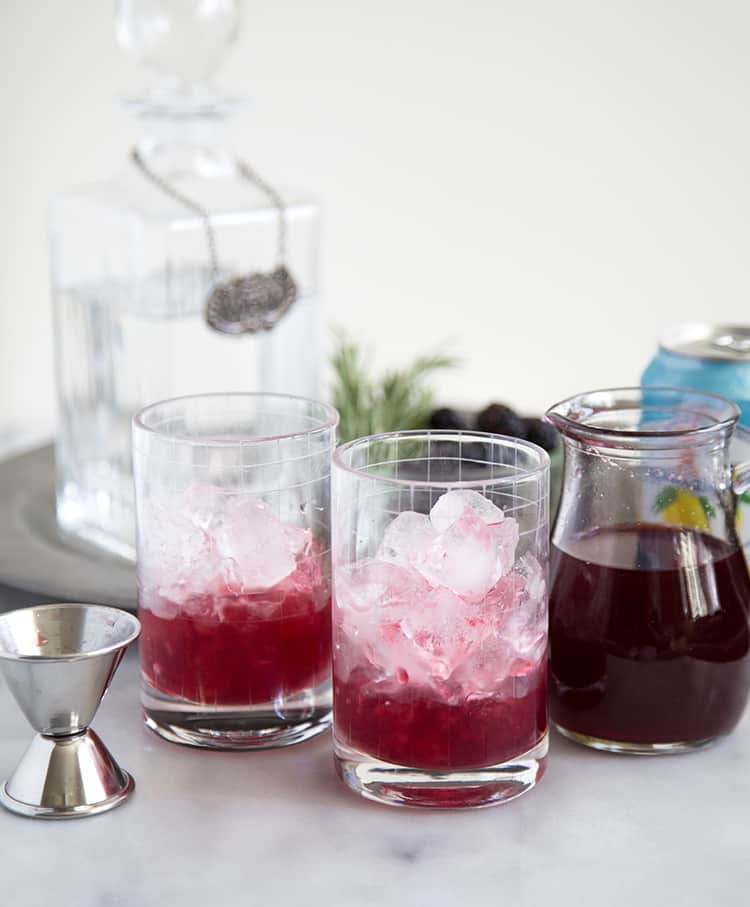 2. Add 1.5 oz of rosemary blackberry syrup.  
Rosemary Blackberry Syrup for Cocktails
This syrup is super easy to make.  
Combine water, sugar, blackberries, and rosemary in a pot and bring it to a boil.  
Steep mixture for about 20 minutes to extract the perfect amount of rosemary essence.
Strain out the rosemary sprig. And voilà, you've got homemade rosemary blackberry syrup.  T
his same technique can be used to pretty much make any herb-fruit syrup you'd like.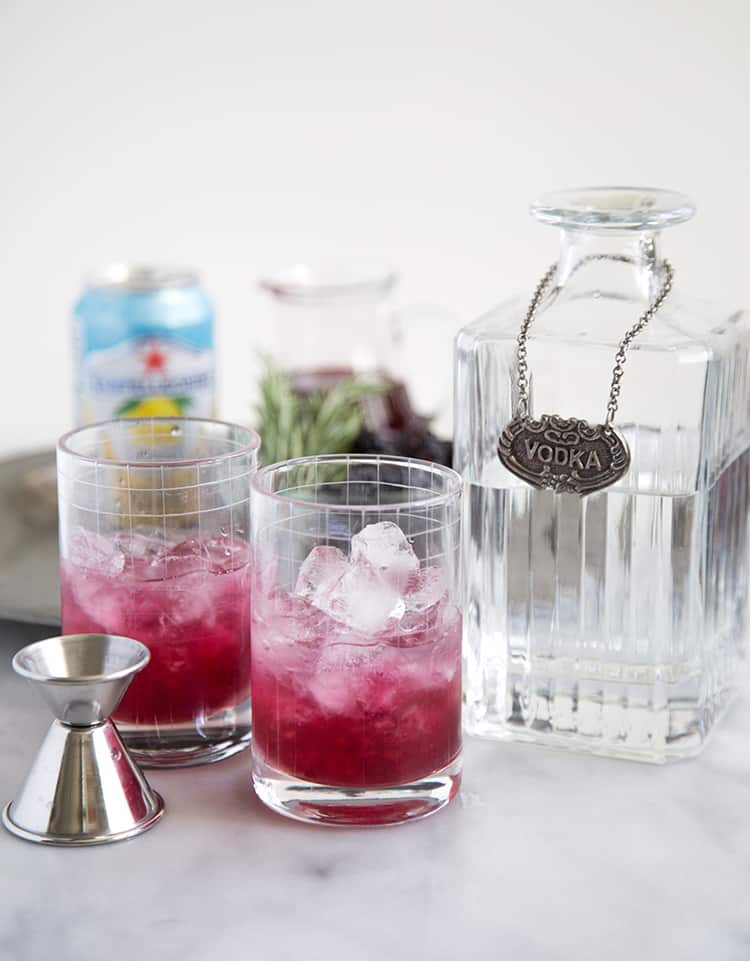 3. Add 1.5 oz vodka.  Gin is a great substitute as well.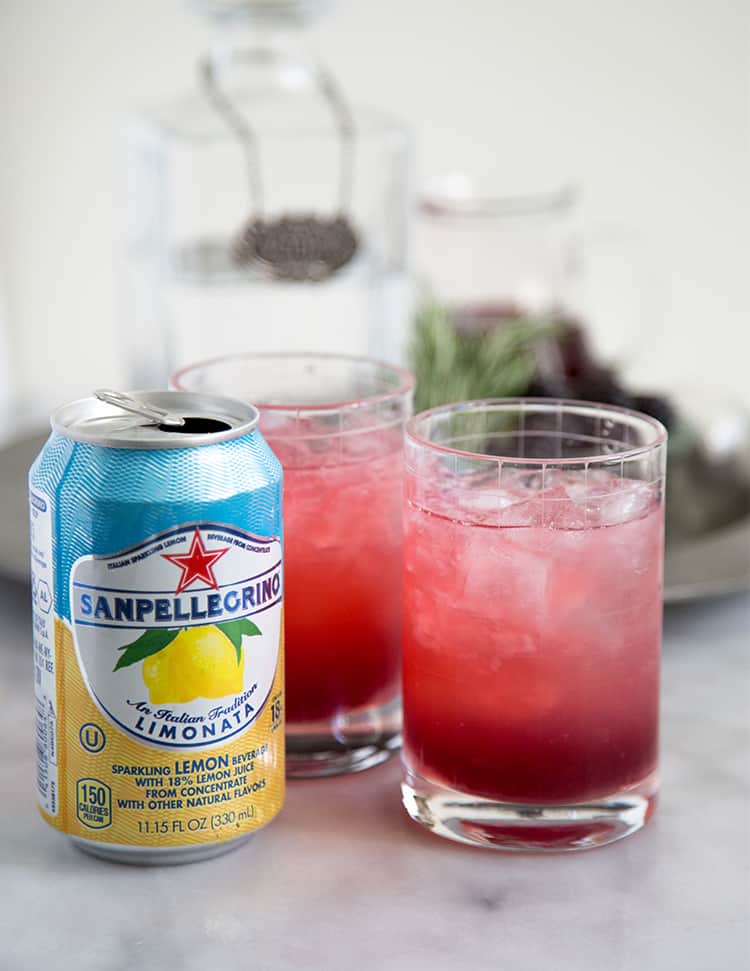 4. Final step, add 3 oz of limonata or any sparking lemon soda.  If you don't want fizz, lemonade works beautifully.  Stir to combine drink.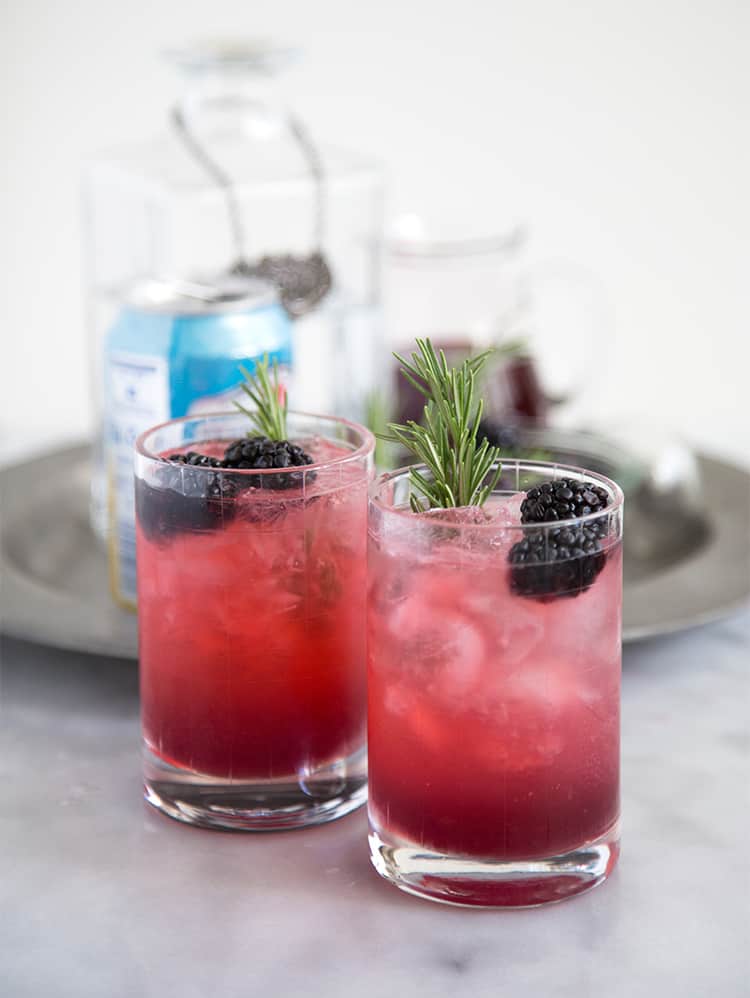 To make the cocktail visually appealing and fancy, garnish the finished cocktail with a fresh sprig of rosemary and a couple blackberries. CHEERS!
Ready for another sip? Here are some other holiday cocktails you might enjoy:
Apple Ginger Punch is a delicious concoction of apple cider, ginger beer, pomegranate juice, bourbon, and sparkling wine. 
Spiced Whiskey Cobbler mixes together spiced whiskey, spiced simple syrup, and muddled orange. 
Bourbon Pumpkin cocktail features warm spices and homemade pumpkin butter.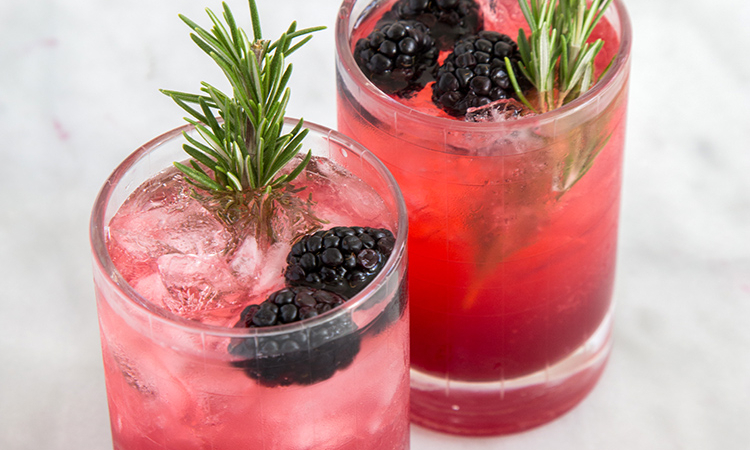 Rosemary Blackberry Limonata
A colorful and refreshing beverage that combines berries, lemon, and vodka.
Ingredients
Per Cocktail:
1 ½

oz

rosemary blackberry syrup (recipe follows)

1 ½

oz

vodka

3

oz

limonata, or sparkling lemon soda

fresh rosemary sprigs, to garnish

fresh blackberry to garnish
Rosemary Blackberry Syrup:
1

cup

water

¾

cup

granulated sugar

(150 g)

1

cup

fresh blackberries, rinsed

two 6-inch sprigs of fresh rosemary
Instructions
Filling serving glasses a little over half full of ice. Add rosemary blackberry syrup. Follow with vodka and top with sparkling lemon soda. Stir to combine. Garnish with fresh rosemary and blackberries
Rosemary Blackberry Syrup:
In a medium sauce pan, combine water, sugar, blackberries and rosemary. Bring to a boil. Remove from heat. Smash blackberries and cover pot with lid. Let steep for 20-30 minutes depending on how strong you want the rosemary flavor to be. Strain syrup and store in the fridge until ready to use.