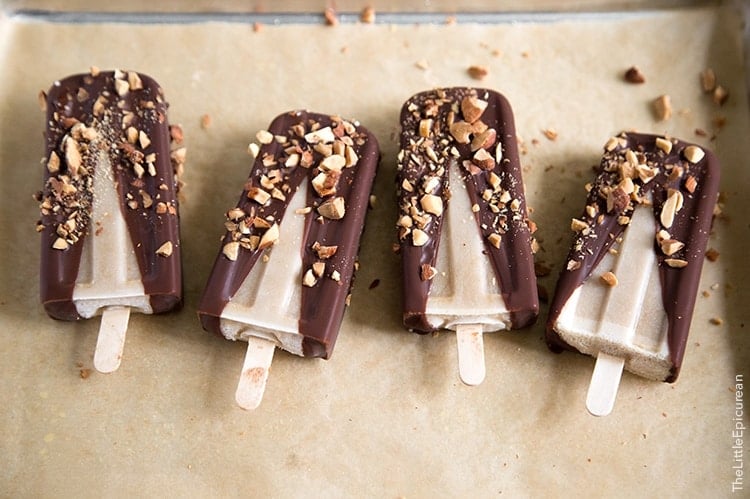 Is it too early to start thinking about summer?  I know it's only January, but I'm already itching for lazy summer days.
I have summer on the brain all year long.  Maybe because July is my birth month, perhaps because summer means it's travel time, or could it be that I ache for long summer days that allow me to take pictures past 3 pm?  Does that last one strike a chord with any of you fellow food bloggers?
Whatever the season, I guarantee these chocolate dipped banana coconut ice pops will have you thinking it's summertime.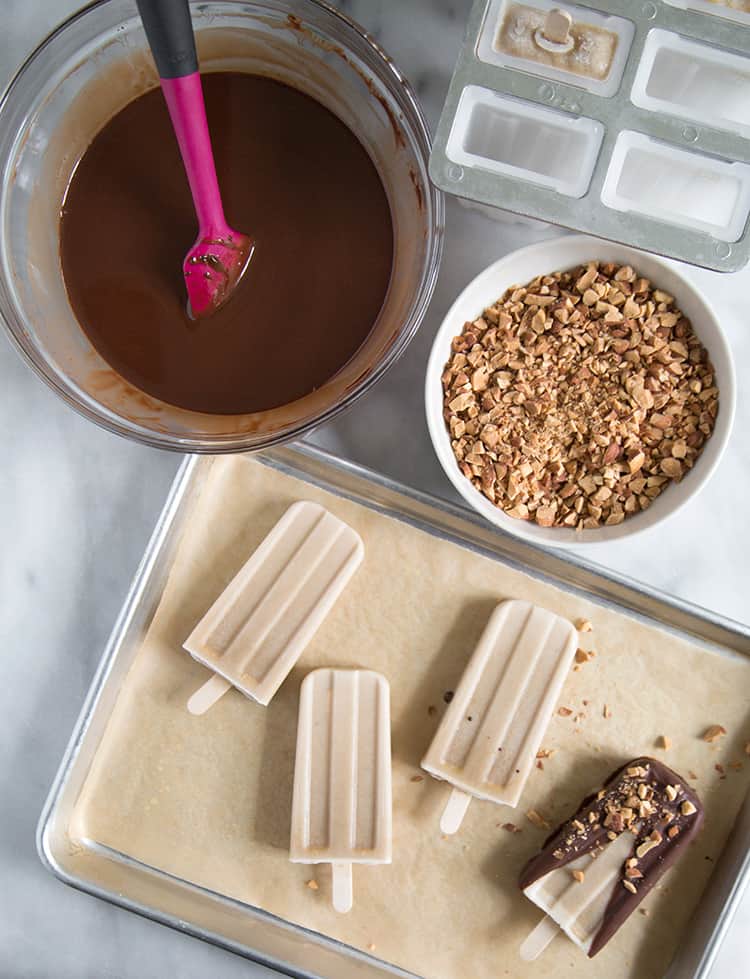 Where do I begin with these banana coconut ice pops?  They're jam packed full of coconuts!
You start with a can of coconut milk, a splash of coconut water, a couple tablespoons of coconut sugar and blend it all together with a sweet, ripe banana.
After that's been frozen, we dip the banana coconut ice pops into a chocolate dip made of melted dark chocolate and coconut oil. I could have gone overboard with the coconuts and sprinkled shredded coconut over the ice pops, but I didn't.  It's too early in the year for coconut overkill.  Toasted almonds works wonderfully with the tropical flavors of coconut and banana.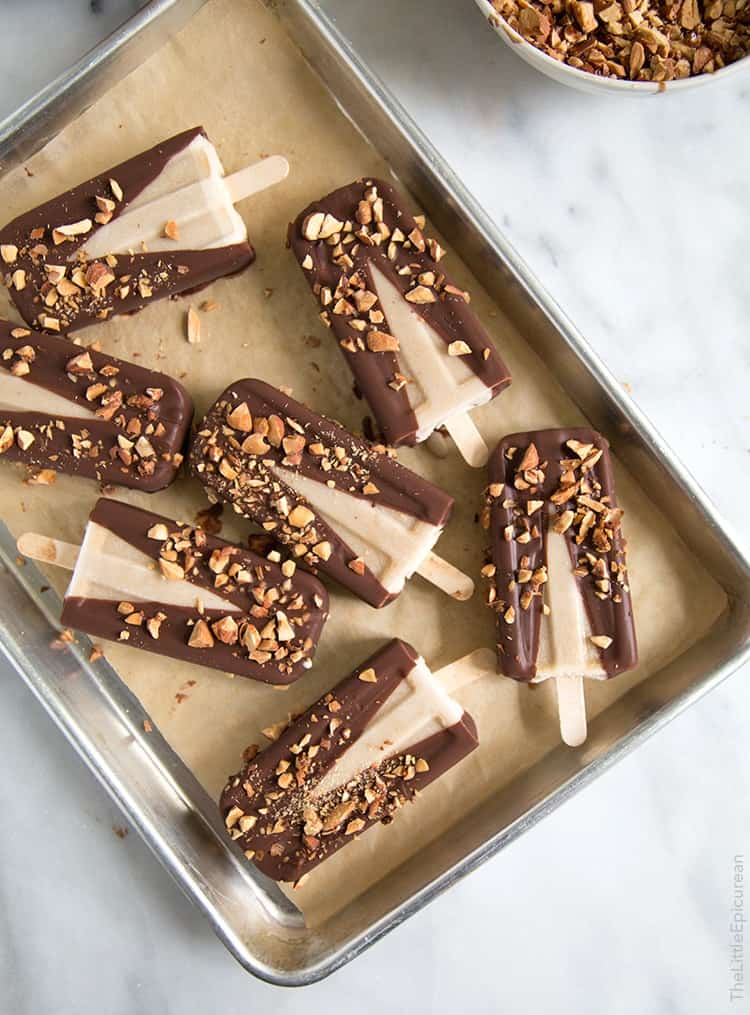 If it weren't for the couple of pounds I gained from the holidays, I would have tested these babies with richer coconut cream.  I'll save that recipe testing for another day.
I could eat three of these in one sitting.  Let's not talk about how I know that.  Instead, let's talk about how these coconut ice pops will have you craving a tropical vacation.  Hawaii, Bali, Thailand, Tahiti…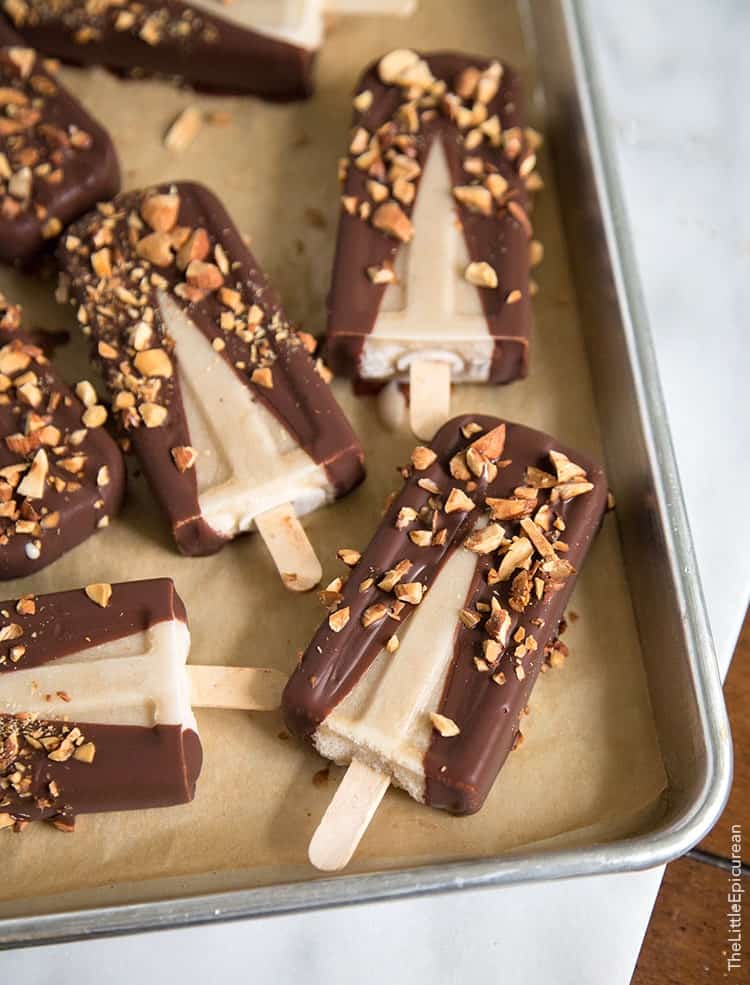 Banana Coconut Ice Pops
The tropical flavors of these banana coconut ice pops will have you feeling like summer no matter what season it actually is. Dipped in dark chocolate and sprinkled with toasted almonds, these are the perfect little frozen treats!Yield: 8 popsicles
Ingredients
14

oz

can light coconut milk*

1/4

cup

coconut water

3

Tablespoon

coconut sugar

1

ripe banana
Chocolate Dip:
8

oz

dark chocolate (72%), roughly chopped

3/4

cup

coconut oil

1/2

cup

toasted almonds, roughly chopped
Instructions
In a blender, combine coconut milk, coconut water, coconut sugar and banana. Blend until smooth. Pour mixture into popsicle molds. Insert wooden popsicle sticks and freeze for at least 5 hours or until solid.

To make chocolate dip: Place chopped chocolate and coconut oil in a heat-proof bowl. Set over a pot of simmer water, creating a bain-marie (double boiler). Melt chocolate over low heat. Stir to combine. Once chocolate has melted, remove from heat.

Dip frozen ice bars into melted chocolate dip mixture. Immediately sprinkle with chopped almonds. Enjoy immediately or store in the freezer until ready to eat.
Notes
I used light coconut milk from Trader Joe's, but any kind of coconut milk should work. The popsicles will be creamier if you use full-fat coconut milk.