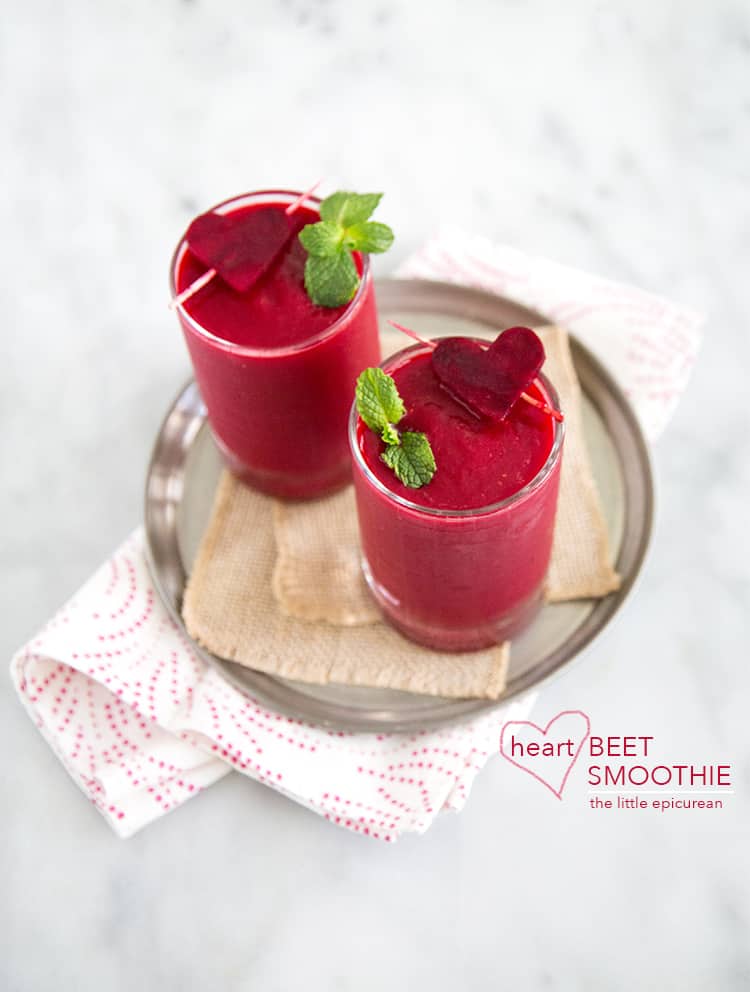 It's time to get all lovey-dovey. Valentine's Day is around the corner.
I'm seeing red, pink, and heart decor everywhere I go.  I keep getting ads for flowers and dinner reservations.  I normally associate this holiday with chocolate and decadent sweet desserts.  But before I go all chocolate crazy, I wanted to make a special Valentine's Day smoothie.  But more importantly, I had to name it something punny for Alex.  (Alex absolutely LOVES puns.)
This smoothie is energizing and revitalizing.  It's the prettiest all natural color you can get.  It's healthy, refreshing and tastes great.  It's something that will definitely make you feel less guilty about that box of chocolates and bottle of wine you'll finish on Valentine's night.  It's heart beet smoothie!  Yes, heart BEET smoothie!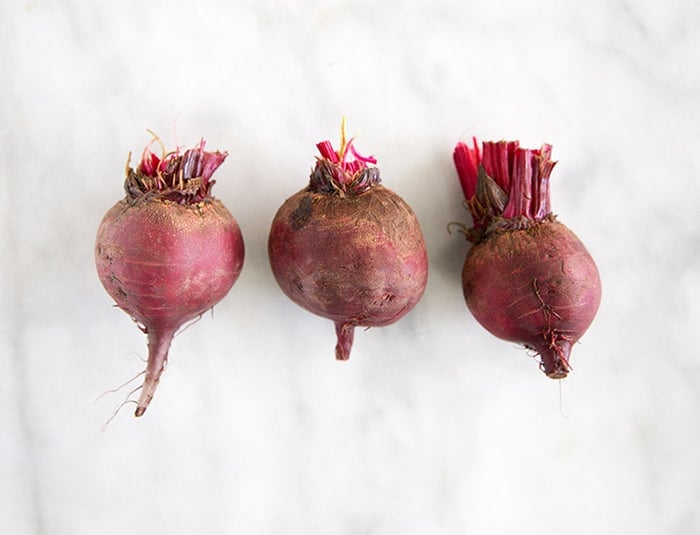 Heart BEET!  You get it?
Red beets are the rich color of love.  Not only is it one of the sweetest vegetables, it's also chock full of good for you nutrients.  Beets aid in blood circulation and help to cleanse the liver.   They're rich in antioxidants, vitamins, and folic acid.  Wouldn't you want your Valentine to benefit from all the goodness of this beet smoothie?  Yes.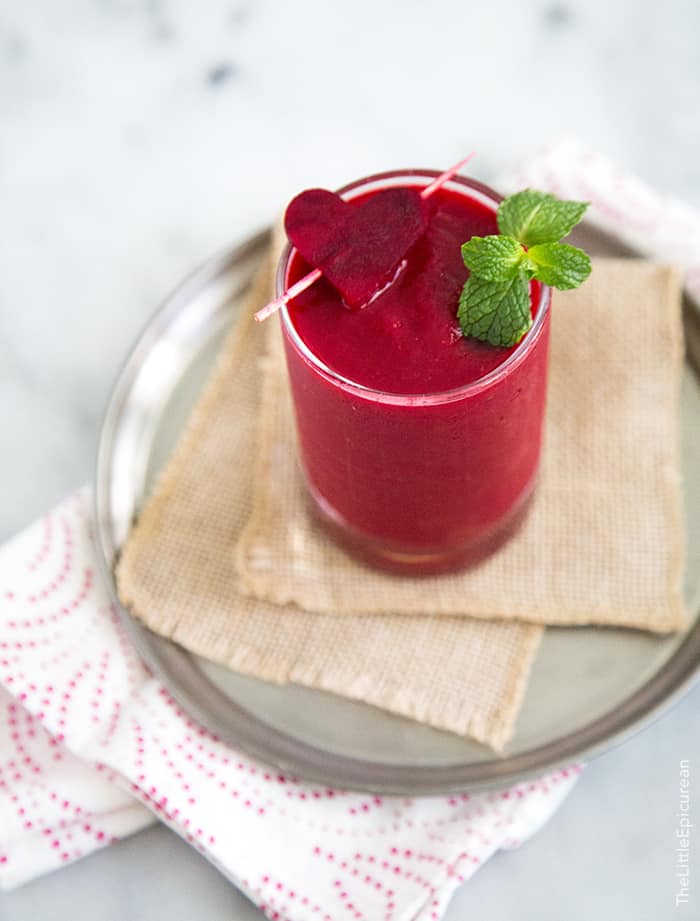 Last year, I made this beet smoothie with tangerine, strawberry and peach.  This new smoothie is mixed with all the frozen fruits I found in the freezer: raspberries, mango and pineapple.  Frozen fruits are great in smoothies because they provide thickness without the use of ice.  To add a nice uplifting zing, I added a little fresh ginger.
And to make this super Valentines-y, I garnished it with little cut out hearts made from sliced beets.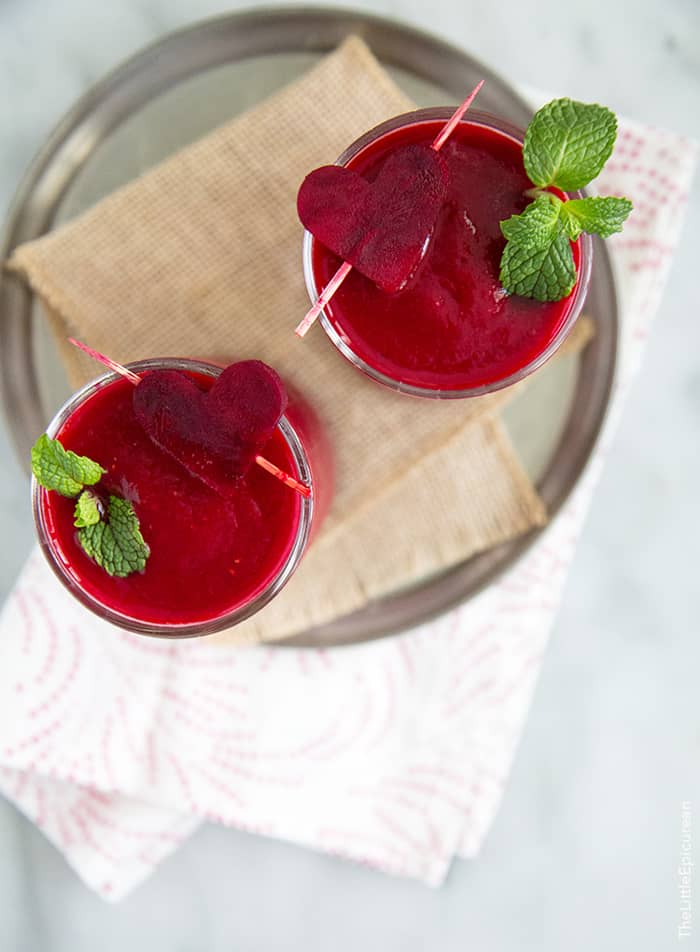 Heart Beet Smoothie
Start Valentine's Day off right with this healthy heart beet smoothie. Mixed with raspberries, pineapple, and mango, this beet smoothie is sure to satisfy even the pickiest sweet tooth.
Yield: serves 2
Ingredients
1

cup

raw red beets, peeled, cubed

1

cup

raspberries, fresh or frozen

1

cup

mango chunks, frozen

1/2

cup

pineapple chunks, frozen

1 1/4

cup

coconut water

1/4

cup

fresh squeezed orange juice

1-inch piece fresh ginger
Instructions
In a blender, add beets, raspberries, mango, pineapple, coconut water, orange juice, and ginger. Blend until smooth. If smoothie is too thick, add additional coconut water 1 tablespoon at a time. Serve immediately or keep covered in the fridge until ready to drink.
Recipe Notes
If desired, garnish smoothie with heart shaped beet slice.  Use a small heart cookie cutter or shape freehand using a paring knife.