This avocado kale smoothie is inspired by the green smoothie from Los Angeles' Gjusta Bakery.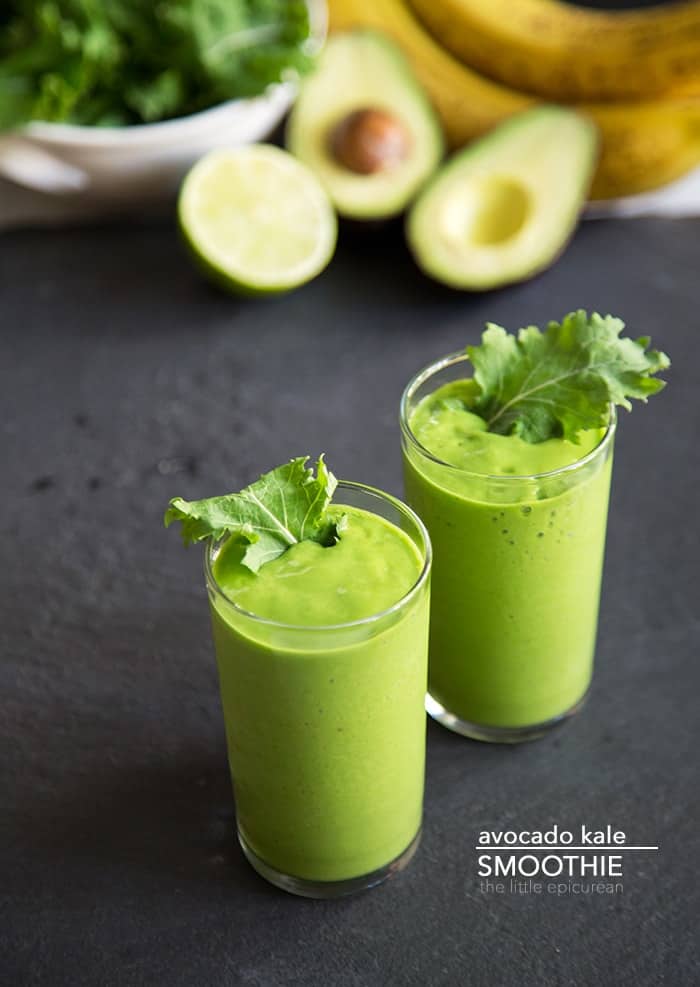 I'm back from my short but super sweet weekend at Disney World.  I was there this past weekend to participate in the Disney Princess Half Marathon.  It was a 13.1 mile run from Epcot to the Magic Kingdom and back to Epcot.  After a long run like that, my body craves smoothies and juices.
This avocado kale smoothie was inspired by this green smoothie I tried from Gjusta Bakery.  While it tasted amazing, it was also pretty pricey.
I was a bit shocked to pay $7 for an 8oz smoothie.  Although I really enjoyed it, my wallet did cry a little when I paid.
Avocado Kale Smoothie
After three trials and errors I found the perfect combination of avocado, kale and banana that resembles Gjusta's version.  And the best part, for about the same price, you can easily make a week's worth of avocado kale smoothies at home!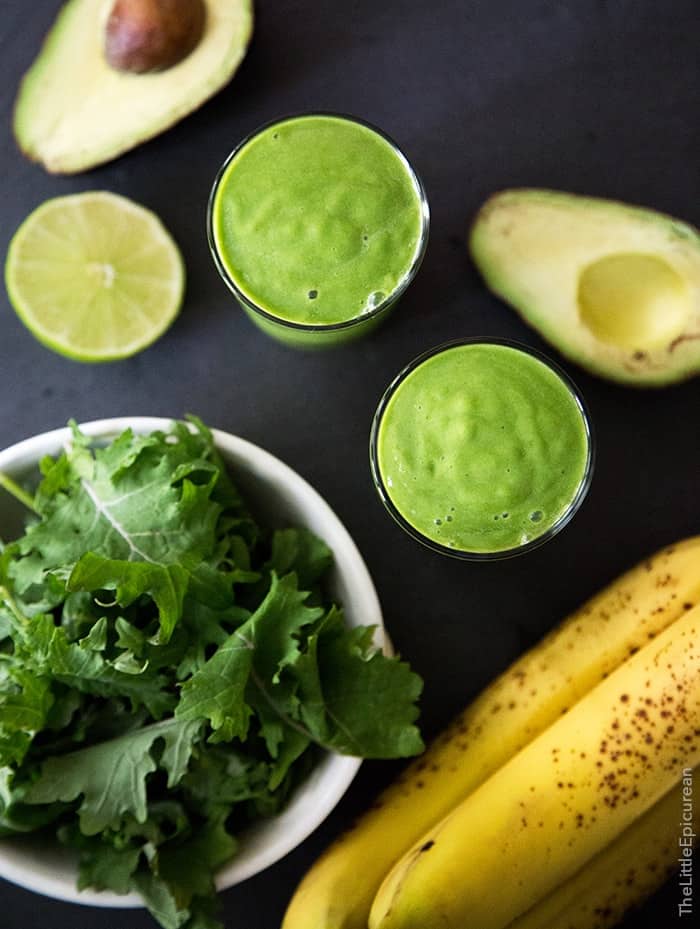 I'm a big fan of green smoothies. (See: tropical green smoothie, miss green smoothie, and happy green monster.)  It's an excellent way to incorporate extra greens into your diet without much effort.
Avocado
Avocados can do no wrong. They add the perfect creamy, buttery texture to this smooth.
There are hundreds of varieties of avocado. Most of the avocados commercially available are the Hass variety (from California)
Coconut Water
All my green smoothies start with coconut water.  Coconut water is the perfect base because it's super hydrating and it has a very clean and subtle taste.
Frozen Bananas
To thicken the smoothie without the use of ice (which is really hard to crush in a blender and eventually waters down the flavors of the smoothie), I used frozen bananas.
Frozen bananas are magical… you've heard of the one ingredient banana ice cream, right?
Baby Kale
While raw kale isn't very pleasant on its own, once you blend it with rich creamy avocado and sweet ripe bananas, it tastes really good!
Like the same suggests, baby kale are the leaves of young kale. Baby kale has the texture of spinach, meaning you don't have to remove the center stems.
Baby kale is becoming quite popular. You can find it in many boxed green mixes at the market.
Lime Juice
I also added a little fresh squeezed lime juice to brighten up the flavors.
Don't omit the lime juice. This smoothie needs that pop of brightness.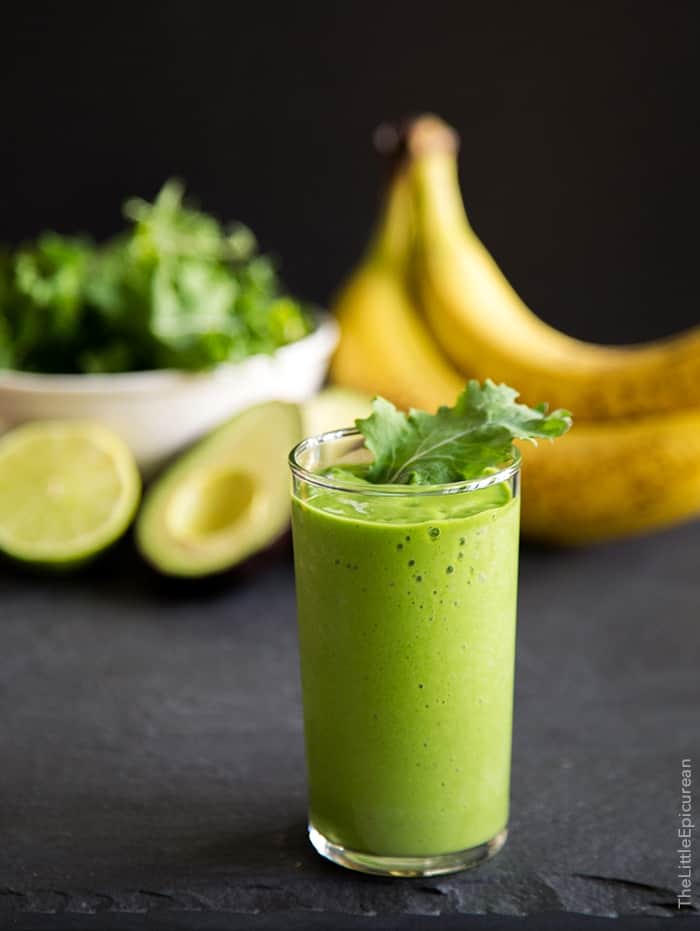 Technically this recipe serves 2, but I can easily finish the entire batch to myself.  It's that refreshing and delicious
So, back to my weekend.  I've participated in numerous running events in Los Angeles and Orange County.
RunDisney Experience
Every organization does their marathons a little differently, but after 4 years of participating in RunDisney events, I have to say that they put on the BEST show.  RunDisney events are extremely organized and well coordinated.
Before, during, and after the run there are so many volunteers passing out water and snacks, lots of medical tents to ensure your safety, and plenty of people cheering and motivating you to finish.
And this particular event raised money for the Children's Miracle Network Hospitals, an awesome cause.
It's always a fun and safe environment.  The events are more about having a good time and celebrating being active, rather than a competitive race to have the shortest time.  Along the course there's plenty of surprises and entertainment to keep runners amped up.
There were DJs, high school bands, an even a gospel choir !  Plus, there are all sorts of photo opportunities with Disney characters…like a chance to take a group photo with every Disney prince, a photo in front of the castle as the sun rises, or a even a chance to try on Cinderella's glass slipper.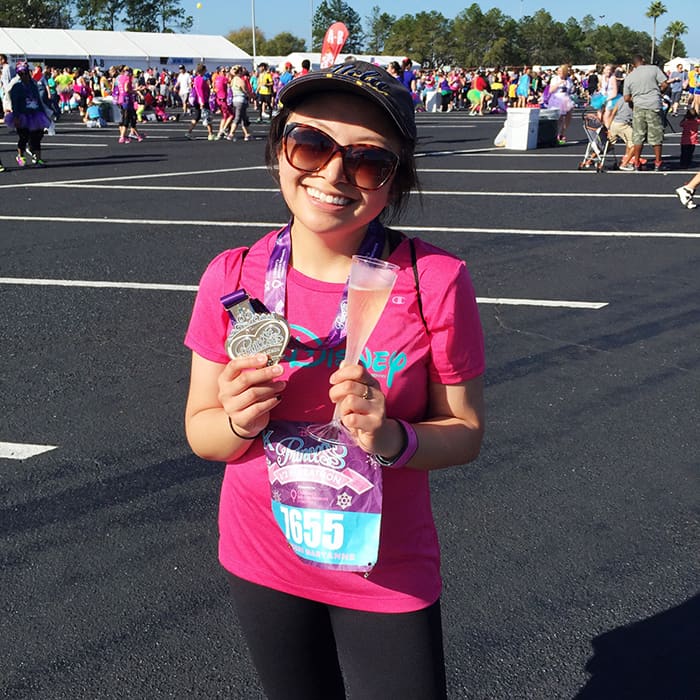 But what made this particular run so much fun was the glass of champagne Alex had waiting for me at the finish line.
I've never been to a running event that had champagne (real champagne from France, not sparkling wine made everywhere else) available.  Where does that happen?!  Only at Disney World.
Major thanks to Alex for waking up at 3am to accompany me to the starting line.  He's such a sweetheart. <3
Avocado Kale Smoothie
Yield: serves 2
Ingredients
1 1/4

cup

coconut water

2

cups

baby kale leaves

1/2

cup

avocado

1

banana, frozen

2

teaspoon

fresh squeezed lime juice
Instructions
Pour coconut water into blender. Add kale, avocado, frozen banana and lime juice. Cover with lid and blend until smooth. Pour into two glasses and serve immediately.