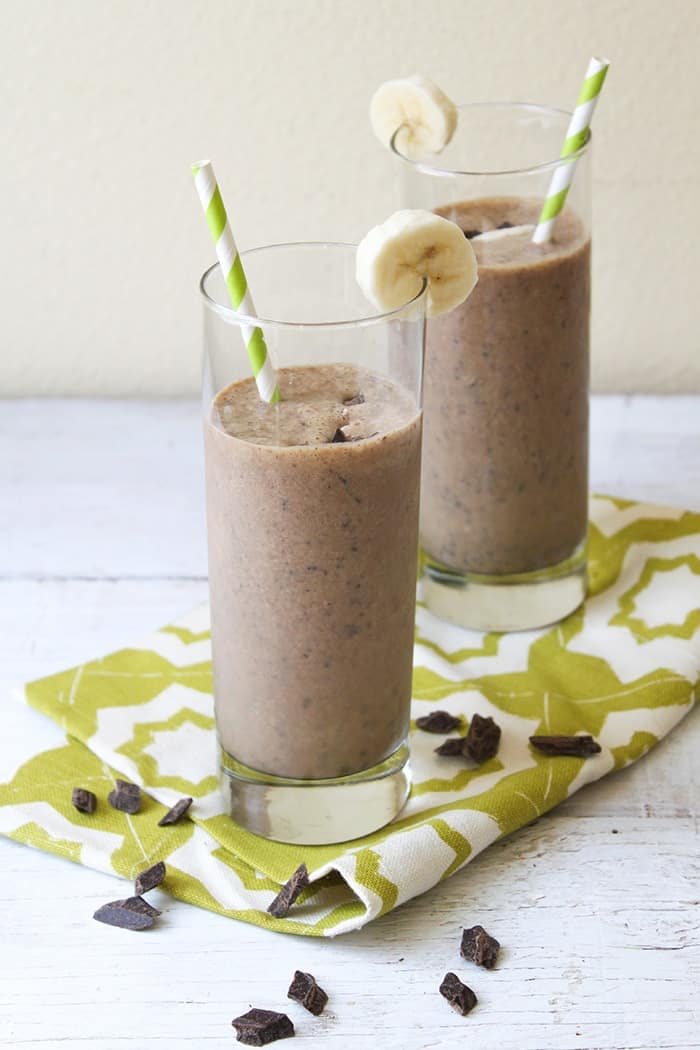 This month I am celebrating #smoovember with Hamilton Beach!
Chilly autumn mornings are tough.  I can't roll out of my warm, comfy bed.  And even after I'm dressed and ready for the day, I'm still a slow and a bit brain dead.
Breakfast usually solves that.  I made these two very different smoothies that have been known to brighten and perk up even my most dreadful Monday mornings.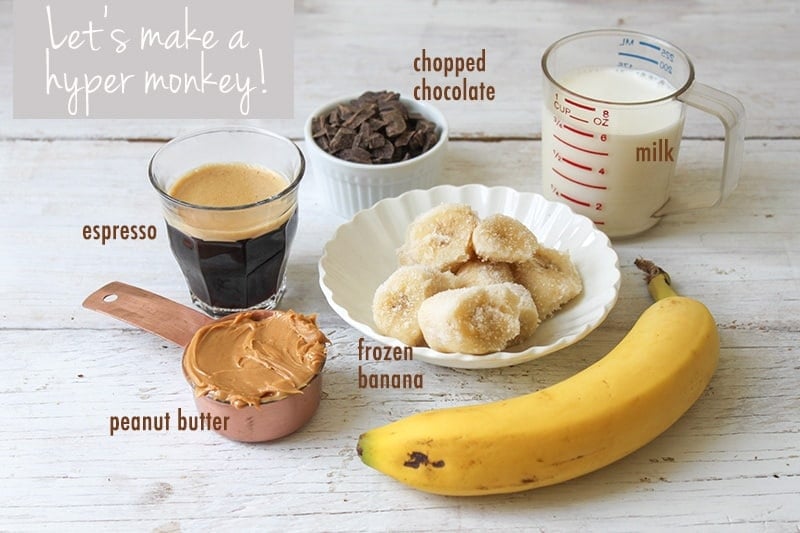 Oh, yes.  Espresso, peanut butter, banana, milk, AND CHOCOLATE!  I'm all about indulgences (in moderation, of course).  Instead of my usual latte, this Hyper Monkey puts a happy bounce in my step, it makes me smile from ear to ear, and it has enough caffeine to keep me sane for hours.
Okay, it may not be the most nutritious breakfast drink out there, but it sure it delicious!  And it is a breeze to make in my new Smoothie Smart blender.  The recipe makes enough for two and is meant to be shared.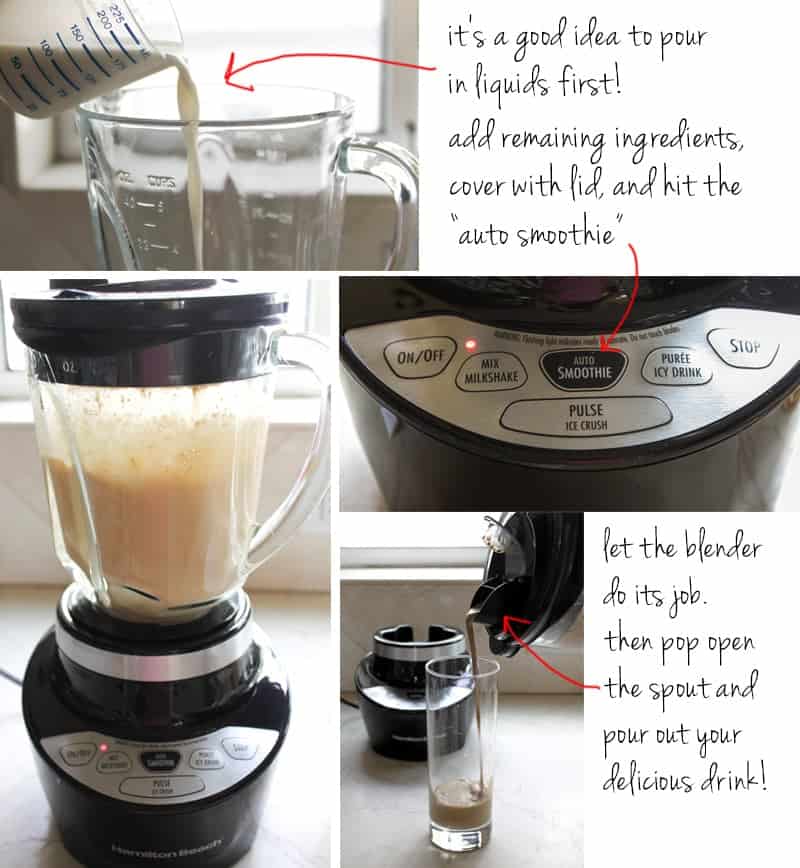 Ever have trouble figuring out what buttons to press on your blender?  One of the many reasons I am in love with this new blender is its "auto smoothie" feature.  It takes all the guesswork out of smoothie making! I also really like the spout on the lid cover.  It makes pouring my smoothies much cleaner and easier.  (Have you ever tried to pour a blended drink directly from the blender only to have it splash all over the kitchen counter?  Yup, this spout helps prevent such mishaps for ever happening again.)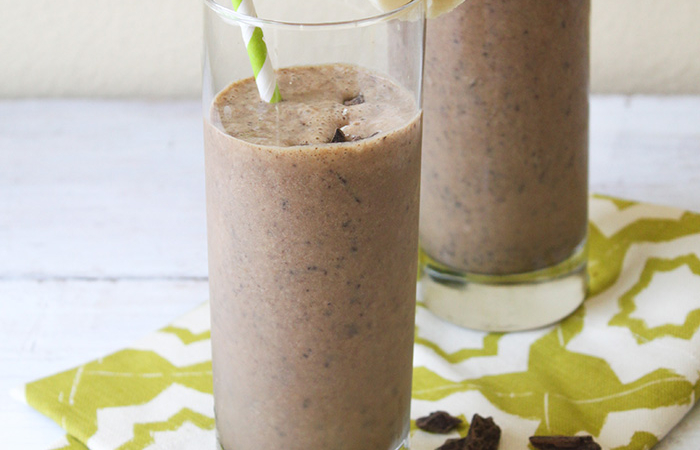 Hyper Monkey Blended Smoothie
A creamy, delicious blended drink combining espresso, chocolate, peanut butter, and banana!
Ingredients
¾

cup

whole milk

¼

cup

strong espresso, slightly cooled

½

cup

frozen banana slices

¼

cup

smooth peanut butter

¼

cup

dark chocolate, roughly chopped

ice, as needed

agave syrup, to sweetened according to taste preference
Instructions
Pour milk and espresso into blender jar. Add frozen banana and peanut butter. Add about a half a cup of ice. Cover with lid and press auto smoothie button.

Taste smoothie and add agave syrup as needed to sweeten. Add additional ice if thicker consistency is desired. Add chopped dark chocolate and pulse for a couple seconds until chocolate bits are distributed (and added ice is blended).

Remove blender from machine, open spout and pour into 2 glasses. Serve immediately. Garnish with a banana slice and additional chocolate chunks.
And now for something a little healthier…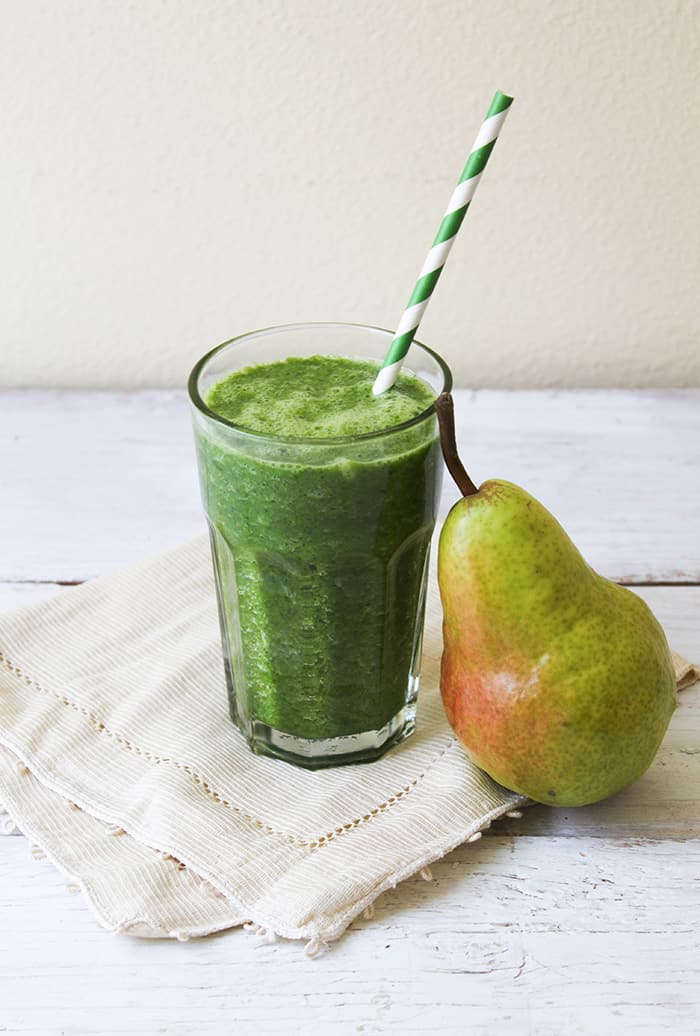 If my Hyper Monkey is a little too much for you, maybe you'll like his healthy veggie-fruit smoothie!
Juicing was all the craze this summer.  Everyone, their mothers, and their grandmothers were juicing.  Unfortunately, I don't have a juicer.  But no worries, my Smoothie Smart blender does the job!
This Happy Green Monster truly does make me happy.  I feel so refreshed, alive, and rejuvenated after a glass of this good green stuff.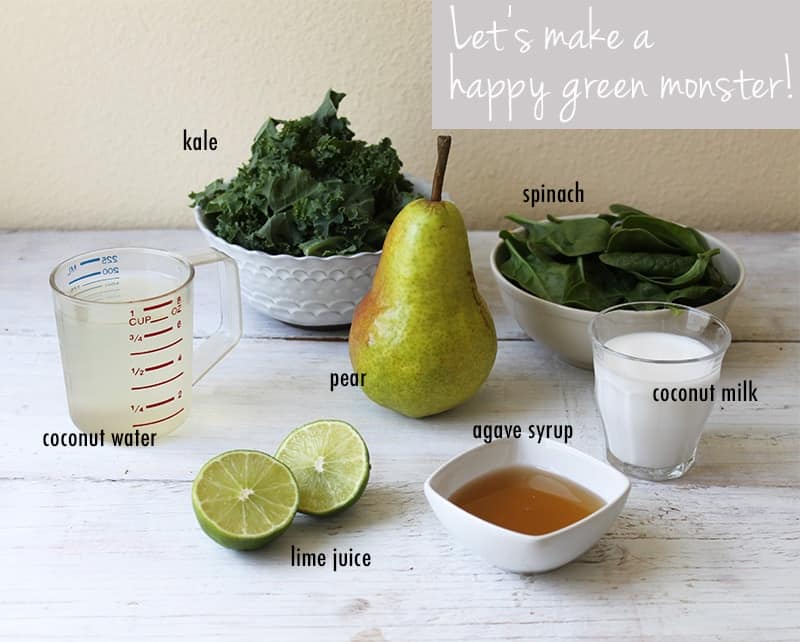 Vegetables in your smoothie?  YES. I was hesitant at first, but I assure you, it tastes amazing. (And no, it doesn't taste like a salad.) 
This green smoothie is packed with all sorts of good stuff- vitamins and nutrients from the raw kale and spinach, antioxidants and anti-inflammatory benefits from the pear, and the coconut water to help hydrate you.  This is one drink you don't have to feel guilty about, and its a great way to increase your veggie intake.
Asides from breakfast, these two smoothies are great afternoon pick-me-ups!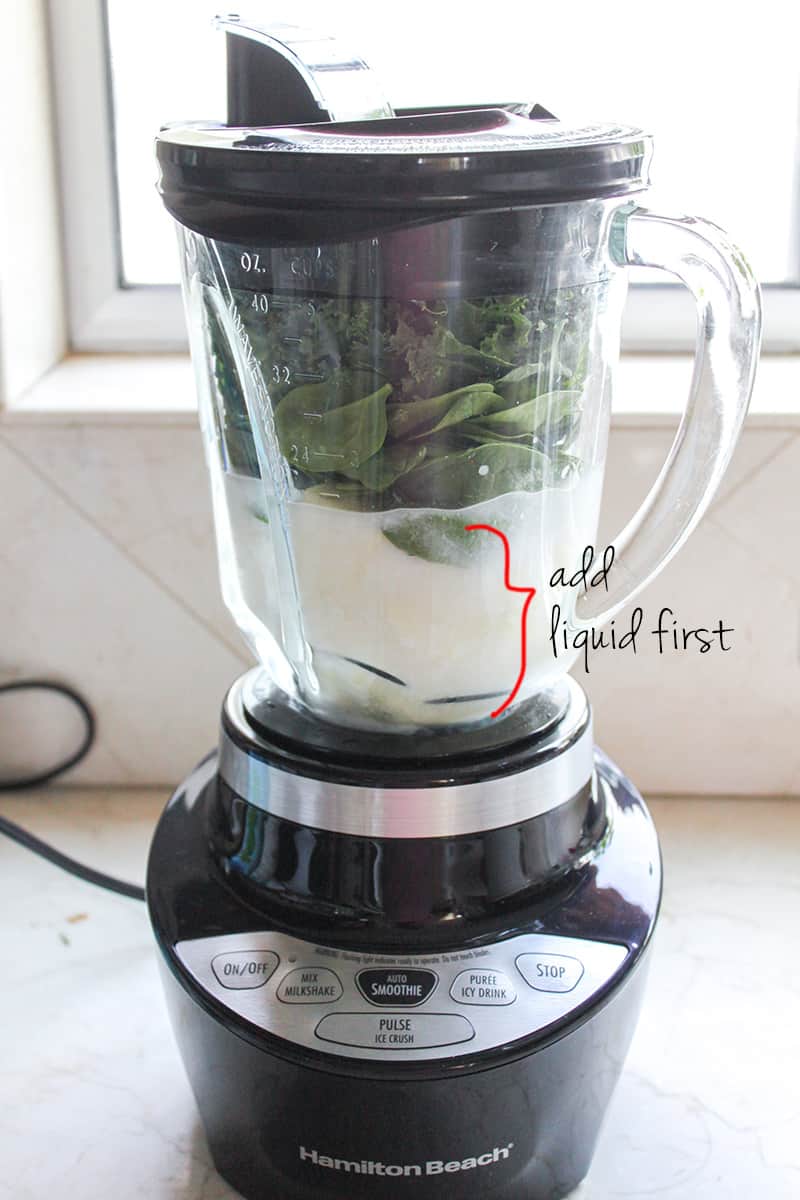 I was really surprised by the power and strength of this Smoothie Smart blender.  With smoothies, juices, and blended beverages so popular these days, I think its a good idea to have a solid blender.  Instead of going out to buy your drinks, experiment at home and make your own concoctions!
If you happen to try out my recipes or make your own, be sure to snap a photo of it and share it with the hashtag #smoovember!
Happy Green Monster Smoothie
A vegetable packed refreshing smoothie perfect any time of day!
Ingredients
1

cup

coconut water

⅓

cup

coconut milk

1

Tablespoon

agave syrup

juice of half a lime

1

pear, peeled and cored

2

handfuls spinach

2

handfuls kale
Instructions
Pour coconut water, coconut milk, and agave syrup into blender jar. Squeeze in juice of half a lime. Add pear, spinach and kale. Cover blender with lid and hit auto smoothie button.

Remove blender jar from machine and open spout. Pour into 2 glasses. Serve immediately. Otherwise, place in refrigerator for up to 24 hours.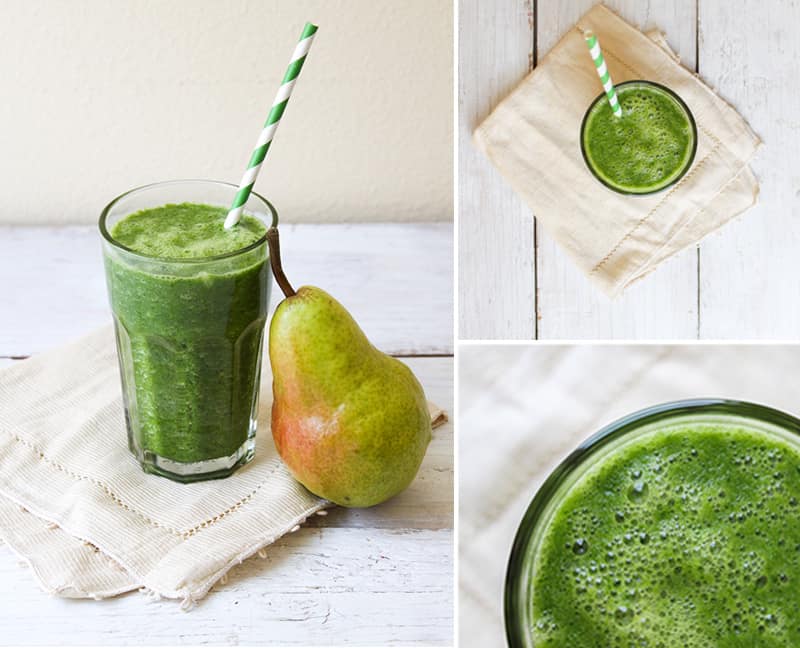 Are you thirsty yet?
Now it's your chance to win your own Hamilton Beach Smoothie Smart Blender!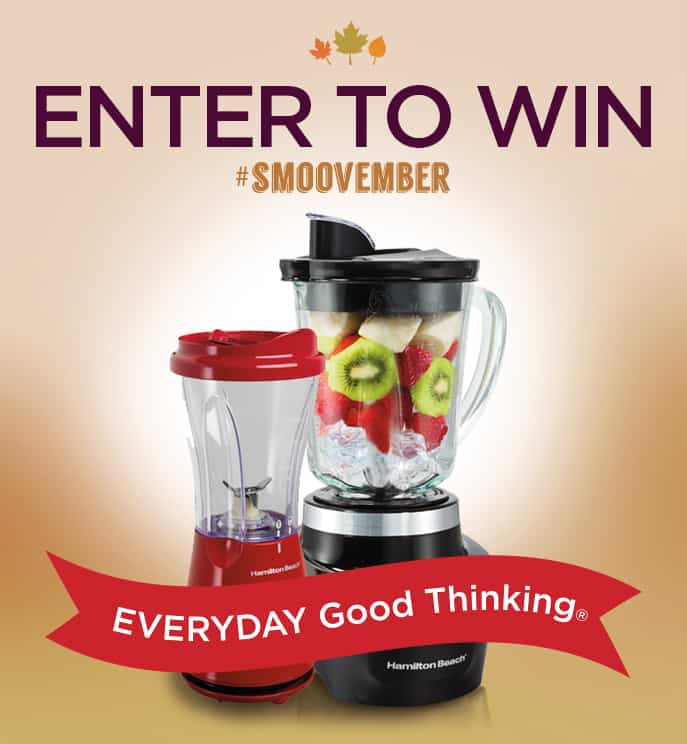 To enter the giveaway: Leave a comment with your favorite blended beverage.
Comments are moderated and may not show up right away.  One comment per person, please.  Giveaway only open to U.S. residents, 18 years of age or older at time of entry. Winner must be willing to provide a valid shipping address (no P.O. Box) in order to receive prize.
Comments close at 11:59 PM (PST) on Monday, November 18.  The winner will be chosen at random and notified Wednesday morning.  If the winner does not respond within 48 hours, winner forfeits prize and another winner will be chosen at random.
Be sure to leave a valid email address, or I won't be able to contact you if you win.  Once the winner has been chosen, The Little Epicurean will then notify Hamilton Beach, and Hamilton Beach will mail you your smoothie blender set!
Disclosure: Hamilton Beach is providing the Smart Smoothie Blender and Single Serving Blender set for this giveaway.  I received the same blenders for review.  All opinions are my own.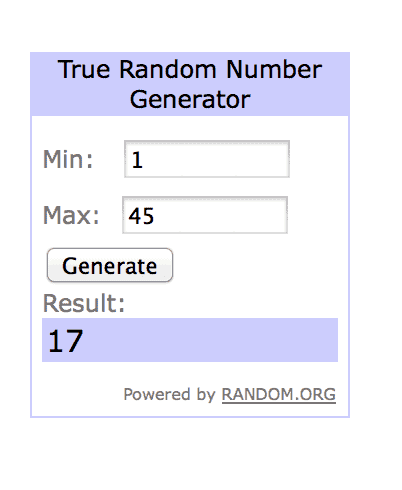 Giveaway is now closed.
Congratulations lucky comment #17!