Summer means it's Frozen Rosé season! This Watermelon Peach Frosé is made with frozen seedless watermelon chunks, frozen peach slices, a touch of agave nectar, and an entire bottle of chilled rosé wine.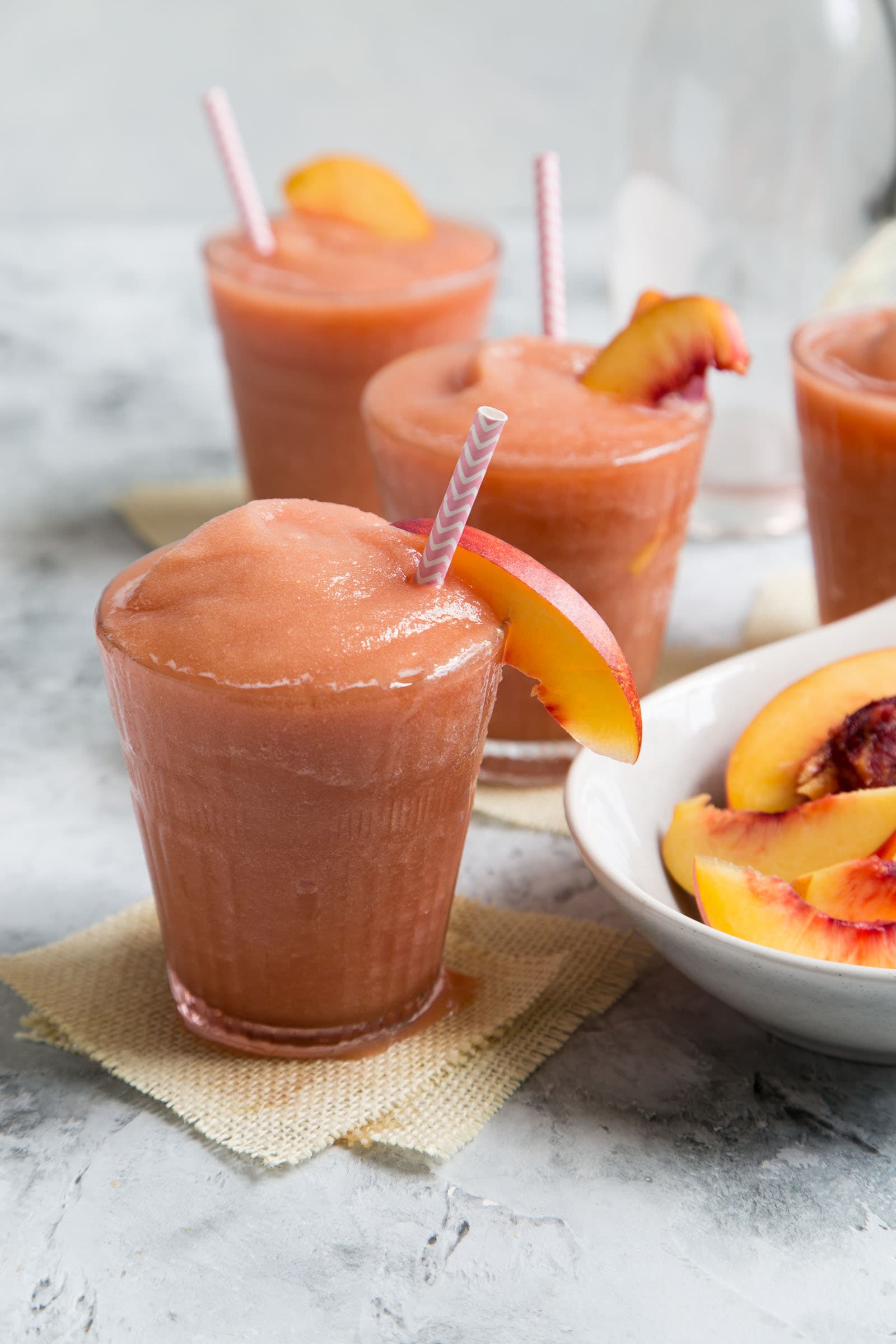 The key to surviving summer is hydration. Ever since I bought myself one of these giant stainless steel water bottles, I've been drinking more water.
I've noticed that my skin feels a lot better, I'm not as hungry as I usually am throughout the day, and my headaches have calmed down a bit.
Moral of the story: DRINK WATER! I've also been eating my weight in watermelon.
Watermelons are 92 percent water (and 6 percent sugar) and they're a delicious way to stay cool and hydrated. Upon buying giant watermelons, I'll slice them into chunks. Half gets thrown in the freezer and I happily devour the remaining half with chili salt.
Can you guess what happens to the frozen watermelon chunks? They get blended into watermelon peach frosé! One point for you! Half a point if you answered: watermelon sorbet, watermelon margarita floats or watermelon tequila ice pops.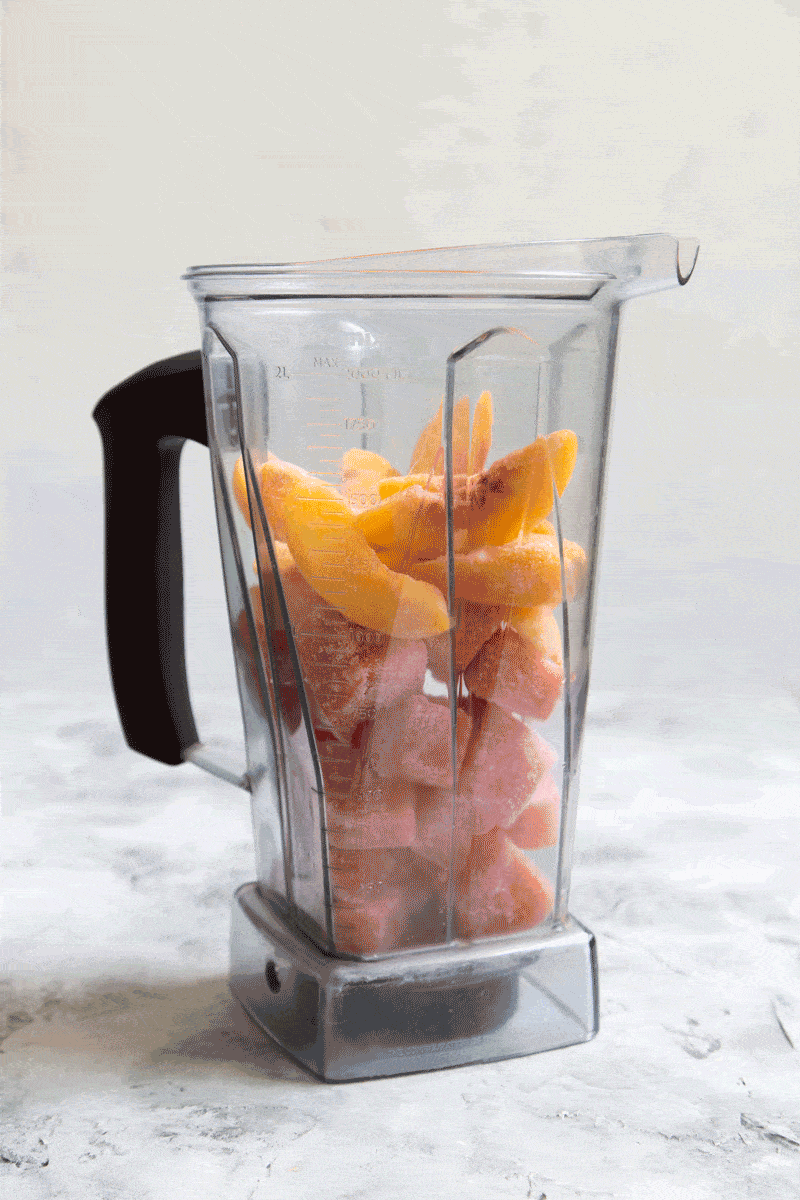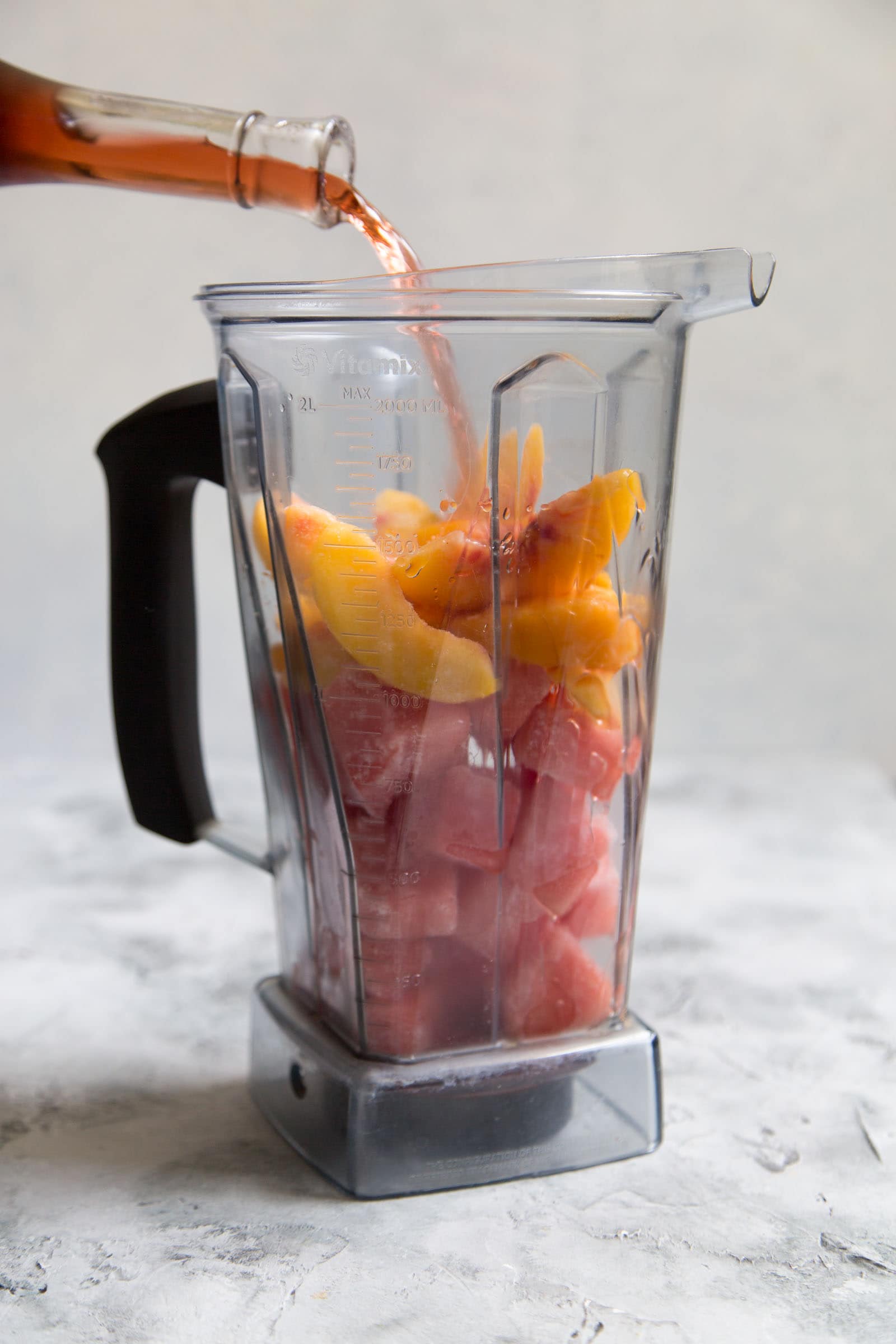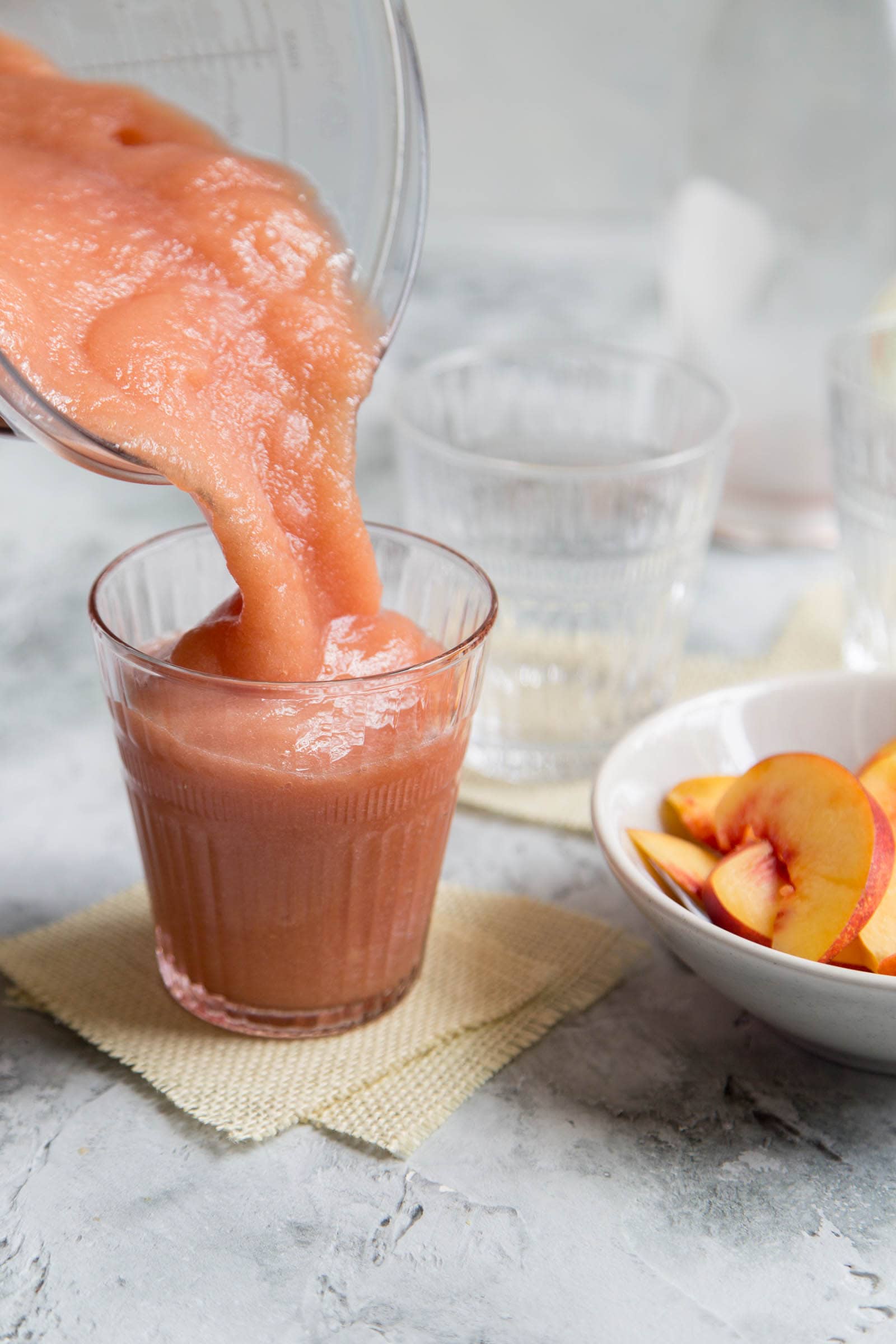 No fancy equipment needed, just a blender. However, if you have one of those slurpee machines (frozen daiquiri machines), can I come over and hang out?
Add frozen seedless watermelon chunks, frozen peach slices, a touch of agave nectar, and an entire bottle of chilled rosé wine. Blend until smooth. And volià! You've got your own homemade slushie.
This watermelon peach frosé is what summer should taste like. It's cold, refreshing, and just a tad sweet. I'm not fan of adding ice to blended drinks. The ice eventually melts and dilutes the drink. (Same reason why I don't add ice to my smoothies.) By omitting ice and using frozen fruits, you're adding texture and flavor.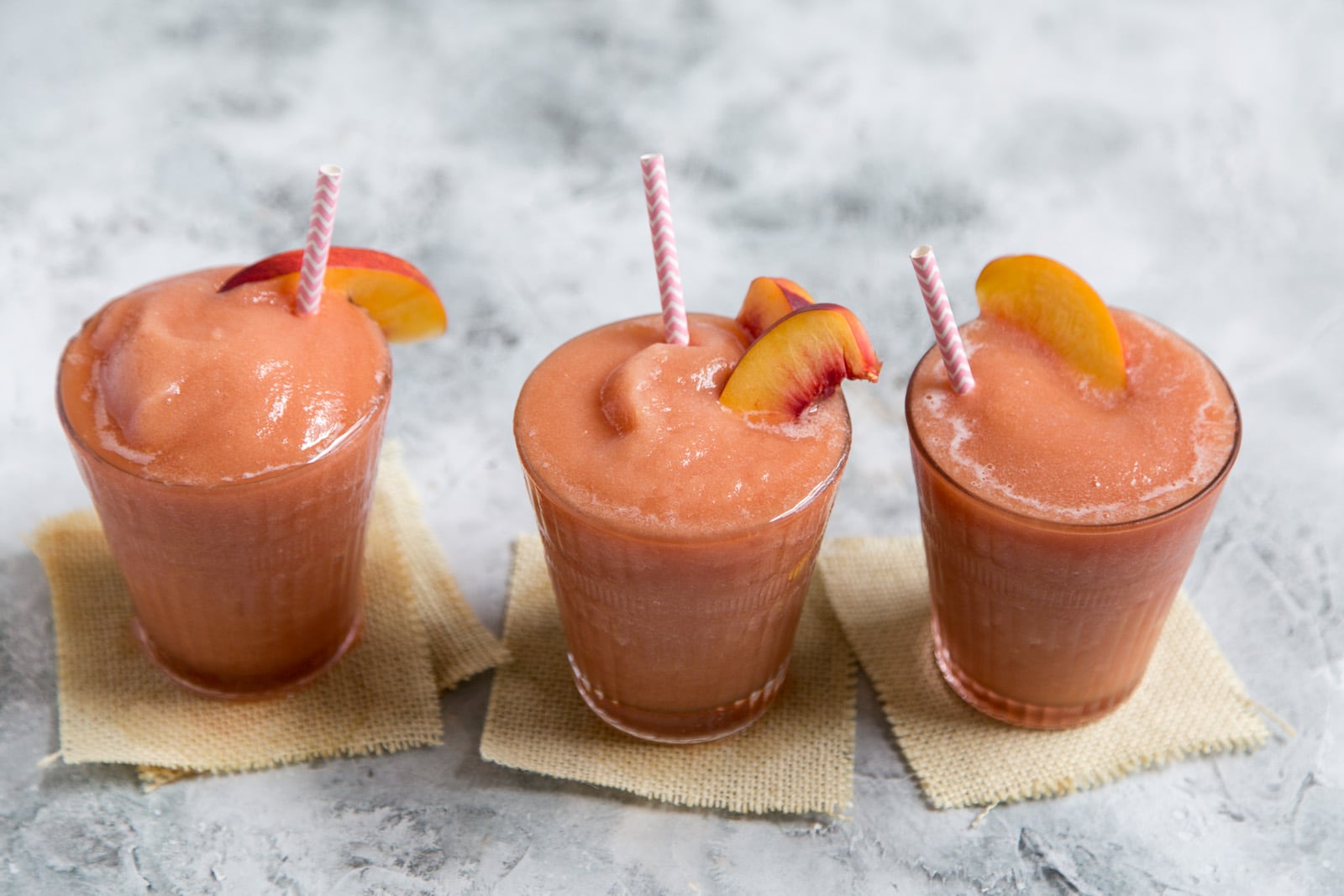 I used Sofia rosé. It's a pinot noir based rosé wine that's crisp yet dry. I suggest it for this recipe, otherwise use a darker, full bodied rosé. If you use a light or pale rosé, it's flavors may get lost among the fruit.
What have we learned today? The three steps for a great summer are: 1. drink plenty of water, 2.) eat all the watermelon, and 3.) enjoy a glass of watermelon peach frosé at least twice before September. CHEERS!
Watermelon Peach Frose
Ingredients
3

cups

frozen seedless watermelon chunks

3

cups

frozen peach slices

1- 750 ml

bottle rose wine

1

Tablespoon

agave nectar, or sweetened of choice (optional)*
Instructions
In a blender, combine watermelon, peach, rose wine, and agave nectar. Process on high until smooth. Pour into serving glasses. Garnish with fresh peach, nectarine, or watermelon slices. Enjoy immediately.
Recipe Notes
Chilled wine and frozen fruits are necessary to achieve that thick, slushie like consistency.
Omit the agave if your rose wine is on the sweet side.
If you don't like agave nectar, you can also use honey, simple syrup, or straight up granulated sugar.