Fig popsicles made with mascarpone cheese and yogurt. Add maple syrup and whiskey for a pop for sweetness and unexpected flavor!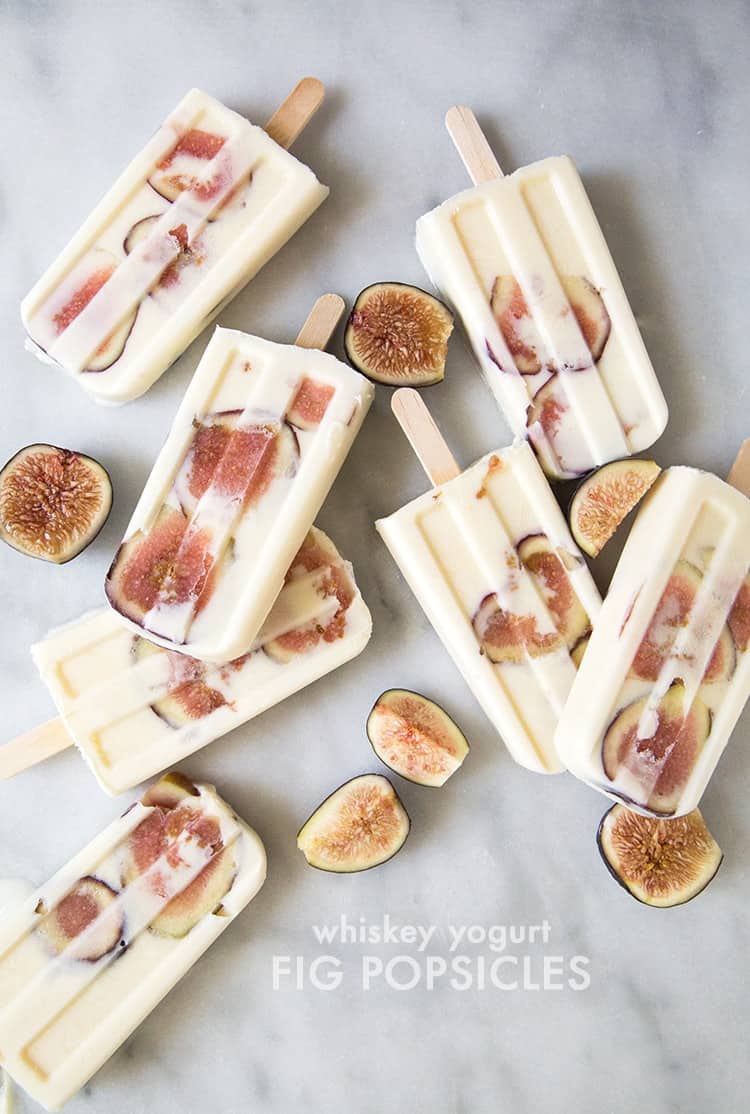 If you ask me anything about football, you'll get a blank stare. But if you ask me about baseball, I might be able to answer your question. This past Monday, something crazy/insane/momentous happened. I watched a baseball game that started in August and ended in September! (!!!)
The Dodgers swept the Giants this week! Yay! Woo hoo! Anyway, the first game of their series took place on Monday, August 31. It started at 7pm and ended at 12:30am September 1st. The game lasted 14 innings!
I'm fully aware of the 7th inning stretch, but I did not know that a second stretch takes place at the 14th inning. I always thought it was a one and done deal. No matter how much I love baseball, I don't think I can attend a game that requires to me sing Take Me Out to the Ball Game twice.
Over the weekend, I made a ton of these fig popsicles. So while Alex and I (along with our pups) watched the Dodgers and Giants this week, we ate these whiskey yogurt fig popsicles.
(I think they're good luck. I'm not going to eat the remaining popsicles until the next Dodgers game. Yes, I believe in silly sports superstition.)
Creamy Fresh Fig Popsicles
Some recipes come about because I'm craving a particular treat. And then some recipes are made out of necessity. Necessity being that I need to clean out the fridge and make room for new groceries.
I had yogurt, mascarpone, and a ton of figs. Immediately I thought about these fig popsicles I saw on Instagram a couple weeks ago.
These whiskey yogurt fig popsicles were inspired by Lady and Pups' gorgeous figs and ricotta cheesecake popsicles. (Have you been to her site? She's one of my favorite food bloggers. She blows my mind with her crazy recipes, amazing photographs, and her super honest writing.)
These popsicles are a little on the tart side. Since I had super sweet figs, I wanted a base that provided contrast. If you want it sweeter, simply add more sweetened condensed milk or maple syrup to the batter.
Don't worry, these are not boozy popsicles. The whiskey flavor is very subtle, and you can totally omit if it you'd like to make these kid-friendly. However, if you want fun, super boozy popsicles, check out my kiwi coconut vodka pops.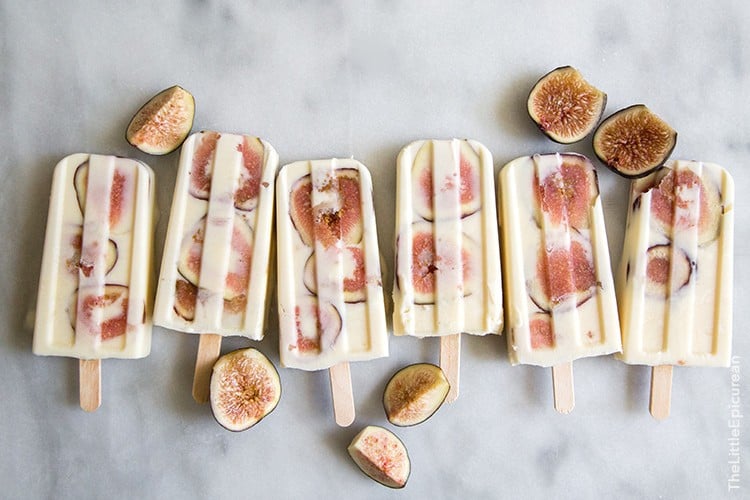 Not into fresh figs? I got you covered. I also have this recipe for caramelized figs and chocolate chunk ice cream!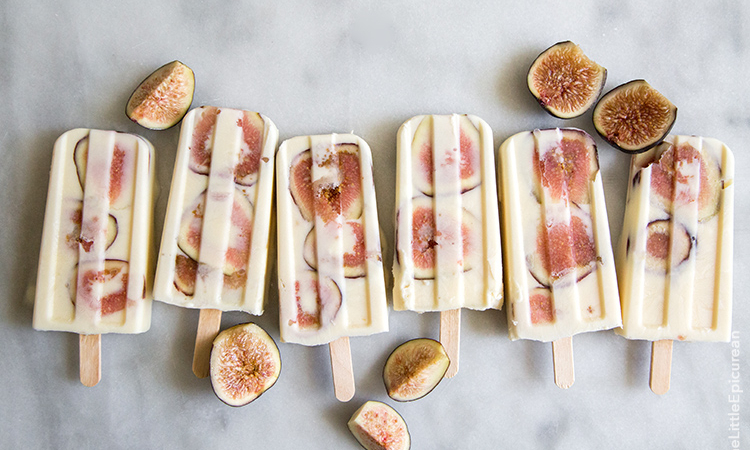 Whiskey Yogurt Fig Popsicles
Fig popsicles made with mascarpone cheese and yogurt. Add maple syrup and whiskey for a pop for sweetness and unexpected flavor! Yield: 10 popsicles
Ingredients
5

Tablespoons

mascarpone

2

cups

nonfat plain yogurt*

3

Tablespoons

sweetened condensed milk

4

Tablespoons

maple syrup

2

Tablespoons

whiskey of choice

sliced figs, as needed
Instructions
Stir up mascarpone until smooth. Mix together with yogurt. Add sweetened condensed milk, maple syrup, and whiskey. If desired, add additional sweetener to taste.

Place sliced figs in popsicle molds. Use the back of a spoon or chopstick to press figs to the sides of the mold.


Gently spoon yogurt mixture into popsicle molds. Insert wooden popsicle sticks. Freeze for at least 4 hour until popsicles are solid.