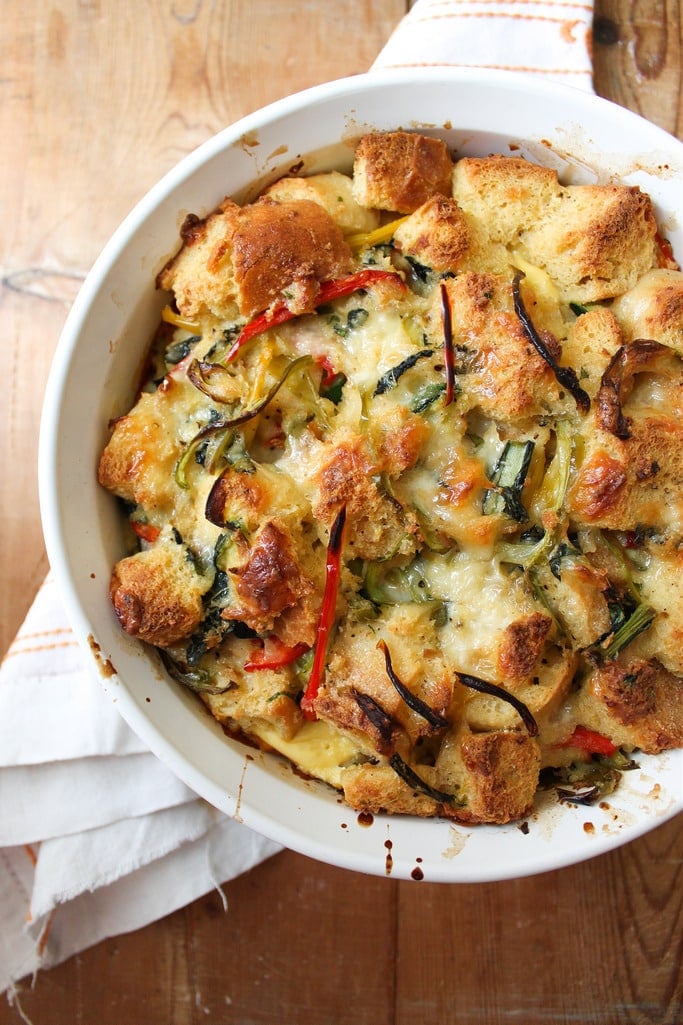 Have I mentioned that I'm going on vacation? Yes, it's vacay time! I'm actually leaving later this morning and heading to Italy!
Yes, I am so excited, so ecstatic, and so thrilled for this adventure. Okay, enough of that for now. Stay tuned for a recap of the trip when I return mid-July.
I love vacations. Come on, who doesn't? Anyway, what I hate about time away from home, is cleaning out the fridge. I hate throwing away food that ended up rotting while I was away.
So a couple of days before I left, I made it a point to empty out my fridge and cook up everything in sight. That's how this recipe came about. This is my clean-out-the-fridge bread pudding.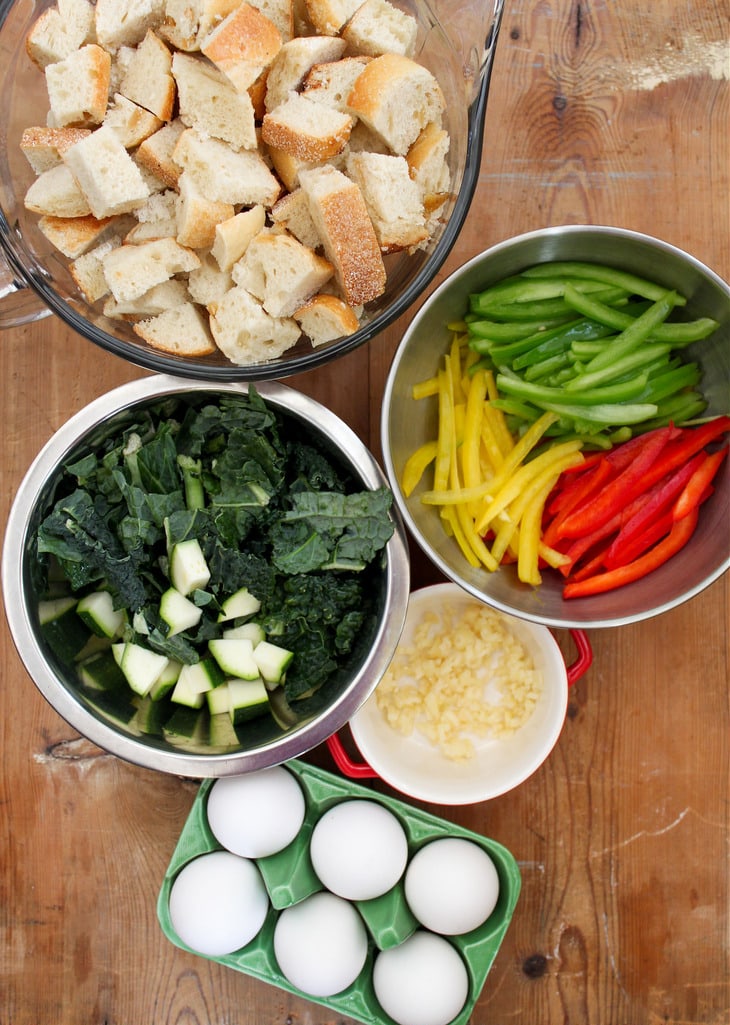 After I pulled everything perishable out of the fridge, I laid it all out on the kitchen counter. I stood back for a couple of minutes and contemplated over what I could possibly make with these ingredients. It was kind of funny; I felt like I was on an episode of Chopped.
I always have at least half a dozen eggs in the fridge. Bakers need to always have eggs available. I had leftover roasted garlic loaf from a previous recipe (see: avocado garlic toast) preserving in the freezer. Bell peppers were on sale at the market last week. I bought them on impulse because their vibrant colors made them so pretty and alluring. I recently started juicing last week, hence the overflow of kale in the fridge. And lastly, I had one lonely zucchini in the crisper.
Have I mentioned that I'm an aspiring gardener? (See my strawberry basil froyo to read about my failed gardening attempts.) Yes, I am a gardener in training. This is the first plant I have ever grown from tiny seeds. I'm quite proud of this little plant. She sits on my windowsill above the kitchen sink. She watches me as I wash the dishes.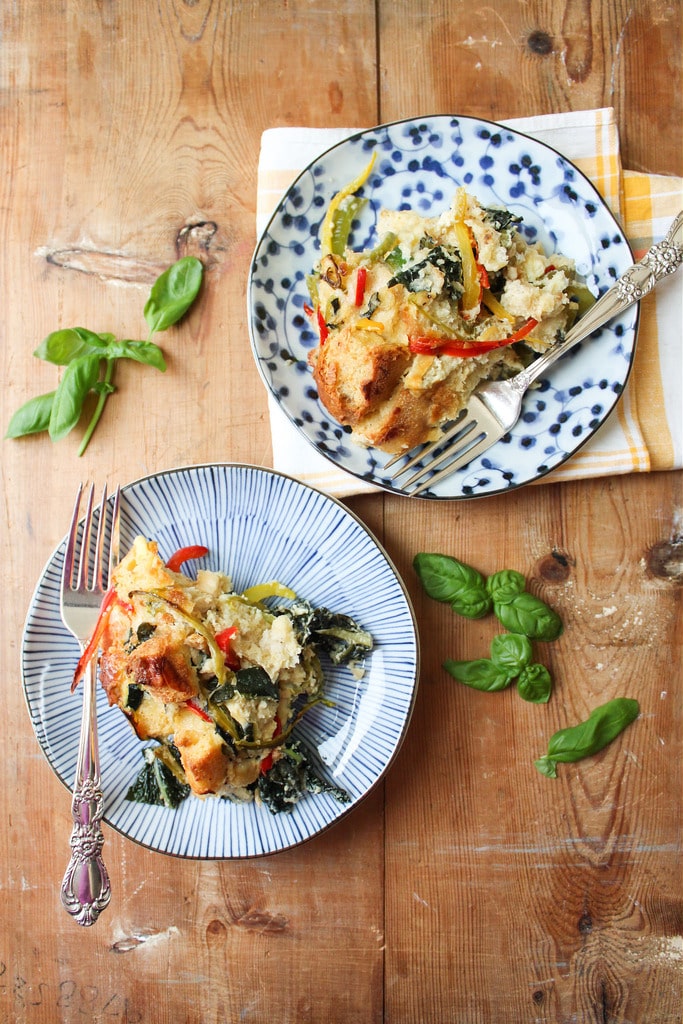 This little foray into raiding the fridge turned out to be a delicious endeavour. Savory bread pudding is one of the easiest meals to prepare using whatever ingredients you happen to have. The only staples required of bread pudding are bread, eggs, cheese, and milk/cream. It consists of the usual items in one's fridge.
After that, you can toss in whatever vegetables and meats you find. Use the measurements for the staple ingredients and swap in the veggies of your choice. May this become your go-to recipe for cleaning out the fridge!
Vacations require me from being away from the tech world– meaning I will be away from my computer and the blogging community for the next two and half weeks. (I didn't mention cell phone because I know I won't be able to resist posting pictures/videos on Instragram.)
But no worries, you'll still be getting weekly posts and recipes from me. I have prepared a handful of dishes and desserts that are cued up and scheduled to be published in the days ahead.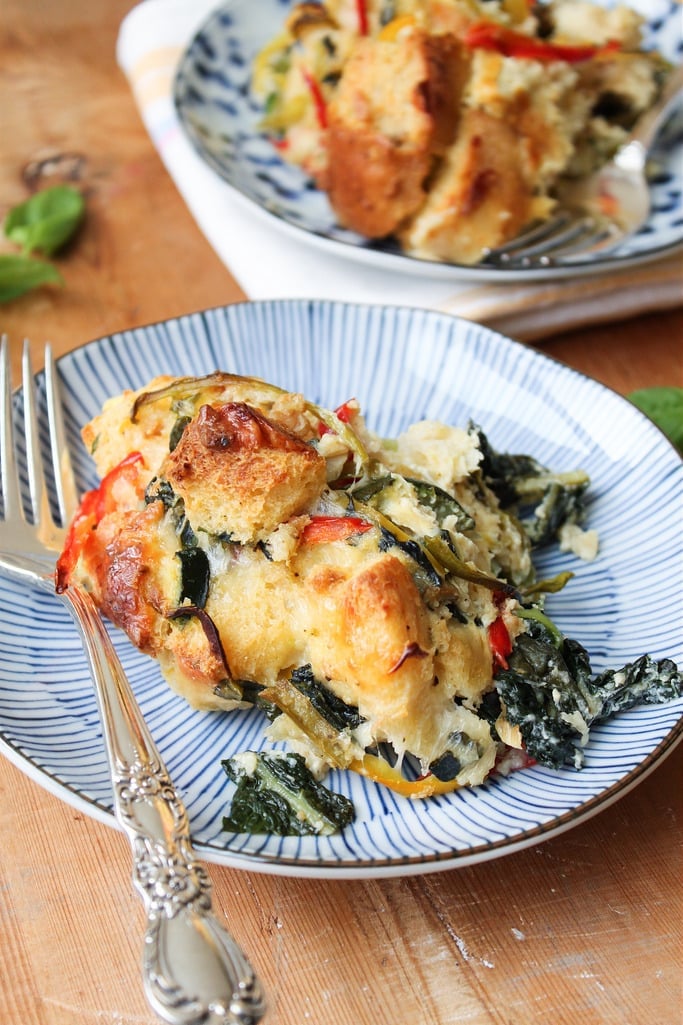 Clear the Fridge Bread Pudding
Yield: serves 6-8
Ingredients
8

cups

crusty bread, cut into bite-sized cubes

6

large eggs

1 1/2

cups

whole milk

1

cup

heavy cream

2

Tablespoons

vegetable oil

3

bell peppers (red, yellow, and/or green), sliced into strips

3

garlic cloves, minced

1

medium zucchini, sliced into 1/2-inch rounds, quartered

2

cups

kale, roughly chopped

2

Tablespoons

grated parmesan cheese

1 1/2

cups

provolone cheese, shredded or cut into small cubes

2

Tablespoons

fresh basil, chopped

kosher salt and freshly ground black pepper, to taste
Instructions
Preheat oven to 350 degrees F.

Heat a large saute pan over medium heat. Add oil. Once oil is hot, add garlic and cook for 30-45 seconds until garlic is fragrant. Add quartered zucchini and stir to combine. Cook until zucchini begins to soften. Then add chopped kale. Season with salt and pepper. Toss to combine and continue to over medium heat.

Just before kale is almost done, add bell peppers. Cook until kale has wilted. Remove from heat and set aside.

In a large measuring cup, whisk together eggs. Season with a little salt and pepper. Add milk and cream. Whisk to combine.

Place crusty bread in a large bowl. Pour in wet mixture and fold to combine. Add provolone cheese, parmesan cheese, cooked vegetables, and chopped basil. Fold to throughly combine and distribute ingredients.

Transfer to a large 2 1/2 quart oven safe baking dish. Bake for 30-40 minute until bread pudding has puffed up, the top layer of bread is toasty, and pudding is set in the center. Serve warm.