Can you find the eggs?! They are hidden in this Easter egg chocolate cake!
Growing up, Easter was a big deal in our house. No only because Easter marked the end of Lent, but also because it often coincided with my dad's birthday.
My mom would cook up a big feast of baked ham, twice baked ranch potatoes (YUM!), and a plethora of Filipino foods (pancit, lumpia, lechon, etc).
Before all the guests arrived, my parents would hide Easter eggs throughout our backyard. Since I wasn't allowed to peek, I had to stay in my bedroom- which faced the street instead of the backyard where all the Easter egg hiding took place.
This was not your ordinary Easter egg hunt. While most eggs contained the usual candies, jelly beans, and chocolate, there were the special few that were filled with money.
Our Easter egg hunts were not limited to children. EVERYONE, young and old, (even my too cool teenage cousins) participated in this event.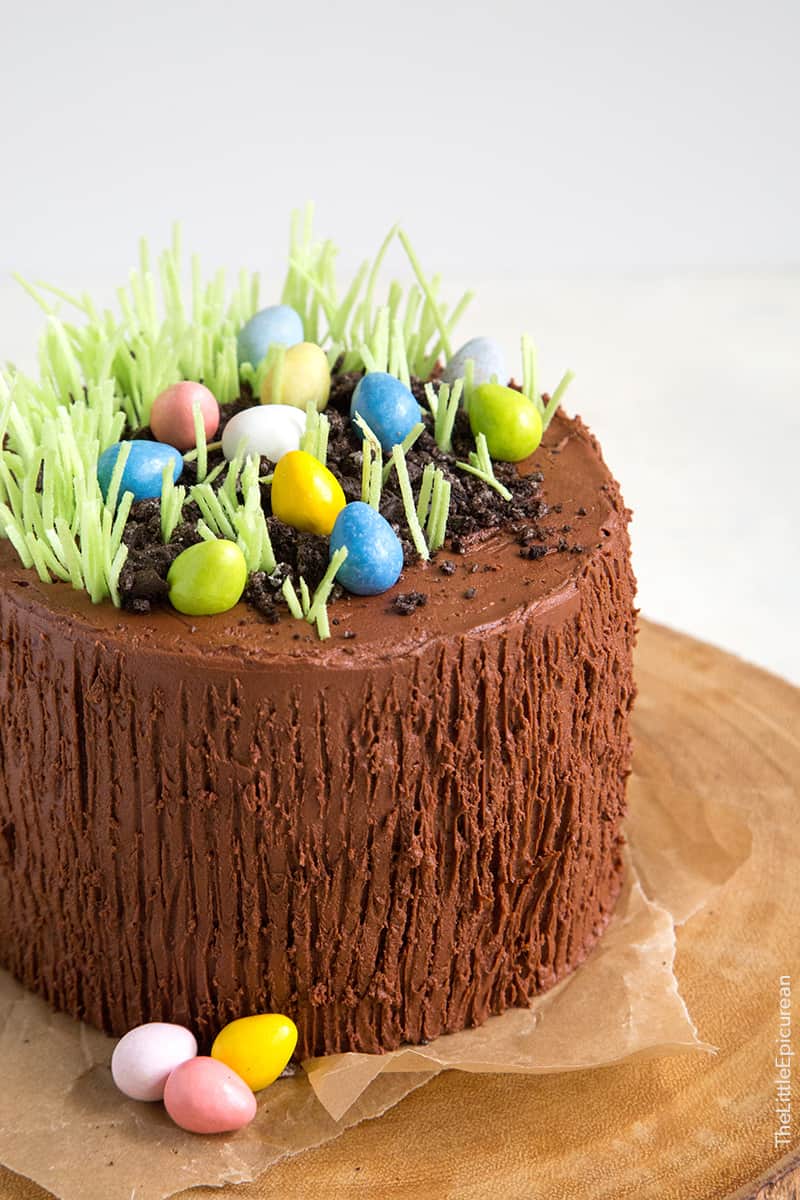 Easter Egg Chocolate Cake
It's been years since the last time my family threw an Easter party. Obviously with time, things change. My older cousins were getting married, there were new children and babies being born, and new traditions were being made.
One day, when I have kids, I'm totally bringing back our Easter egg hunt. Until then, I'm making this Easter egg chocolate cake!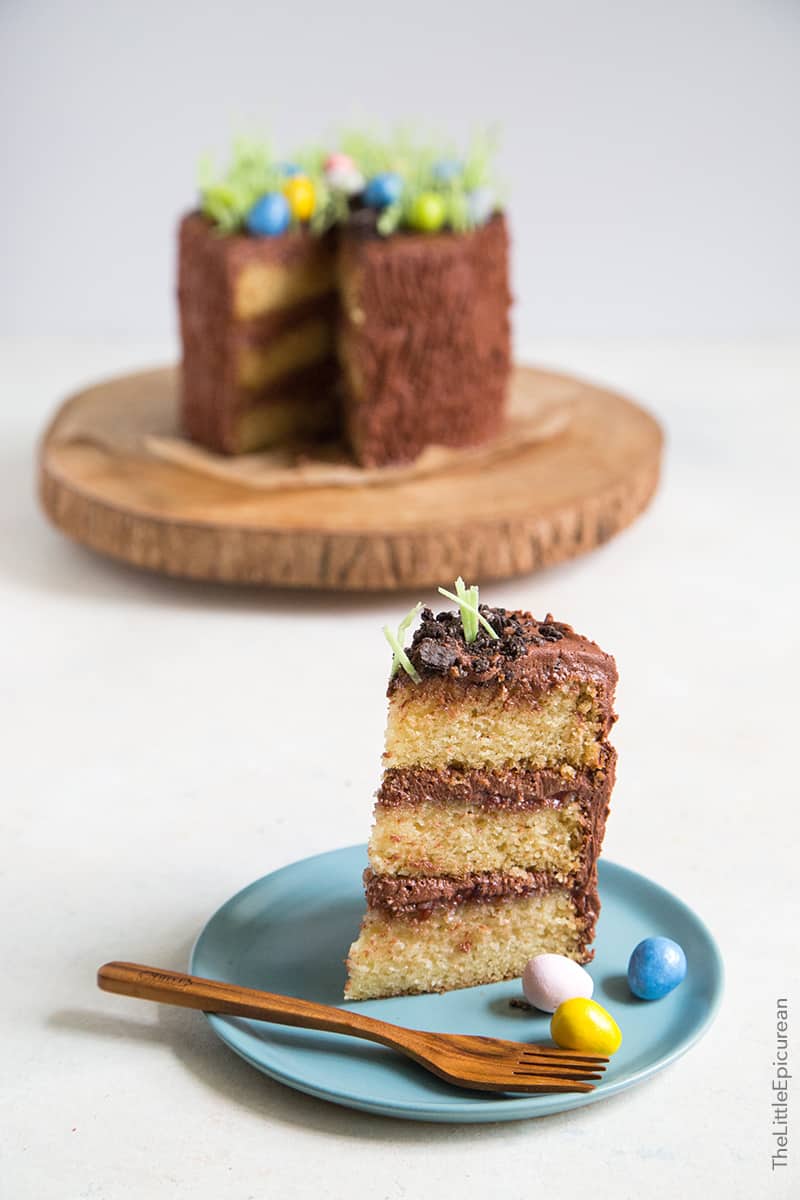 Rather than go overboard with the chocolate, I went with a vanilla cake.
In between the layers of cake and chocolate buttercream is a thin layer of raspberry jam. The jam adds a fruity and tangy taste that helps cut through this otherwise rich cake.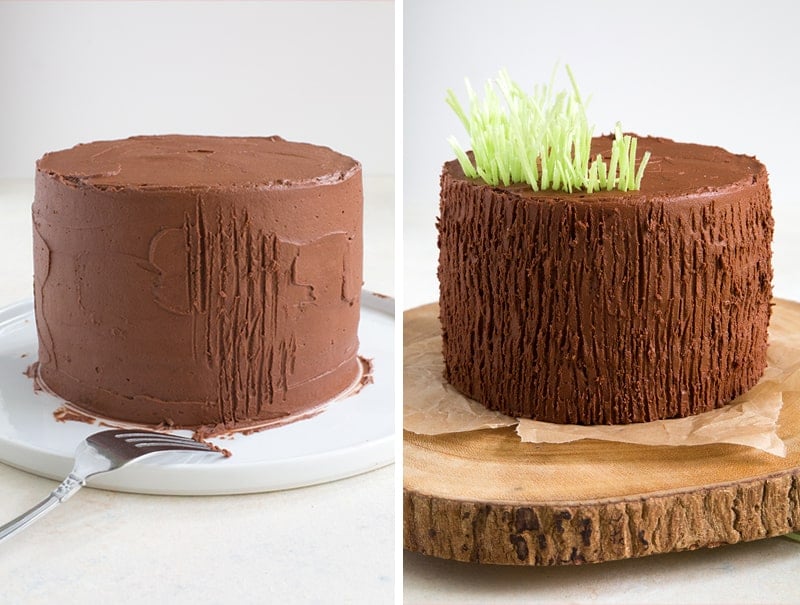 I've been wanting to make a tree trunk cake ever since I saw this chocolate poinsettia cake. Any buttercream that hardens will work with this technique. You can even use hardened chocolate ganache.
Once the coating is set, simply use the tines of a fork to create vertical stripes along the sides of the cake. It creates a texture similar to bark. I LOVE IT and I want to do it to EVERY CAKE from now on.
(Yes, I know it's a bit strange. Why is there grass and dirt on top of a tree trunk? In my imagination, it exists! End of story.)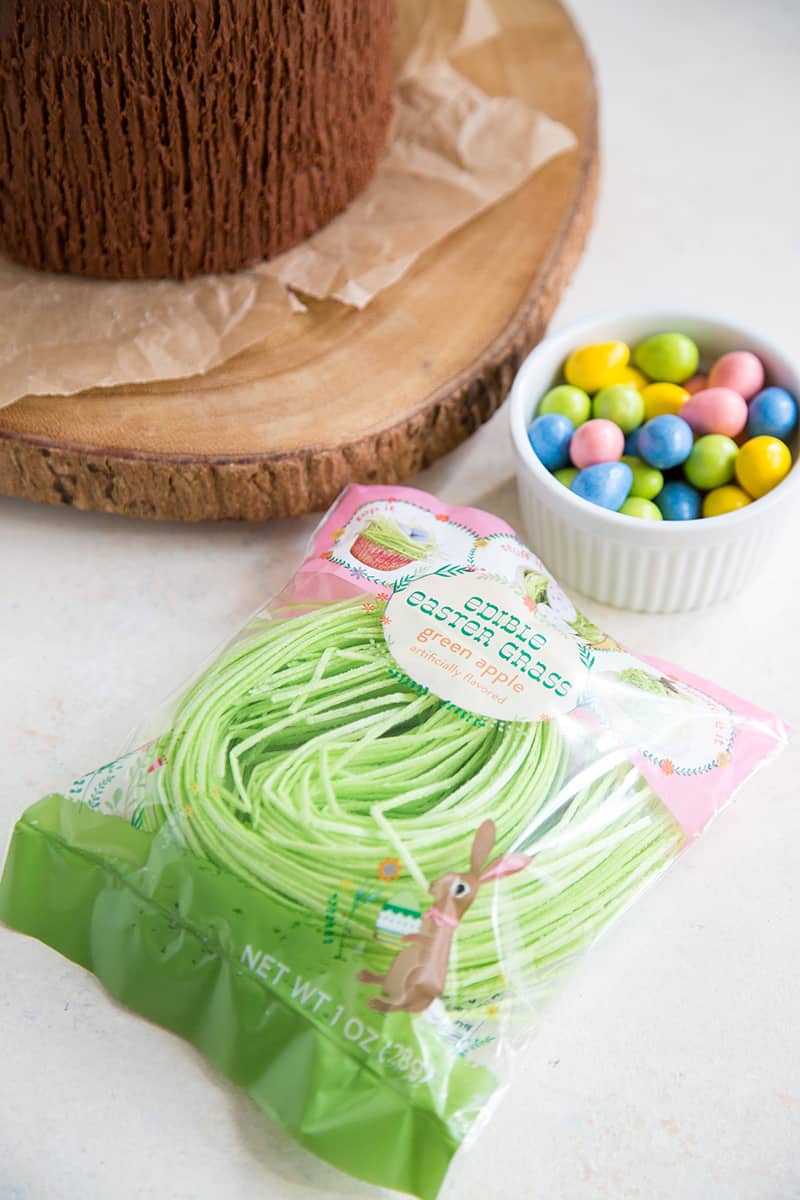 I was super excited to find this edible Easter grass at Target. They come in various colors and flavors. I think there's a pink and blue one. I went for the traditional green colored grass.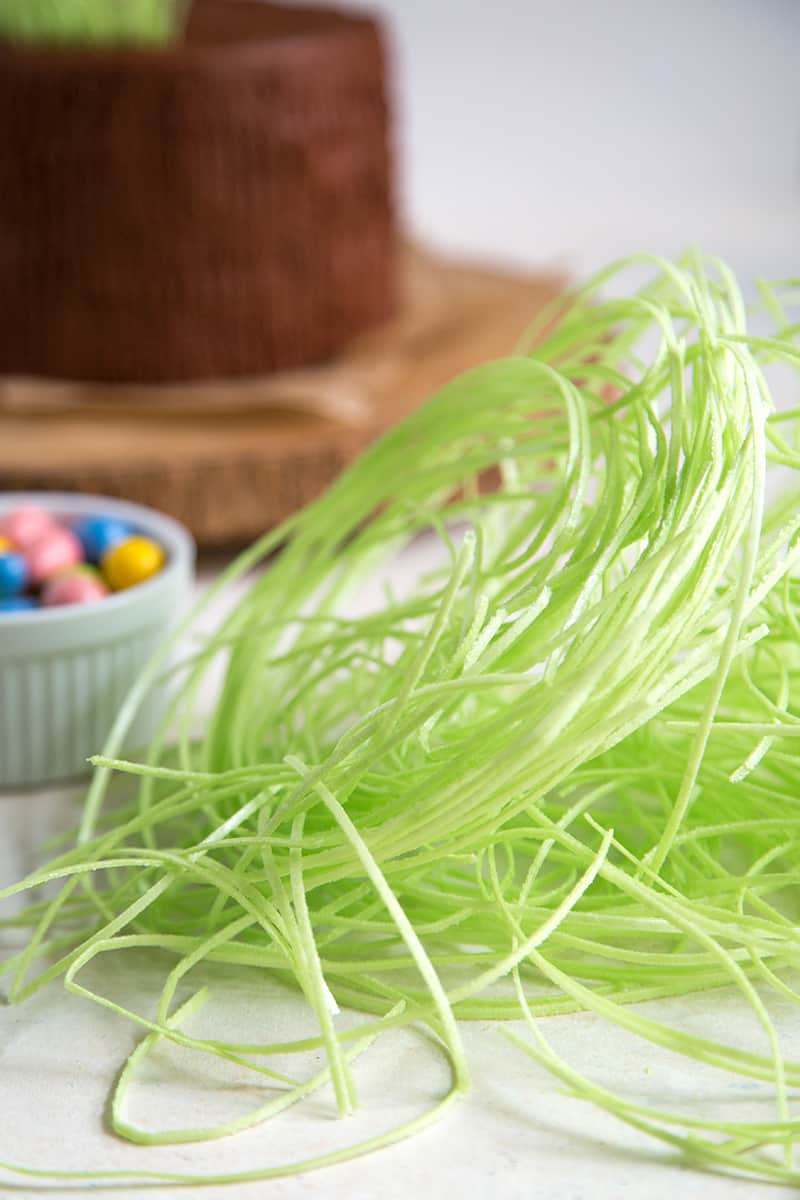 Once you take this stuff out of the bag, it's a bit difficult to work with. The grass is unruly and tangled. To make things easy, I simply cut the grass into various lengths and stuck them into the cake.
If you're wondering about the taste- it's very similar to the green apple flavor of sour belts/strings without the sourness. The texture reminds me of the Communion wafers (host bread) from Catholic mass services.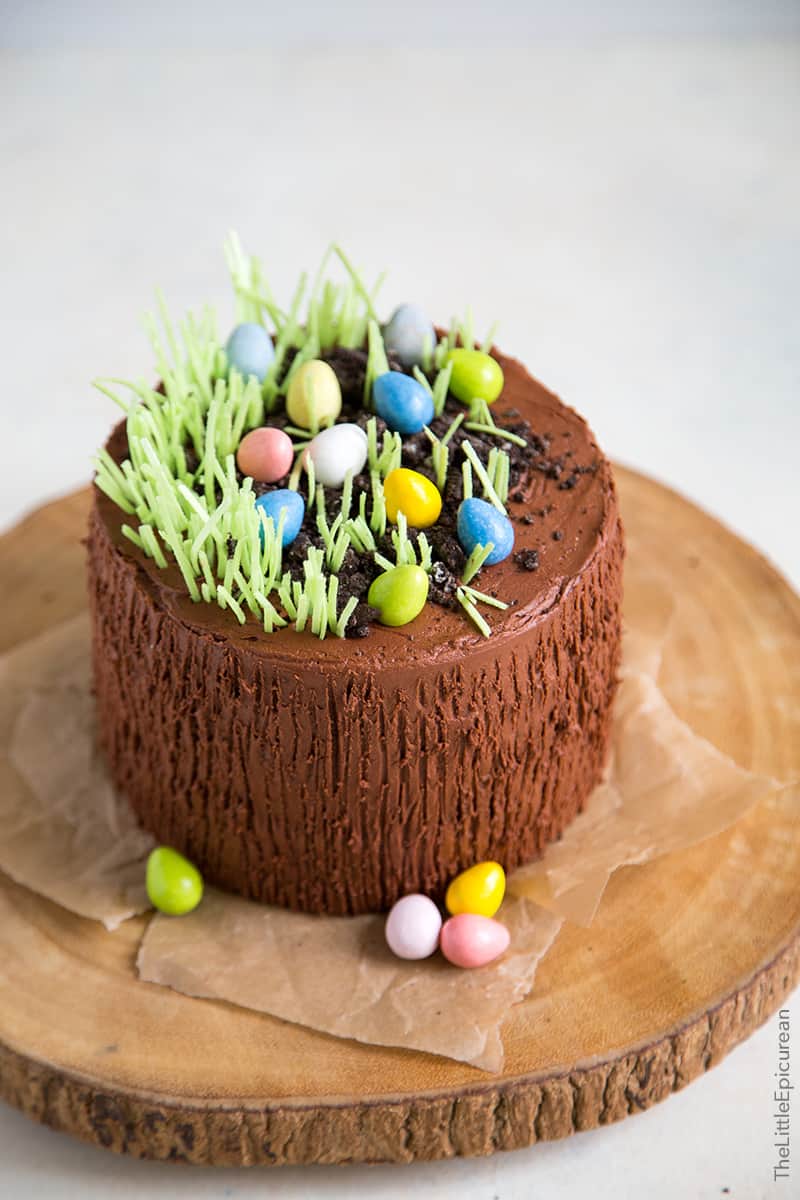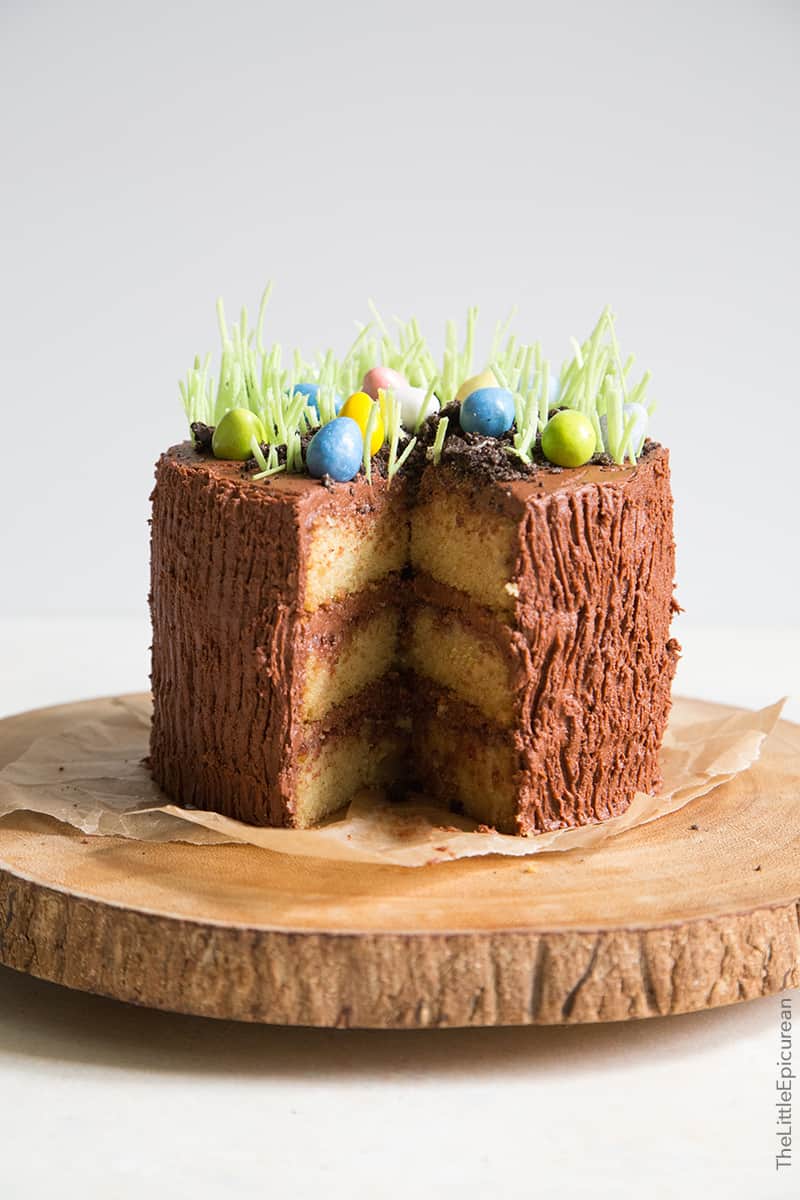 We have a few more weeks until Easter. Perhaps all this talk about Easter egg hunts will prompt my family to bring back the tradition.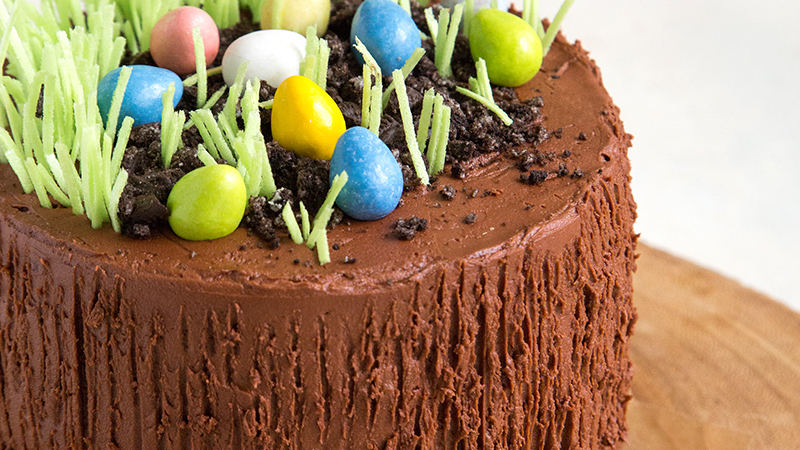 Easter Egg Chocolate Cake
Vanilla cake filled with an easy chocolate buttercream and a thin layer of raspberry jam. Decorated with edible grass, crushed Oreo cookies, and mini chocolate eggs, this is a fun Easter cake that will delight kids and adults alike!
Yield: 6-inch cake
Ingredients
Vanilla Cake:
2 ¼

cup

all-purpose flour

1

teaspoon

baking powder

1

teaspoon

baking soda

½

teaspoon

kosher salt

¾

cup

unsalted butter

softened

2

teaspoon

vanilla paste

or pure vanilla extract

1 ¼

cup

granulated sugar

3

large eggs

room temp

⅓

cup

low fat plain yogurt

1

cup

whole milk

¼

cup

raspberry jam

optional filling
Easy Chocolate Buttercream:
1

cup

unsalted butter

softened

3

cup

powdered sugar

½

cup

unsweetened cocoa powder

sifted

¼

teaspoon

kosher salt

2

Tablespoon

milk
Instructions
Vanilla Cake:
Preheat oven to 350°F. Lightly grease three 6-inch round cake pans and line with parchment paper. Set aside.

In a large bowl, whisk together flour, baking powder, baking soda, and salt. Set aside.


In a large bowl, cream butter. Add vanilla paste and sugar and mix on medium speed until mixture is smooth. Scrape down bowl as needed to ensure thorough mixing.


Mixing on low speed, add eggs one at a time. Mix until eggs are incorporated.


Alternate adding flour mixture and milk in three addition, beginning and ending with the flour mixture. Mix until just combined. Add yogurt. Continue to mix on low speed until batter is throughly combined. Scrape down bowl as needed.


Divide batter among prepared cake pans. Spread batter into an even layer. Bake for 35-40 minutes until toothpick inserted in center of cake comes out clean. Allow to cool in pan for 5 minutes. If necessary, run a mini offset spatula around the perimeter of cake to loosen from pan. Unmold cake from pan and allow to cool to room temperature on wire rack.

Easy Chocolate Buttercream:
In a large bowl, cream butter until smooth. Add powdered sugar and mix until incorporated. Add sifted cocoa powder, salt, and milk. Mix on low speed until incorporated. Scrape down bowl as needed. Increase speed to medium and continue to mix until buttercream is smooth and thick. Keep covered until ready to use.

Assembly:
If cake tops are not level, use a serrated knife to trim. Place one cake layer on a cake turn table (revolving cake stand). Spread 2 Tbsp of raspberry jam on cake. Spread chocolate butter cream on top and smooth into an even layer, being careful not to pick up the raspberry jam. Place second cake layer on top. Repeat adding raspberry jam and chocolate buttercream.

Place third cake layer on top. Do not add jam. Spread chocolate buttercream on top of cake. Use remaining buttercream to coast the sides of the cake. No need to try to keep it smooth. Just make sure that the buttercream is even along the sides. Allow to chill in the fridge for 15-20 minutes until buttercream has hardened.


Using the tines of a fork, create vertical stripes along the sides of the cake to mimic tree bark. Continue this around the entire perimeter of cake.


Cut edible Easter grass into various lengths. Stick edible Easter grass on top of the cake. Sprinkle crushed Oreo cookies on top. Decorate with mini chocolate Easter eggs as desired. Place cake in fridge until ready to serve. Allow cake to sit at room temperature for at least 15 minutes to soften before serving.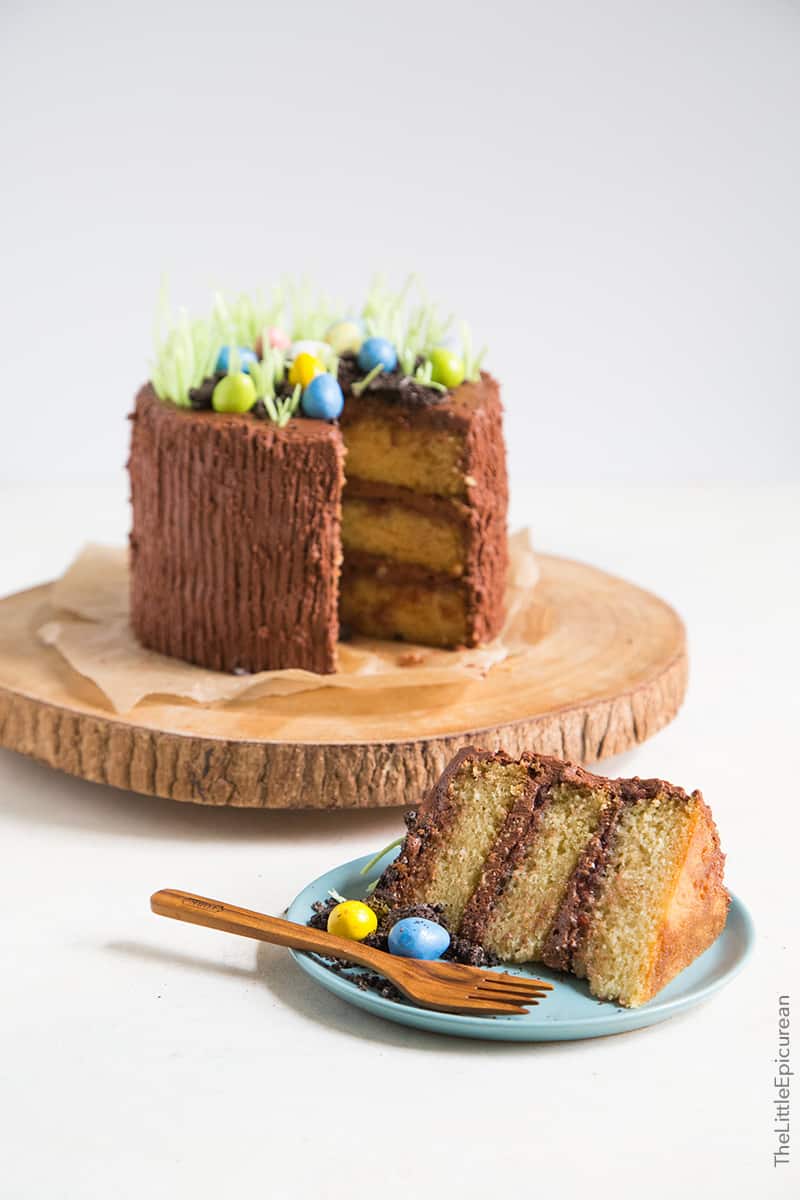 NOTE: I used this cake stand/cheese board plate from Crate & Barrel.