I had a fabulous weekend in Las Vegas.  Lots of laughs, fun, and relaxation was had.  Ate great food at Julian Serrano, Lemongrass, and American Fish at Aria.  Immensely enjoyed watching the Glee Concert with my boyfriend at Mandalay Bay (I cannot wait for the season finale tomorrow night).   Even won a little bit at the roulette tables.  And bought lots of new tools and goodies at Chef Rubber with my winnings, including a giant case of gelatin sheets meaning I'll be making tons of entremet cakes!
As if I didn't eat enough banana foster crepes, nutella brioche, and opera cakes at Jean Philippe Patisserie, I came home and made a batch of cinnamon sugar macarons instead of unpacking and doing laundry.
I really like Martha's Stewart's macaron recipe, it hasn't failed me yet.  I used cinnamon white chocolate ganache to fill the macarons, but I found them a tad too sweet and overpowering.  Next time, I'd like to swap in vanilla buttercream.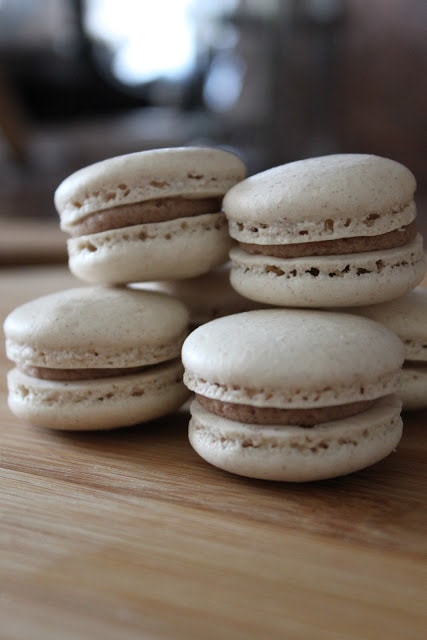 Cinnamon Sugar French Macarons
Ingredients
1

cup

confectioners' sugar

3/4

cup

almond flour/ground almond meal

2

large egg whites, room temperature, aged for two days

pinch of cream of tartar

1/4

cup

superfine sugar

1/2

Tablespoon

ground cinnamon
Cinnamon White Chocolate Ganache Filling:
9

oz

white chocolate chips

3

oz

heavy cream

ground cinnamon, to taste
Instructions
Pulse confectioner's sugar and almond flour in food processor. Sift mixture 2 times.

Preheat over to 325 degrees F. Whisk egg whites with a mixer on medium speed until foamy. Add cream of tartar, and continue to whisk until soft peaks form. Reduce speed to low and slowly add superfine sugar. (pulse granulated sugar to get superfine sugar). Once all sugar is in, increase speed to high and continue until stiff peaks form, about 8 minutes.

Sift flour mixture over the egg whites and fold until mixture is smooth and shiny. Do not overmix.

Transfer batter to a pastry bag with a 1/2 in plain round tip and pipe 3/4 inch rounds 1 inch apart on parchment-lined baking sheets, dragging pastry tip to the side of rounds rather than forming peaks. Tap bottom of baking sheet against table to release any trapped air. Let stand at room temperature for 20-30 minutes or until a skin has formed. You should be able to touch the batter without it sticking to you.

Bake one sheet at a time, rotating halfway through, until macarons are crisp on the outside, about 15-20 minutes. let macarons cool on sheet for 3 minutes, then transfer to wire rack.

Sandwich same size macarons with filling. Wrap and let mature in fridge for 24-48 hours before eating. You can also freeze macarons for up to two months. Bring to room temperature before serving.
Cinnamon White Chocolate Ganache Filling:
Place chocolate chip in medium size bowl.

Bring heavy cream to a boil and pour over chocolate. Cover with plastic wrap and let sit for one minute.

Using a spatula, stir the mixture together until homogenous and smooth. Add cinnamon according to taste. I added a tablespoon because I love cinnamon and I think white chocolate is too sweet. Cover with plastic wrap and let sit until room temperature. Once the ganache has cooled and thickened, transfer to piping bag and fill macarons.
Notes
Use the ratio (liquid:chocolate) 1:3 for white chocolate to obtain pipeable consistency.  1:2.5 for milk chocolate and 1:2 for dark chocolate. 
macaron recipe adapted from Martha Stewart