This Nutty Espresso Cake features three layers of espresso spiked cake frosted with brown butter buttercream and topped with roasted pecans and hazelnuts.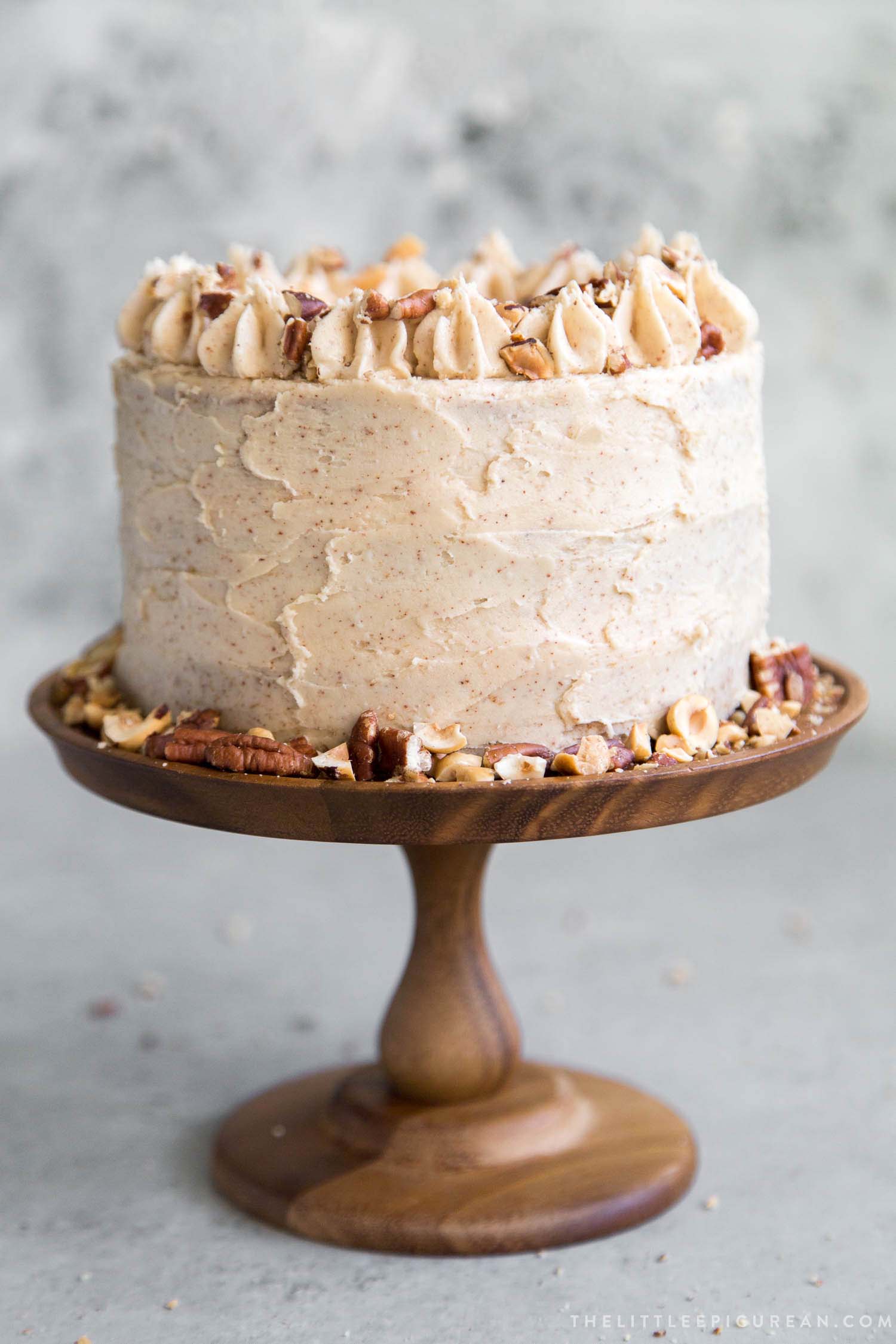 It's the first cake of 2019! The start of the new year is filled with optimistic resolutions and hopes for what's to come.
I don't follow any diet trends. Don't ask me about Whole30, paleo, or ketogentic. They work for some people, but it's not for me. Instead, I'm a firm believer in portion control and moderation.
Coming off of the high the holidays, January is often dubbed the most depressing month. Here is a sweet caffeine pumped cake to lift your spirits and perk you up!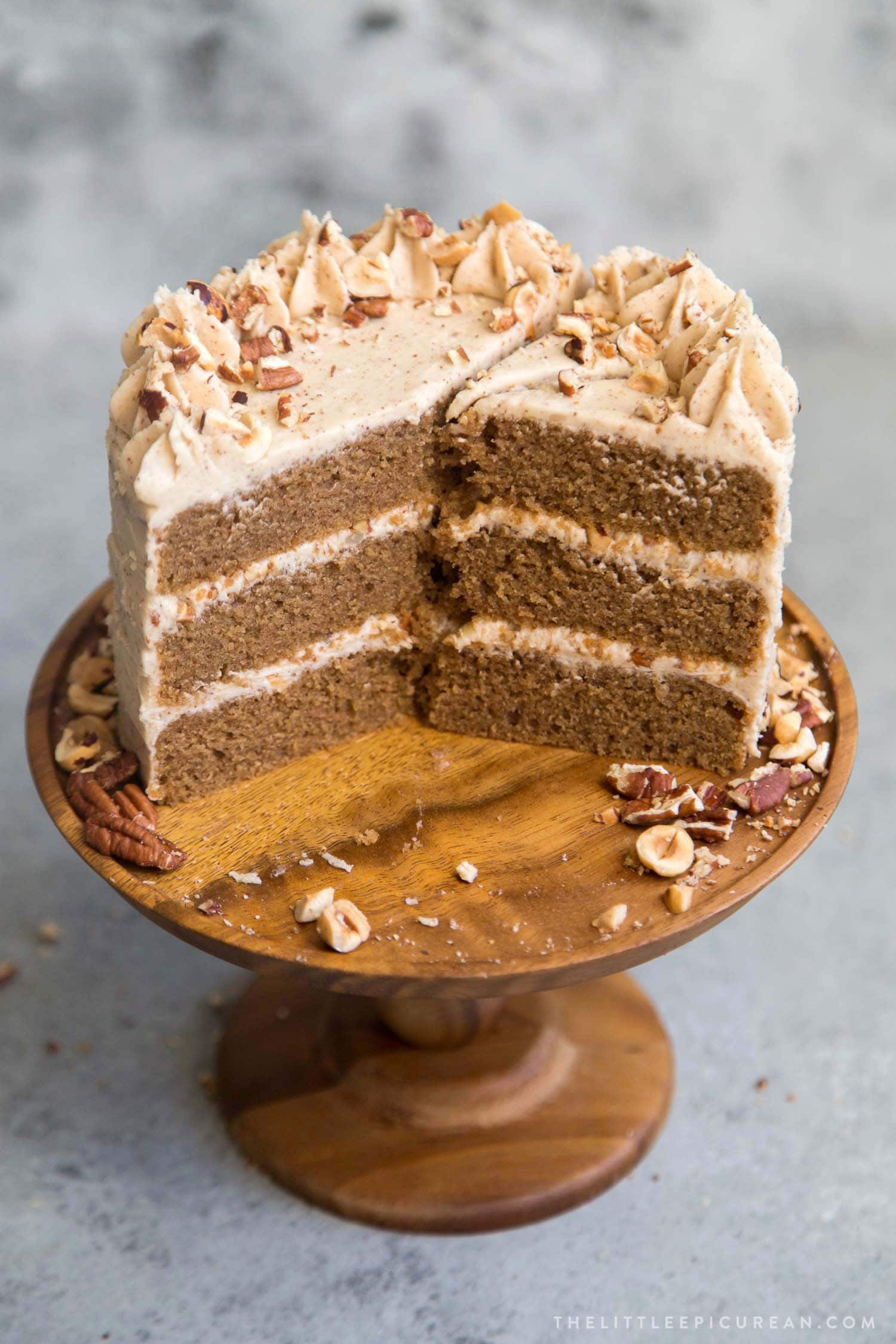 Nutty Espresso Cake
Fans of rich espresso flavor will love this cake. The cake batter is flavored with 2 shots of strong espresso and a hefty amount of instant espresso powder.
While the cake batter doesn't contain any chocolate, the resulting baked cake tastes like sweet mocha. The cake is super moist fresh from the oven.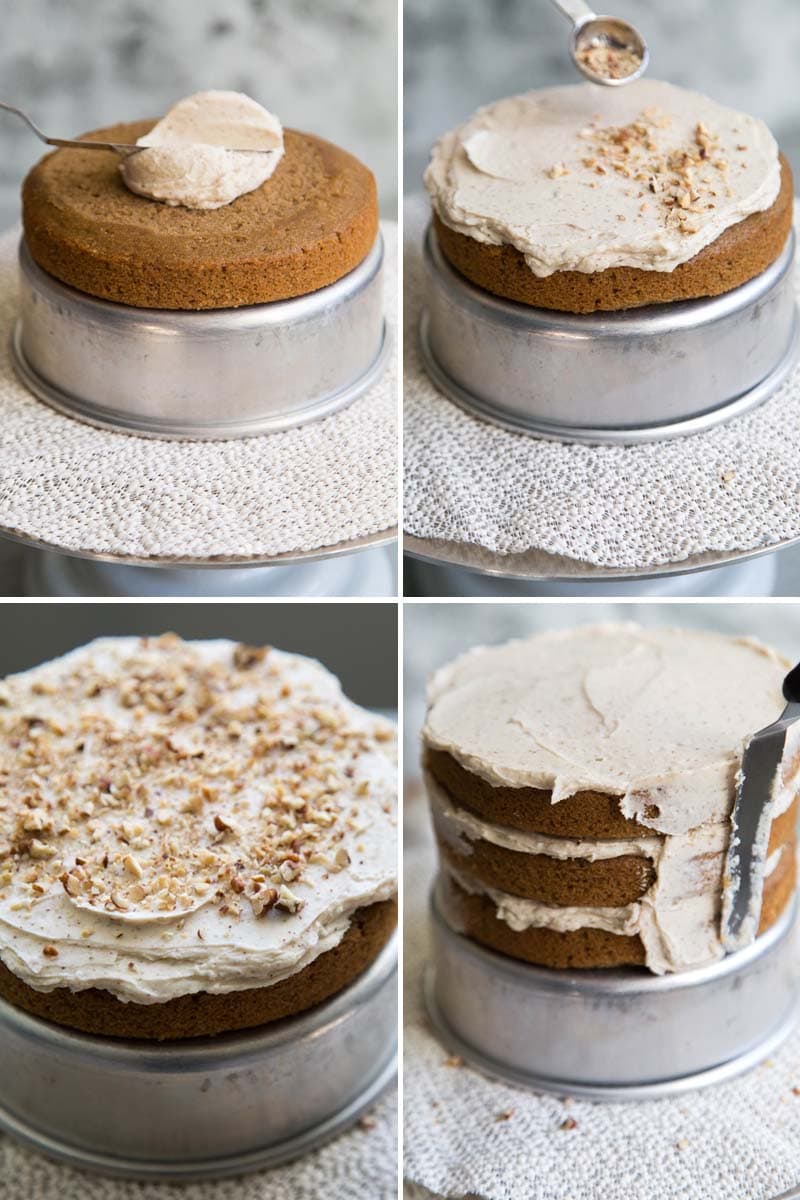 Make sure the cake layers have completely cooled to room temperature before assembling. Don't ever assemble warm cake layers. The buttercream will melt into a messy puddle.
I've called this the "Nutty Espresso Cake" because nuts are included in the batter, filling, and topping.
Can you omit the nuts?
Short answer- NO. This cake is sweet and the buttercream is sweet. In order to fully enjoy the Nutty Espresso Cake experience, the toasted nuts are essential to balance out the flavors.
Blanched almond flour is used in the cake batter. A mixture of finely chopped toasted hazelnuts and pecans are sprinkled through the brown butter frosting filling. And for the final nutty touch, roughly chopped toasted hazelnuts and pecans garnish each slice of cake.
For an espresso or coffee flavored cake without nuts, I suggest this Vietnamese Coffee Poke Cake or this Espresso Chocolate Cake.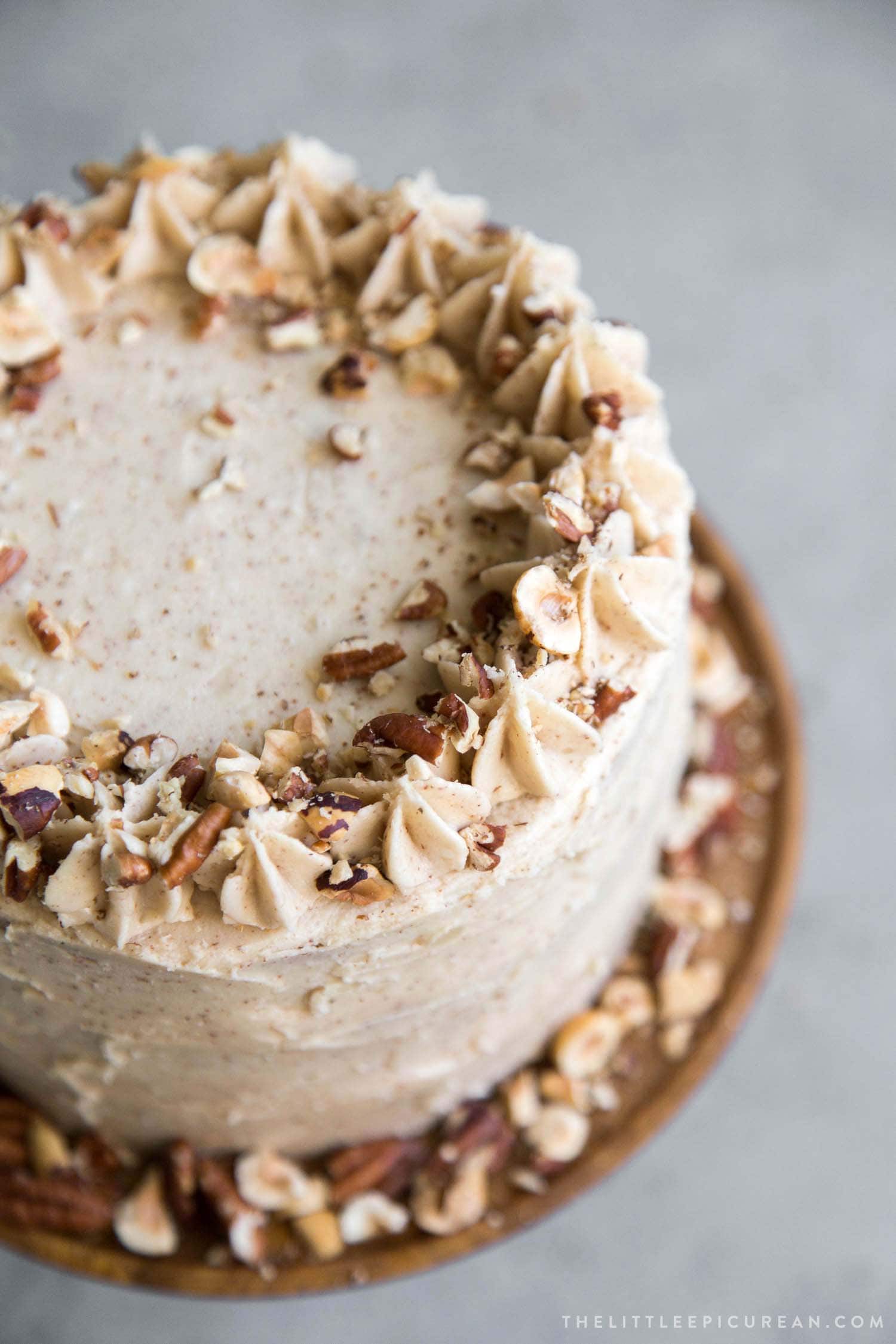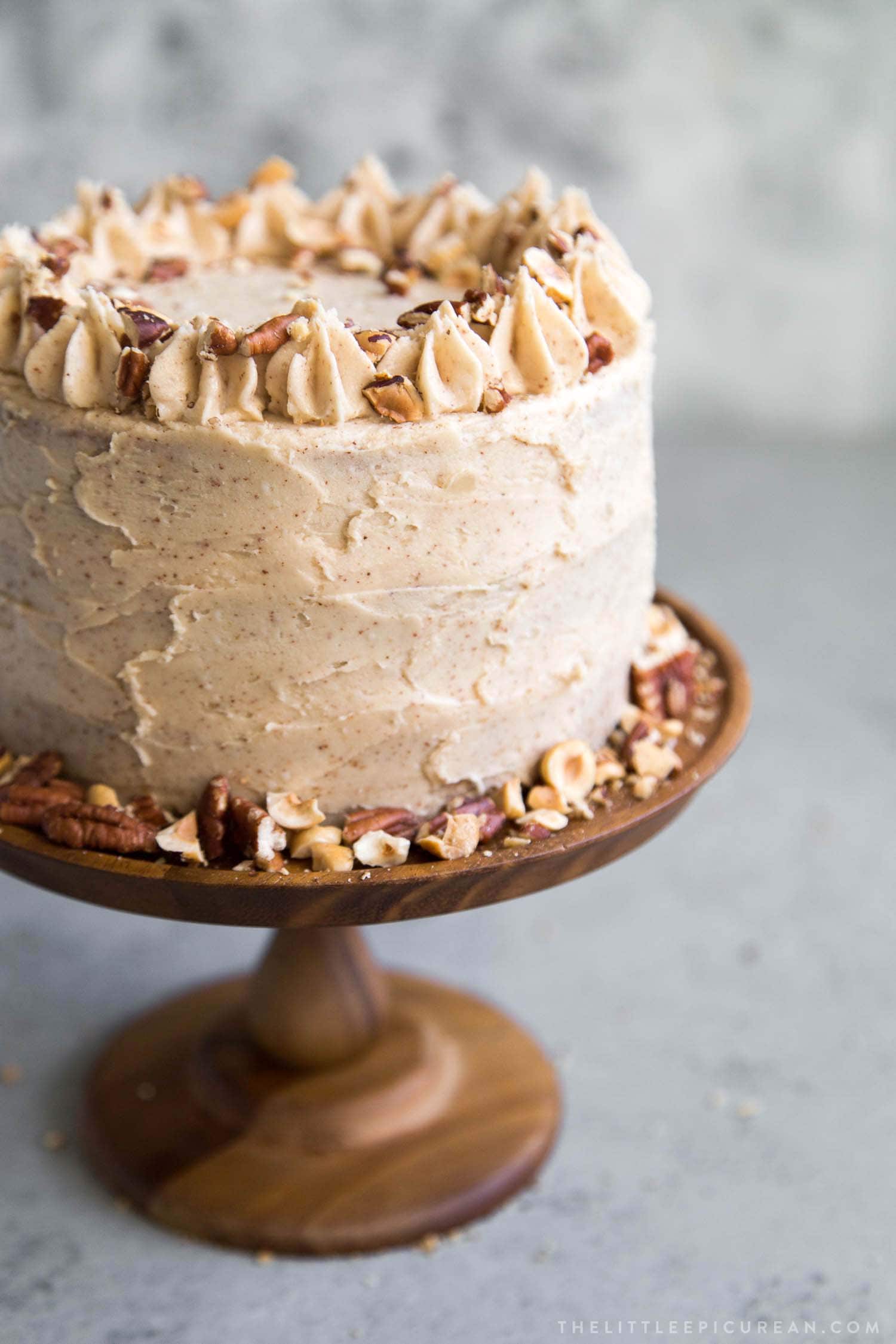 The wonders of brown butter
Can you see the little golden specks in the brown butter buttercream?!
Brown butter is a magical ingredient that can be used in both sweet and savory dishes, like brown butter chocolate chunk cookies and brown butter spaghetti.
Butter is comprised of water, butterfat, and milk solids. To make brown butter, unsalted butter is melted. As the melted butter is heated, the water evaporates and the milk solids separate from the butterfat (thus creating clarified butter aka ghee).
As this mixture is heated, the milk solids "cook" in the fat, eventually turning brown. These little golden brown specks are liquid gold. It's what create this rich, nutty, deep flavor that heightens and intensifies baked goods.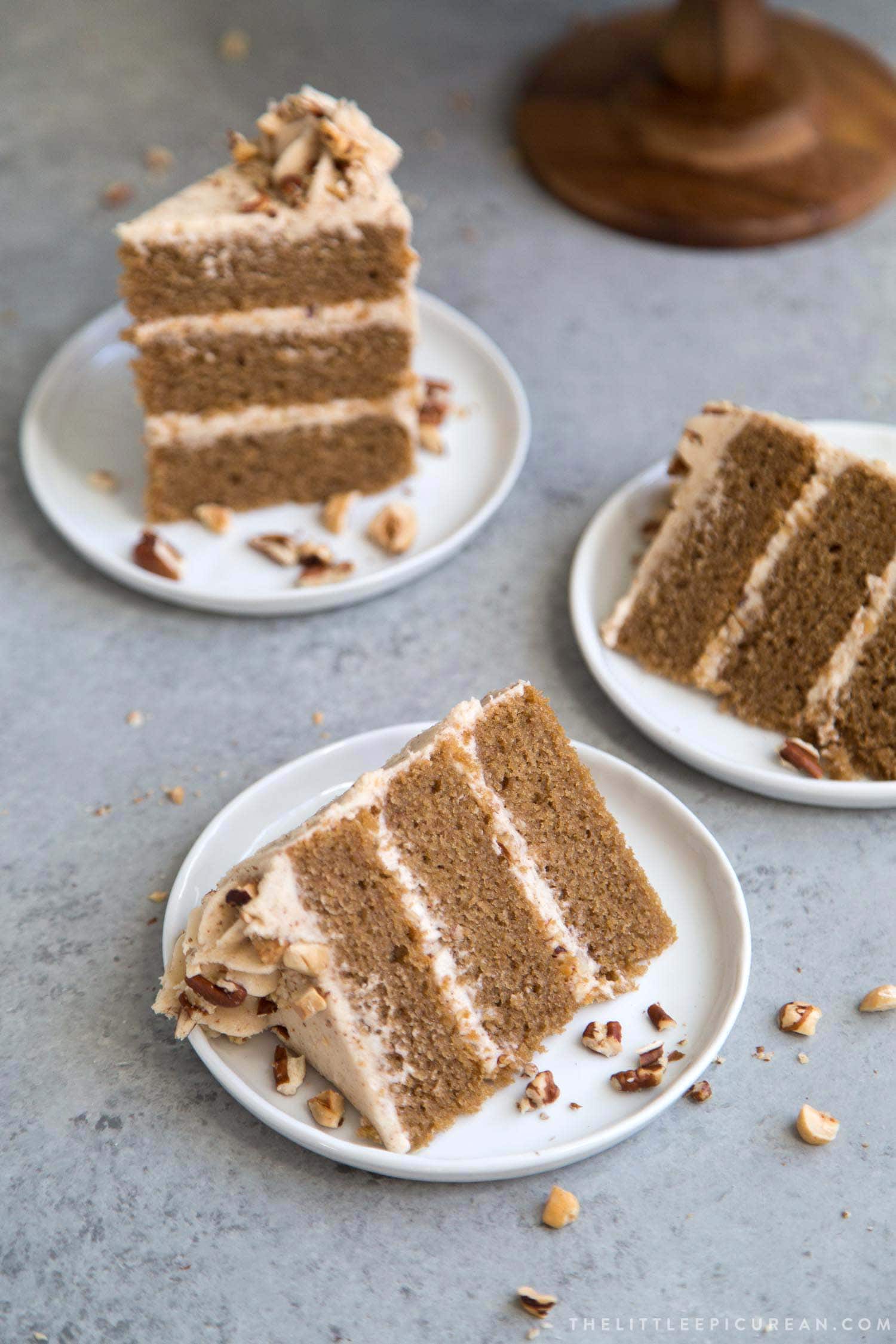 The combination of nutty brown butter with layers of sweet espresso cake and a generous amount of chopped toasted nuts creates an explosion of flavor.
While it would be a delicious feat to eat the entire cake, all goods things must be done in moderation. Serve yourself a slice and share the rest of the cake with loved ones!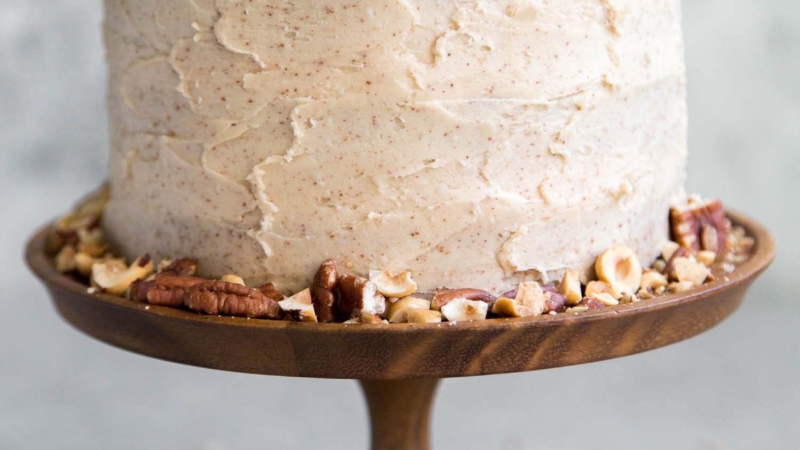 Nutty Espresso Cake with Brown Butter Frosting
Layered espresso spiked cake with brown butter buttercream and chopped toasted pecans and hazelnutsYield: 6-inch cake
Ingredients
Espresso Cake:
1 1/2

cup

(180 g) all-purpose flour

2/3

cup

(64 g) blanched almond flour,

super fine

2 1/2

teaspoon

baking powder

1/2

teaspoon

ground cinnamon

1/2

teaspoon

fine sea salt

1

cup

(226 g) unsalted butter,

room temp, softened

2/3

cup

(135 g) granulated sugar

4

large eggs,

room temp

1

Tablespoon

instant espresso powder

1/4

cup

strong espresso,

slightly cooled
Brown Butter Frosting:
1

cup

(226 g) unsalted butter,

cut into tablespoons

3

cups

(360 g) confectioners sugar

1/2

teaspoon

instant espresso powder

pinch fine sea salt

2-3

Tablespoon

milk,

or milk alternative
Toasted Nuts:
1

cup

raw pecans,

halves

1

cup

raw hazelnuts
Instructions
Espresso Cake:
Preheat oven to 350°F. Grease three 6-inch round cake pans and line with parchment paper. Set aside.

In a large bowl, whisk together flour, almond flour, baking powder, cinnamon, and salt. Set aside.

In the bowl of a stand mixer fitted with a paddle attachment, cream butter. Add sugar and mix until smooth and fluffy. Scrape down bowl as needed to ensure thorough mixing.

On medium speed, add eggs one at a time, making sure each egg is incorporated before adding the next. Scrape down bowl as need.  **Make sure eggs are room temperature. Otherwise, batter may curdle. If batter starts to curdle, mix in 2-3 Tablespoons of dry flour mixture until smooth.

Dissolve espresso powder into espresso liquid. Set aside.

On low speed, add dry flour mixture in three additions, alternating with espresso mixture. Start and end with flour mixture. Scrape down bowl as needed. Mix until just combined and there are no longer any dry streaks of flour.

Evenly divide cake batter among prepared cake pans. Level batter using a mini offset spatula, or the back of a spoon. Tap bottom of cake pan against hard surface to push out air bubbles.

Bake for 23-25 minutes until toothpick inserted in center of cake comes out clean. Let cool in pan for 5 minutes before running knife or offset spatula along sides of cake. Unmold cake and allow to cool to room temperature on wire rack.

Brown Butter Frosting:
In a heavy bottomed sauce pan, melt butter over medium heat. Once the butter has melted, continue to cook. Swirl pan occasionally to ensure even heating. Mixture will bubble and foam as it cooks. The bubbling will be vigorous at the beginning but it will subside. Continue to cook until butter smells nutty. The mild solids in the butter will turn rich brown in color. Remove from heat and pour into a heat-safe bowl. Be sure to scrape out as much of the browned milk solids bits.

Allow brown butter to cool to room temperature. Cover and keep chilled in the fridge until solid. Brown butter needs to be completely cooled before mixing into buttercream.

Allow solid brown butter to soften at room temperature. Transfer to the bowl of stand mixer fitted with a paddle attachment (or use an electric hand mixer). Beat until smooth. Add confectioners sugar, instant espresso powder, salt, and milk. Mix until buttercream is soft and fluffy. Scrape down bowl as needed to ensure thorough mixing.

Toasted Nuts:
Preheat oven to 350 degrees F. Line two baking sheet with parchment paper. Spread pecans in an even layer on one tray and hazelnuts on the other tray. Bake for 10-12 minutes until nuts are fragrant. Pecans may cook faster. Hazelnuts are done once skins start to peel off.

Midway through baking, stir nuts around to ensure thorough toasting. Be mindful, nuts can go from toasted to brunt very fast!

Allow toasted pecans to cool. To remove hazelnut skins, place hot hazelnuts in a kitchen towel. Rub hazelnuts together until skins fall off. Do not worry if all the skins do not come off.

Allow nuts to cool to room temperature before assembly. Finely chop about 2 tablespoons pecans and 2 tablespoon hazelnuts. Set aside. Roughly chop remaining nuts.
Assembly:
If necessary, use a serrated knife to level off cake layers once cake has completely cooled.


Place one cake layer on cake board, serving plate, or cake turntable. Spread a layer of buttercream over cake. Sprinkle 1 1/2 tablespoon of finely chopped nuts over buttercream. Top with second cake layer and repeat adding buttercream and nuts.

Add third cake layer and top with buttercream. Spread a thin layer of buttercream around the exterior of assembled cake to seal in crumbs. Chill in the fridge for 10-15 minutes to set up.

Add a final coat of buttercream around the exterior of cake. Keep cake chilled in the fridge until ready to serve.

Allow cake to sit at room temperature for 30 minutes before serving. If desired, add remaining buttercream to a pipping bag fitted with a star tip. Decorate the top of cake with a piped border. Before slicing and serving, garnish cake with roughly chopped toasted nuts. Garnish each cake slice with additional chopped nuts.
Notes
Espresso Cake Recipe can also be baked as two 8-inch cake layers. Bake for 28-30 minutes.
It is very important to use room temperature ingredients for the cake recipe. Cold eggs will cause the creamed butter mixture to curdle.