These caramel walnut sticky buns are individually baked in giant muffin tins. Enjoy these oversized sticky buns warm, fresh from the oven to get that ooey-gooey caramel goodness.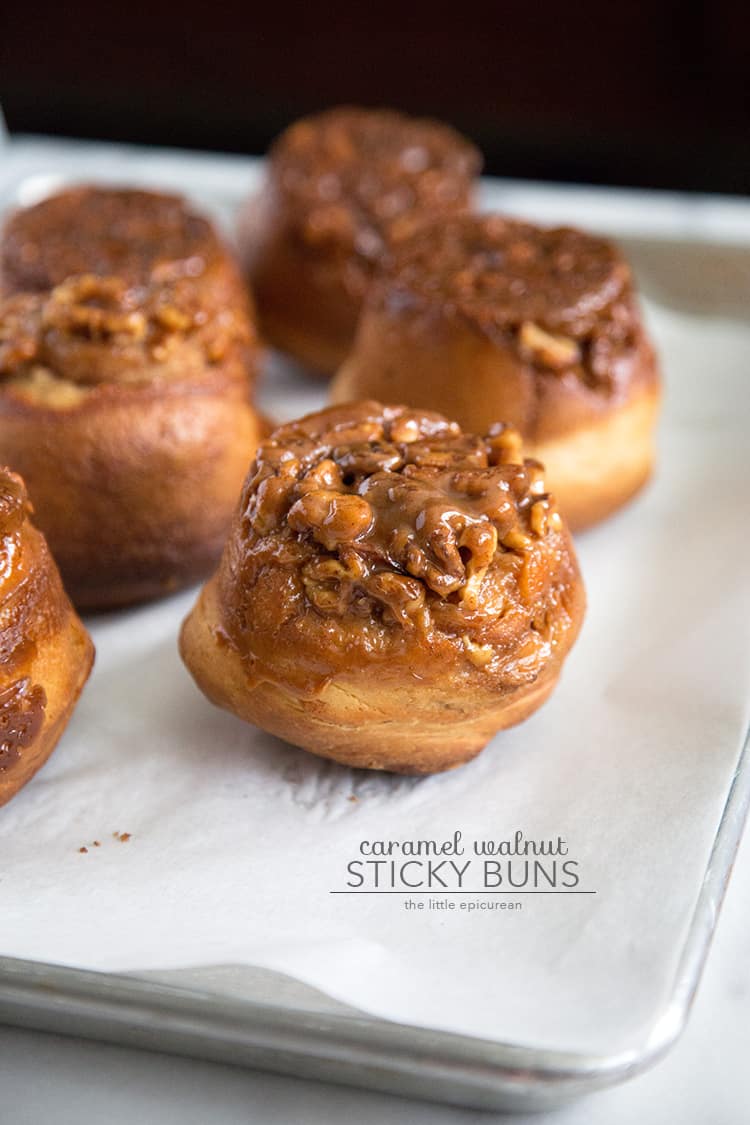 Sticky buns are just an excuse to eat dessert for breakfast.
These caramel walnut sticky buns fall under the same category as donuts, chocolate croissants, and raspberry cream cheese danishes- meaning they're all delicious.
I make cinnamon rolls regularly and only reserve sticky buns for special occasions because let's face it, sticky buns are cinnamon rolls loaded with ooey gooey sweet caramel.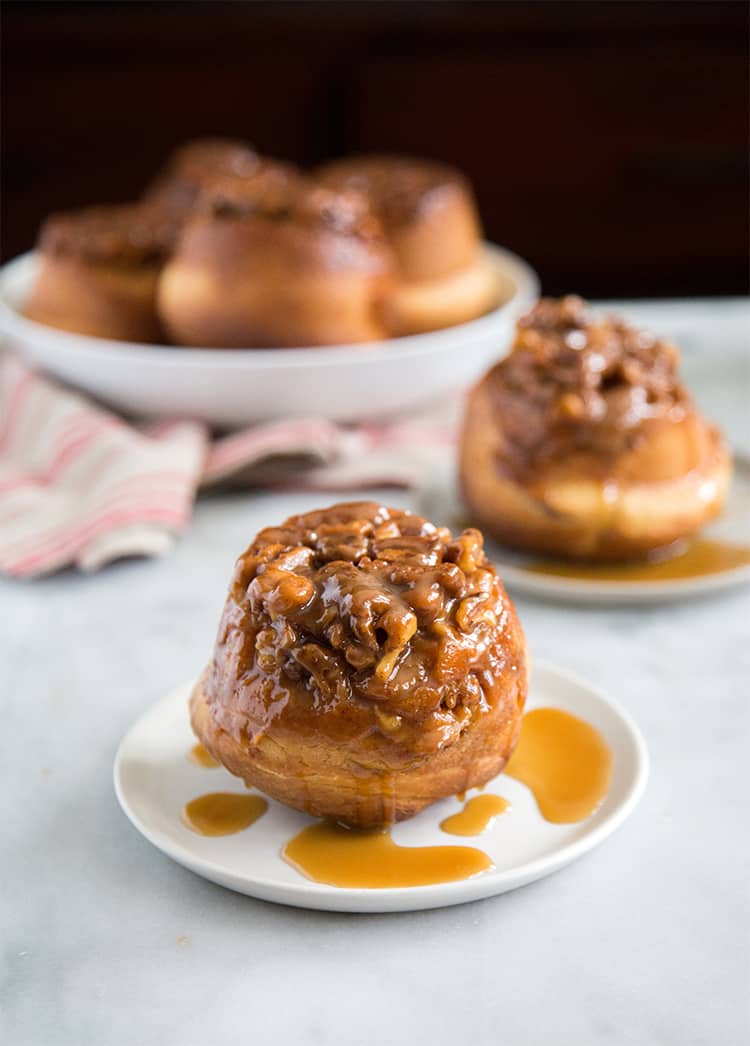 Caramel Walnut Sticky Buns
Cinnamon rolls and sticky buns are something me and dad always agree on. My other family members, not so much.
It can't be too sweet, must have a ton of nuts, and the cinnamon flavor must not be overpowering. So to appease the rest of my family, these buns are full of toasted walnuts with little bursts of orange zest.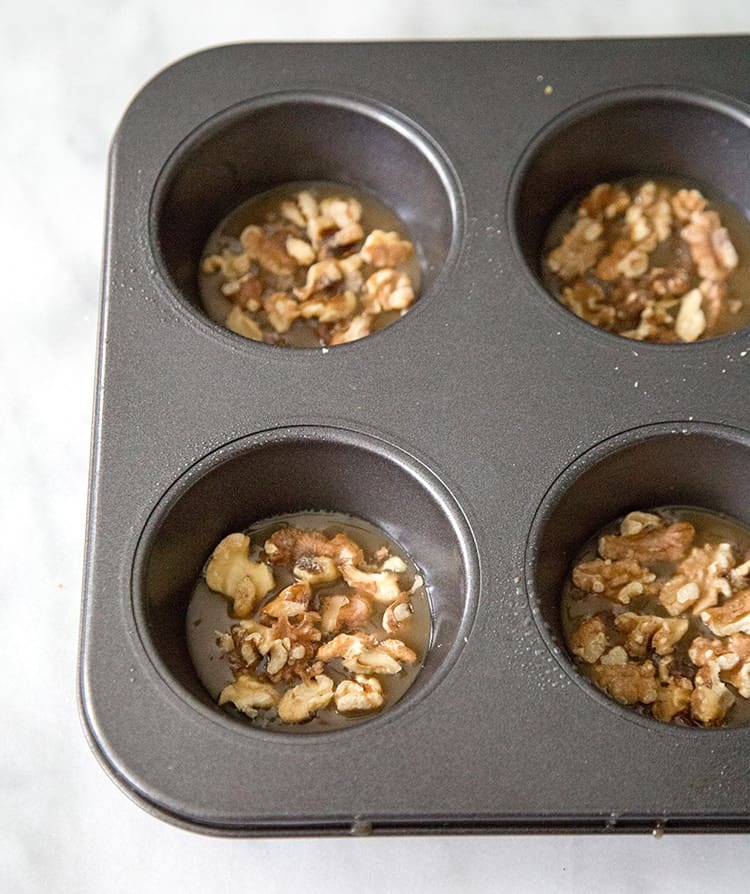 Since the brioche dough for these buns are pretty time consuming, I wanted to simplify everything else. This caramel sauce couldn't be any easier. All you have to do is bring cream and brown sugar to a boil. And DONE!
A little caramel sauce is added to the muffin cavity, along with enough toasted walnuts to cover the bottom. Unlike cinnamon rolls, these buns are baked upside down. I used this giant muffin tins to contain the nuts and caramel.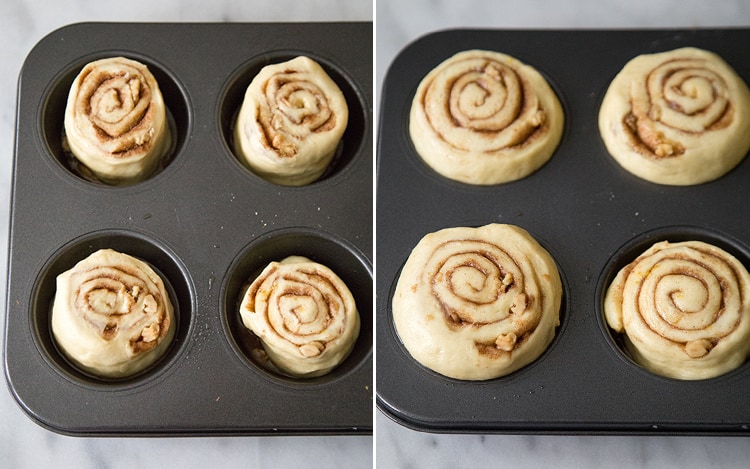 Spread softened butter all over the rolled out dough. Sprinkle the cinnamon sugar mixture as well as freshly grated orange zest. Top it all off with crushed walnuts, then roll the dough like you would for cinnamon rolls
Place cut rolls in caramel walnut lined muffin tins. Cover with plastic wrap and let buns rest until they bulk up in size and fill up the muffin tin like the photo above.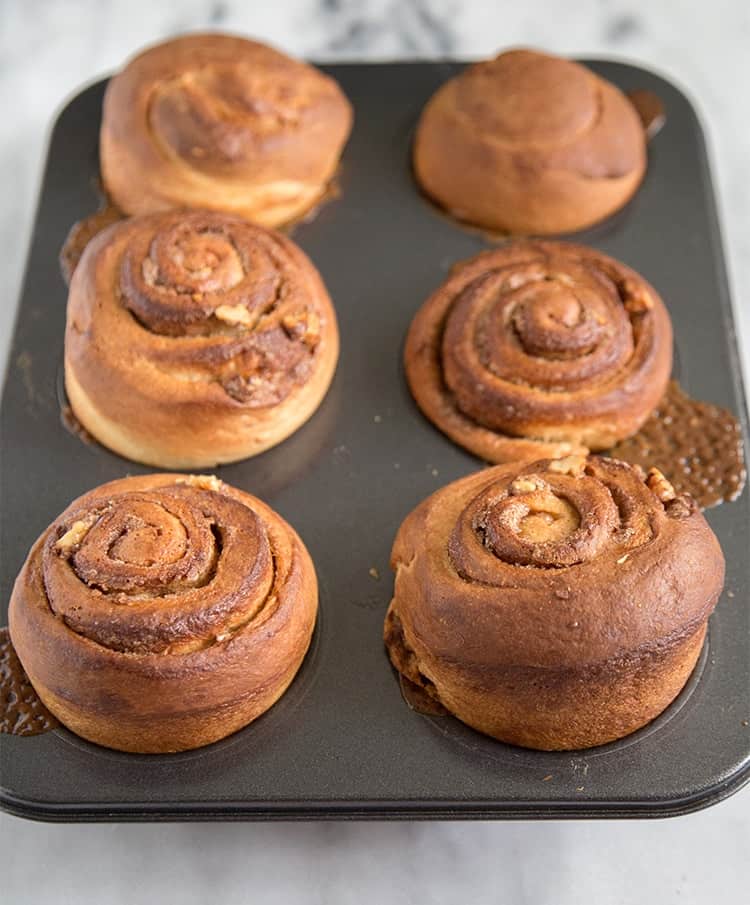 After about half an hour in the oven, you'll have these giant buns jumping out of the muffin tin. Let them cool for about 3 minutes before turning them over on a sheet tray to unmold.
These babies are best served warm drizzled with additional caramel sauce, but they're also just as delicious at room temperature with a giant mug of coffee.
They're sure to win over any cinnamon roll or sticky bun skeptics!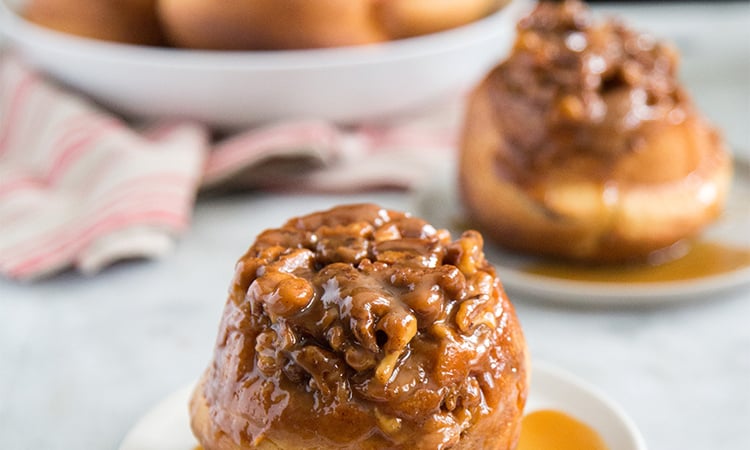 Caramel Walnut Sticky Buns
Yield: 6 buns
Ingredients
Brioche Dough:
2

tsp

active dry yeast

1/3

cup

whole milk

, warmed to 110 degrees F

3

Tbsp

+ 1 tsp granulated sugar

2 1/4

cup

all-purpose flour

1

tsp

fine sea salt

3

large eggs

, room temp, whisked

1/2

cup

unsalted butter

, softened, cut into tableespoons
Caramel:
1

cup

heavy cream

1

cup

light brown sugar

, packed

pinch fine sea salt
Filling:
1/3

cup

granulated sugar

2

Tbsp

light brown sugar

, packed

2

tsp

ground cinnamon

3

Tbsp

unsalted butter

, softened

1 1/2

cup

walnut

, lightly toasted, roughly chopped

zest of half an orange
Instructions
To make dough: In a small bowl, whisk together yeast, warm milk, and 1 tsp sugar. Let sit for 5-8 minutes until mixture is cloudy and foamy. Transfer to the bowl of a stand mixer fitted with a dough hook attachment.

In a large bowl, whisk together remaining 3 Tbsp sugar, flour, and salt. Set aside.

Add whisked eggs to stand mixer. Mix to combine. Add flour mixture in three additions and mix on low for about 2 minutes until incorporated. Dough will be sticky, do not be tempted to add additional flour.

With the mixer running on low speed, add softened butter 1 tablespoon at time. Continue to mix until butter has been incorporated. Continue to knead for 3-5 minutes until dough is soft, smooth, and pulls away cleanly from the bowl. Transfer to a lightly oiled large bowl. Cover with plastic wrap and let rest for 1 hour at room temperature. Remove plastic wrap, punch dough and knead for 3-5 minutes. Return to oiled bowl, cover, and let chill in the fridge overnight.

To make caramel:

In a medium sauce pot, combine cream and brown sugar. Stir to combine. Set over medium heat and bring to a boil. Once boiled, let simmer for 3-5 minutes. Remove from heat and add pinch of salt. Stir and let cool. Store in fridge until ready to use. Reheat as necessary.

To make filling: Whisk together sugar, brown sugar, and cinnamon. Set aside.

Assembly: Lightly grease a giant 6-cup muffin tin. Add about 2 tablespoons of caramel sauce into each muffin cavity. Add enough walnuts to line bottom of muffin cavity. Set aside.

Remove dough from fridge and allow to sit at room temperature for 5 minutes. Place on a lightly floured work surface and roll into a 12 x 16-inch rectangle. (Dough will be cold, that's okay.)

Spread 3 tablespoons of softened butter evenly over dough. Sprinkle cinnamon sugar mixture over butter. Evenly distribute orange zest and remaining walnuts over dough. Roll dough into a tight log, starting at the long end. Once dough is rolled, arrange it so that the seam is at the bottom. Slice the log into 6 equal portions. Place slices into prepared muffin tin. Cover with plastic wrap and let rolls rise for 30-45 minutes until rolls expand to fill the muffin tin. Preheat oven to 350 degrees F.

Remove plastic wrap and bake rolls for 35-40 minutes until golden brown and the internal temperature of bread hits 190 degrees F. Let rolls sit in muffin tin for 3 minutes and then invert into a parchment lined baking sheet. Serve warm with warmed caramel sauce and additional toasted walnuts, if desired.

Notes
I used this 6-cup giant muffin tin
Sticky buns are best enjoyed the same day they're baked.  However, these can last up to 3 days at room temperature.  Keep uneaten sticky buns tightly wrapped in plastic wrap.  Reheat in the microwave as necessary.