Homemade strawberry basil frozen yogurt. This easy to make treat uses plain Greek yogurt and fresh strawberries.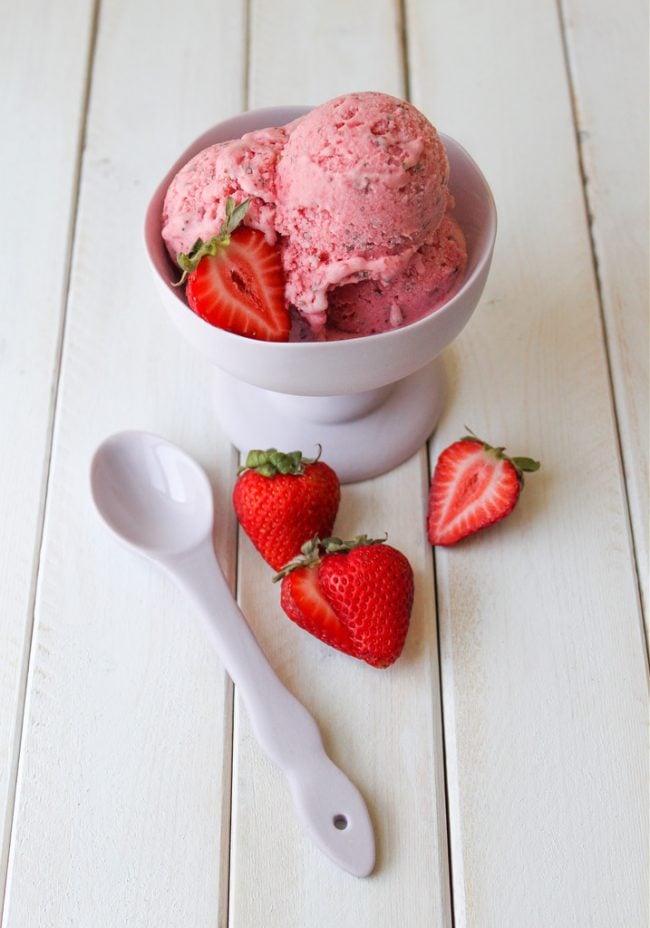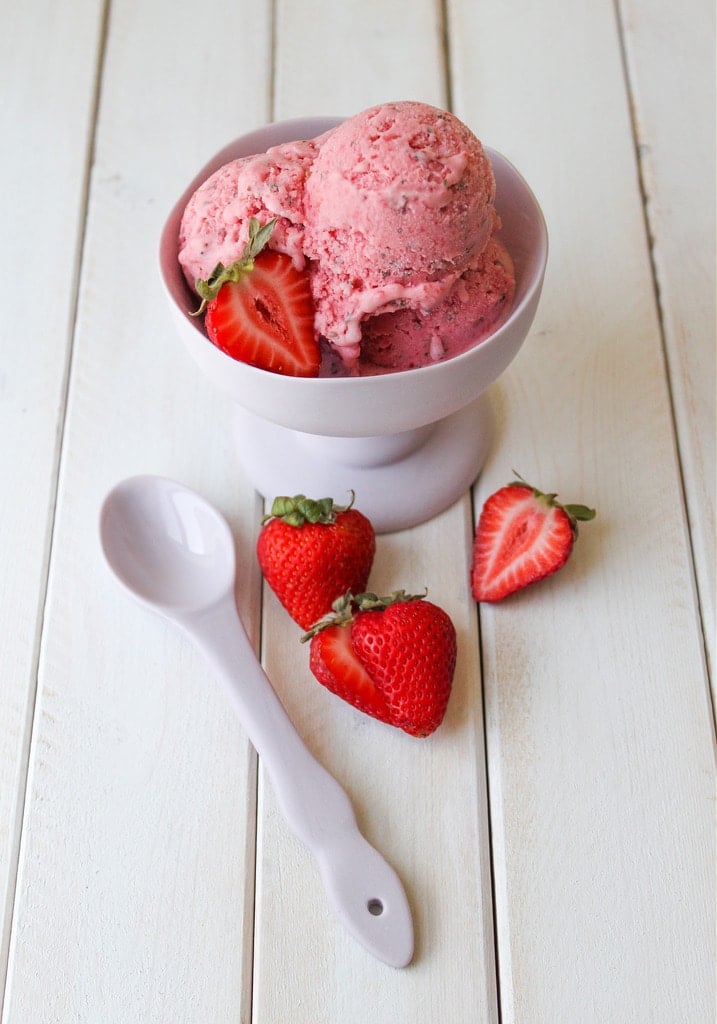 A couple of summers ago I was addicted to frozen yogurt. Pinkberry, Yogurtland, Menchies, you name it, I was there loading my yogurt cup full of toppings and goodies. I've calmed down a lot since then.
I can't remember the last time I went out to get froyo. However, if those frozen yogurt machines were inexpensive and available for home use, I'd totally have one installed in my kitchen. I'd have froyo all the time and experiment like crazy trying to come up with the perfect flavor profiles.
Recently, I have grown interest in gardening. Who knew this day would ever come? When I was a kid, my dad would try to teach me about plants and soil but the information just went in one ear and out the other.
Lately, I've been bugging him a lot more about miracle grow, sunlight requirements, and potting techniques. I think it makes him happy to know that he still has the answers to my many questions.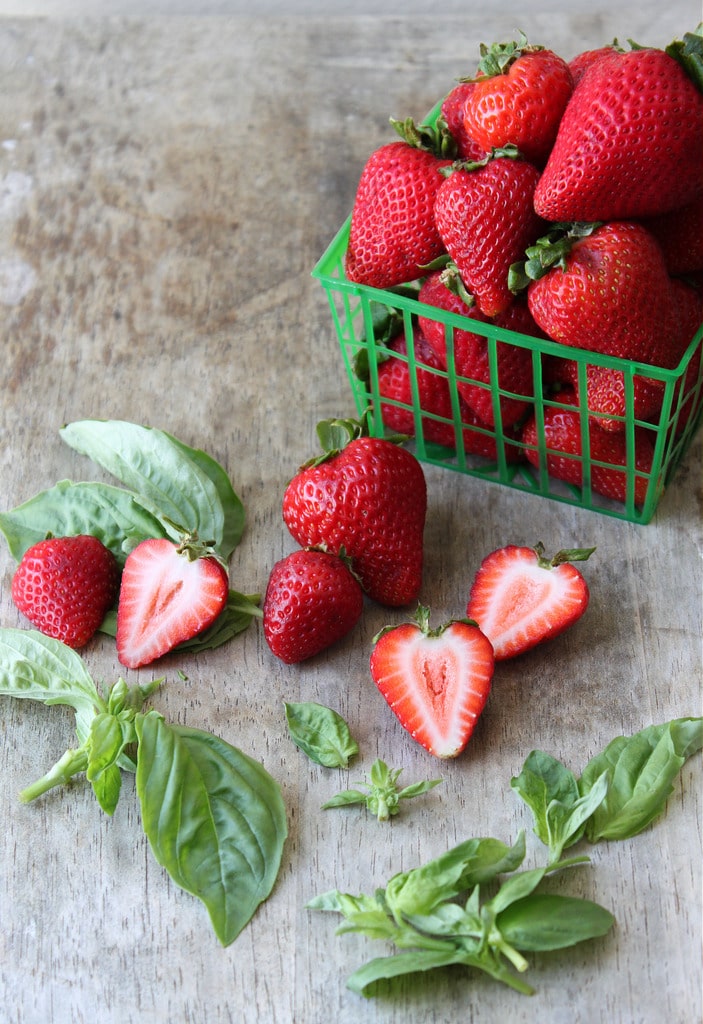 For the longest time, I had a black thumb (Is that a word? Can I coin that phrase? We need a term for the opposite of green thumb.) I couldn't keep a plant alive for the life of me.
I had tomatoes last year that I accidentally and unknowingly watered to death.
My cilantro seedlings were attacked my mold and died. My jalapeno peppers were destroyed by aphids.
After a handful of failed attempts, I think I'm finally getting their whole gardening business. It is safe to say that I have given life to one plant. It started off as tiny little black two months ago and now I have tons of basil leaves ready for the picking!
I've always associated basil with savory foods– think pesto, pizza, and pasta. Lately, I've noticed it has become popular with desserts. With summer in full swing, strawberries are widely available and relatively cheap.
Rather than do a boring strawberry froyo, I added my homegrown basil. The results were cool, refreshing, and delightful. It's so rewarding being able to eat what you grow.
I have new-found respect for farmers and gardeners. Its hard work. I just take care of a basil plant, I can't imagine being in charge of acres of fields and farmland.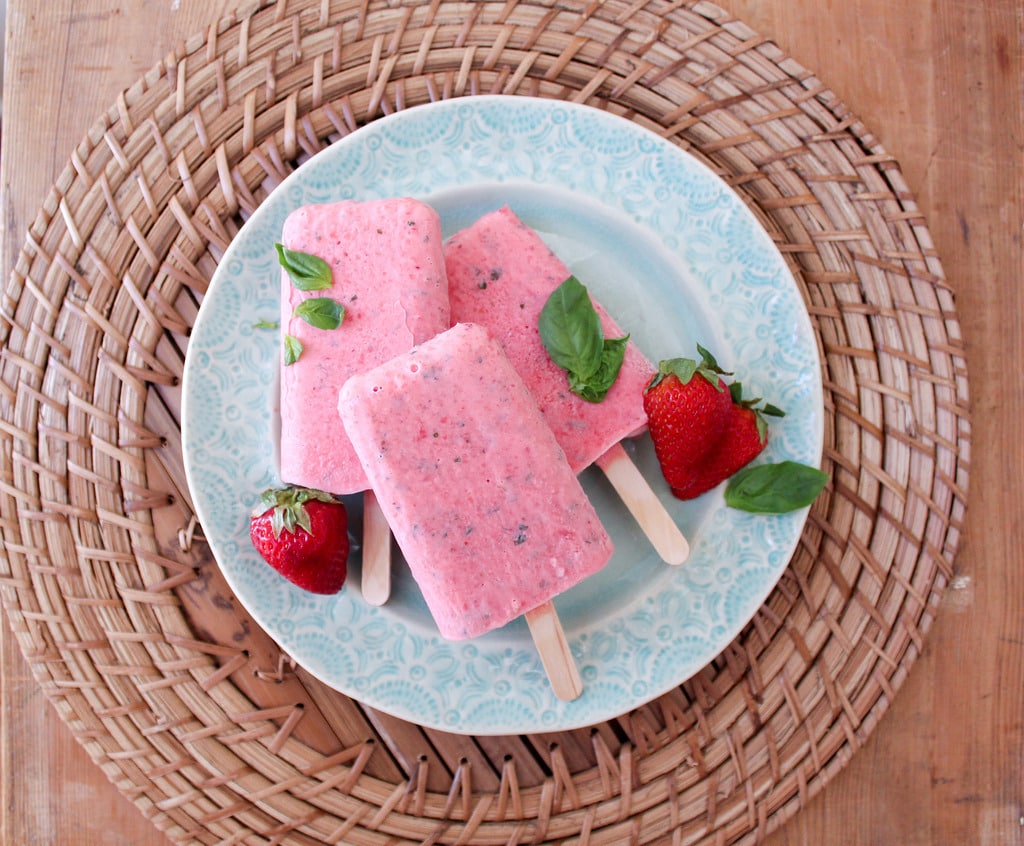 This froyo is nothing like the soft serve you get at the yogurt shop. It's scoop-able like an ice cream but made with Greek yogurt instead of heavy cream and milk.
It's a nice summer treat that you don't have to feel guilty about eating. And the best part– you can make it in an ice cream machine or pour it into popsicle molds!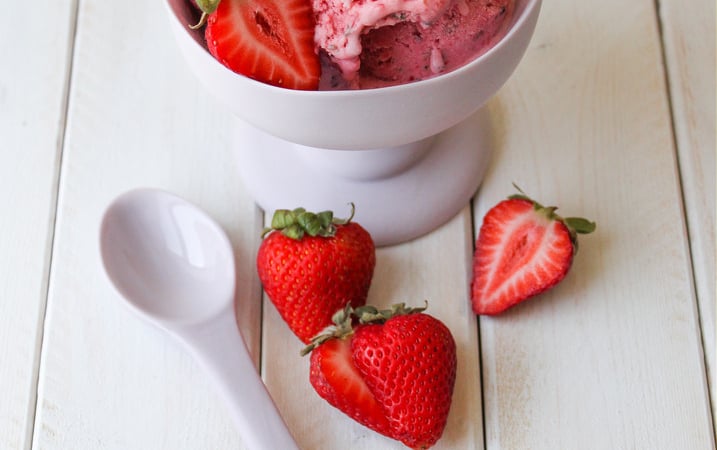 Strawberry Basil Frozen Yogurt
Homemade strawberry basil frozen yogurt. This easy to make treat uses plain Greek yogurt and fresh strawberries. Yield: about 1 quart
Ingredients
1

pint

(2 cups) fresh strawberries, hulled and sliced

3/4

cup

granulated sugar

3

Tablespoon

fresh basil leaves, chopped

1

teaspoon

finely grated lime zest

1

cup

plain Greek yogurt

1

cup

heavy whipped cream
Instructions
In a medium bowl, combined sliced strawberries and sugar. Cover with plastic wrap and let sit for 30 minutes.

Pulse strawberry-sugar mixture, chopped basil, and lime zest in a food processor or blender until berries are almost pureed.


In another bowl, whisk together Greek yogurt and heavy cream until smooth. Add strawberry mixture and stir to combine.


Pour mixture into bowl of ice cream maker and freeze according to machine manufacturer's instructions, or alternatively, pour into popsicle molds and freeze for 2-3 hours until firm.