Beets deliver a welcome sweet earthiness that plays well with the fruits in this energizing beet smoothie.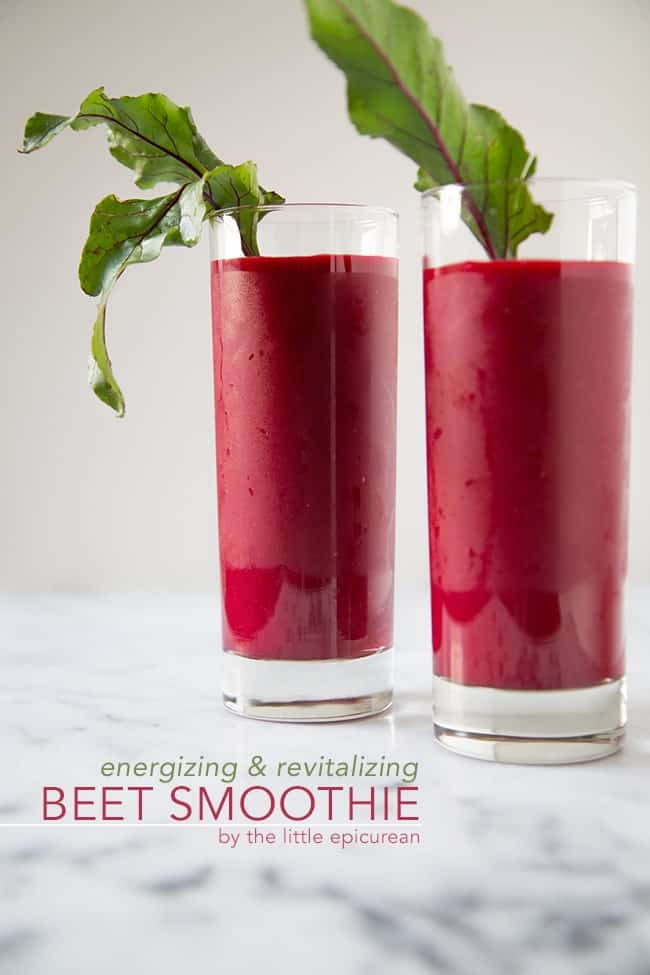 While I normally use beets for salads, I thought it would be fun to whip it into a fruity beet smoothie.
I wasn't sure how it was going to taste mixed with tangerine juice and peaches, but I was certain I'd end up with a pretty and vibrant colored drink.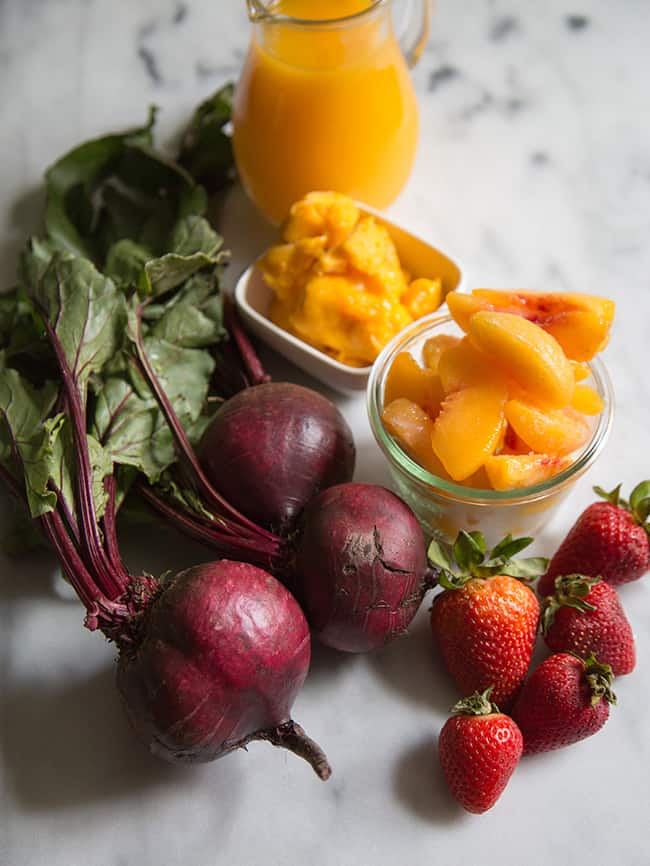 Though beets are inherently sweet, they are rarely associated with desserts or fruit smoothies. It's time to change that.
I am not really into juicing. Probably because I don't have a juicer. But mainly because I don't like how thin juices are. I'm one of those people that like my orange juice full of pulp.
I want substance. I want richness. I prefer to use a blender because it keeps all the nutrients and fiber, making for a rich smoothie with body.
At first sip, I just got a mouthful of earthy beet flavor. However, by the second sip, it turns into this sweet, tart, complex taste that I just can't get enough of.
The beets deliver a welcomed earthiness that plays well with the sweetness from all the fruits (tangerine, strawberry, peach, and mango).
Asides from being "nature's candy," beets are also very good for you.
Full of folate, manganese and other nutrients, beets help with blood flow, making this beet smoothie great for pre/post-workouts.
Only word of warning- when working with red beets be very careful as they can stain cutting boards, hands, and clothing.
Updated: Due to the popularity of this smoothie, I made this Heart Beet Smoothie for Valentine's Day!
Beet Smoothie
Asides from being called "nature's candy," beets are full of good for you vitamins and nutrients. Drink up!Yield: serves 2
Ingredients
1 1/3

cup

tangerine juice,

or orange juice

1

medium

beet, peeled and cut into chunks

(about 1 1/4 cup chopped)

1/2

cup

strawberries

hulled and sliced

1/2

cup

frozen mango chunks

1/2

cup

frozen sliced peaches
Instructions
In a blender, add tangerine juice, chopped beets, strawberries, mango, and peaches. Blend until smooth. If smoothie is too thick, add water or additional tangerine juice 1 tablespoon at a time. Serve immediately, or keep covered in the fridge until ready to drink. Stir before drinking.