These s'mores ice cream bars are the perfect bite sized summer treat! Graham cracker crust bottom, no-churn chocolate ice cream with chocolate chips, topped with a toasted marshmallow.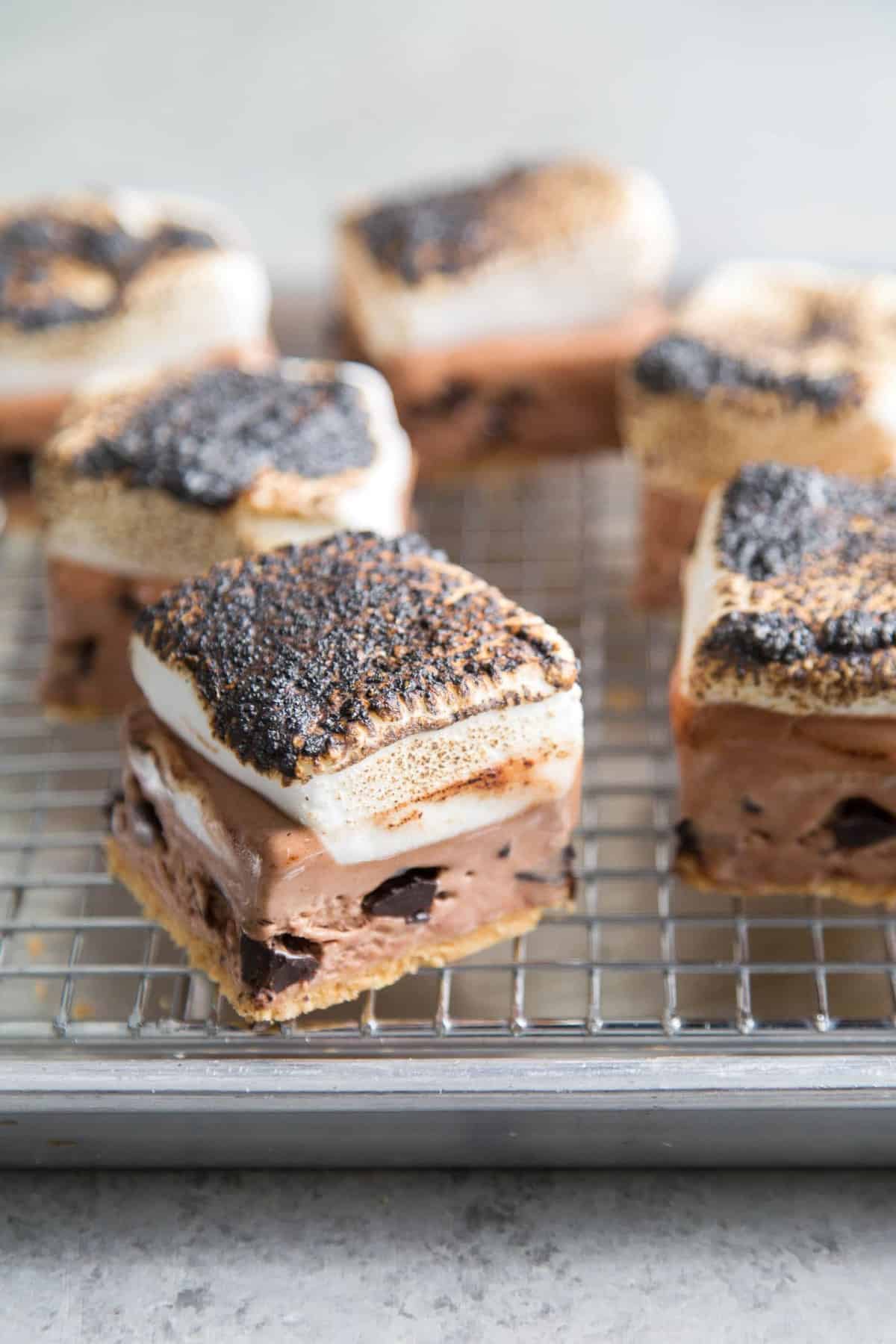 Summatime! It's my favorite time of year. I love it more than Halloween, Thanksgiving, Christmas, and New Year's Eve combined.
I live for these long summer days filled with endless sunshine. A lot of people complain about the heat, but I love it. (Speaking of heat- I'm going to Vegas this weekend where the forecast is a high of 113 degrees F. Now, that's HOT.)
I see the positive. The hotter the day, the more ice cream and frozen treats I can eat. Why have one s'mores ice cream bar when you can have two, or three, or four?!
S'MORES ICE CREAM BARS
The base of these s'mores ice cream bars are made from a mixture of ground graham crackers and melted butter. You could skip this step and simply place graham cracker sheets at the bottom on the pan.
Continuing with my no-churn ice cream obsession, these s'mores have no-churn chocolate ice cream with chocolate chunks.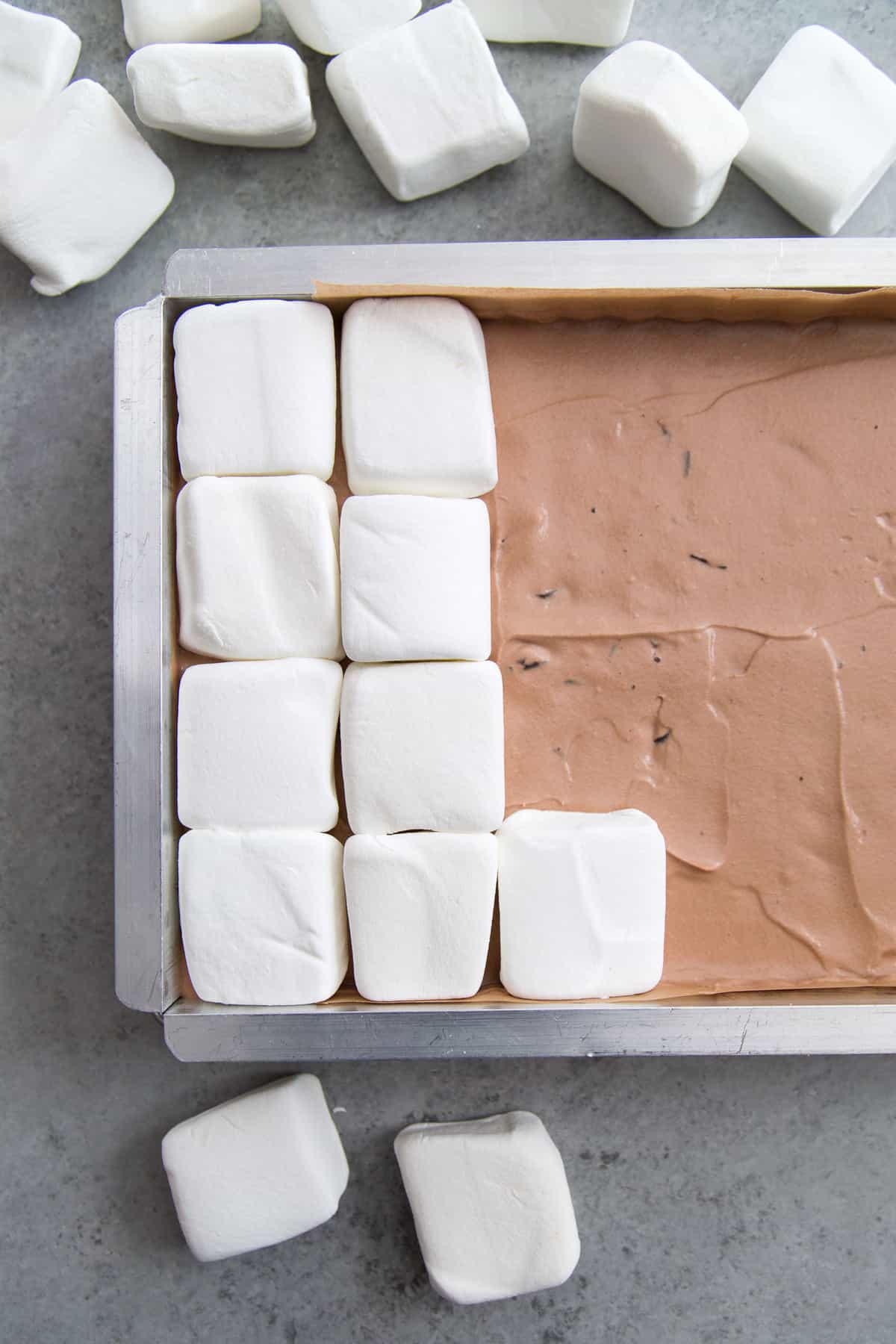 The s'mores are topped with these flat marshmallows I stumbled upon. I never know they existed. They're genius! Flat marshmallows make so much more sense than the cylindrical pillow ones that are super common.
(If you feel inclined to make your own marshmallows, I have a recipe here for flat marshmallows! Simply sub out the matcha powder to make regular ones.)
Once you've laid out all the marshmallows, pop this in the freezer for at least 3 hours to allow the ice cream to set up.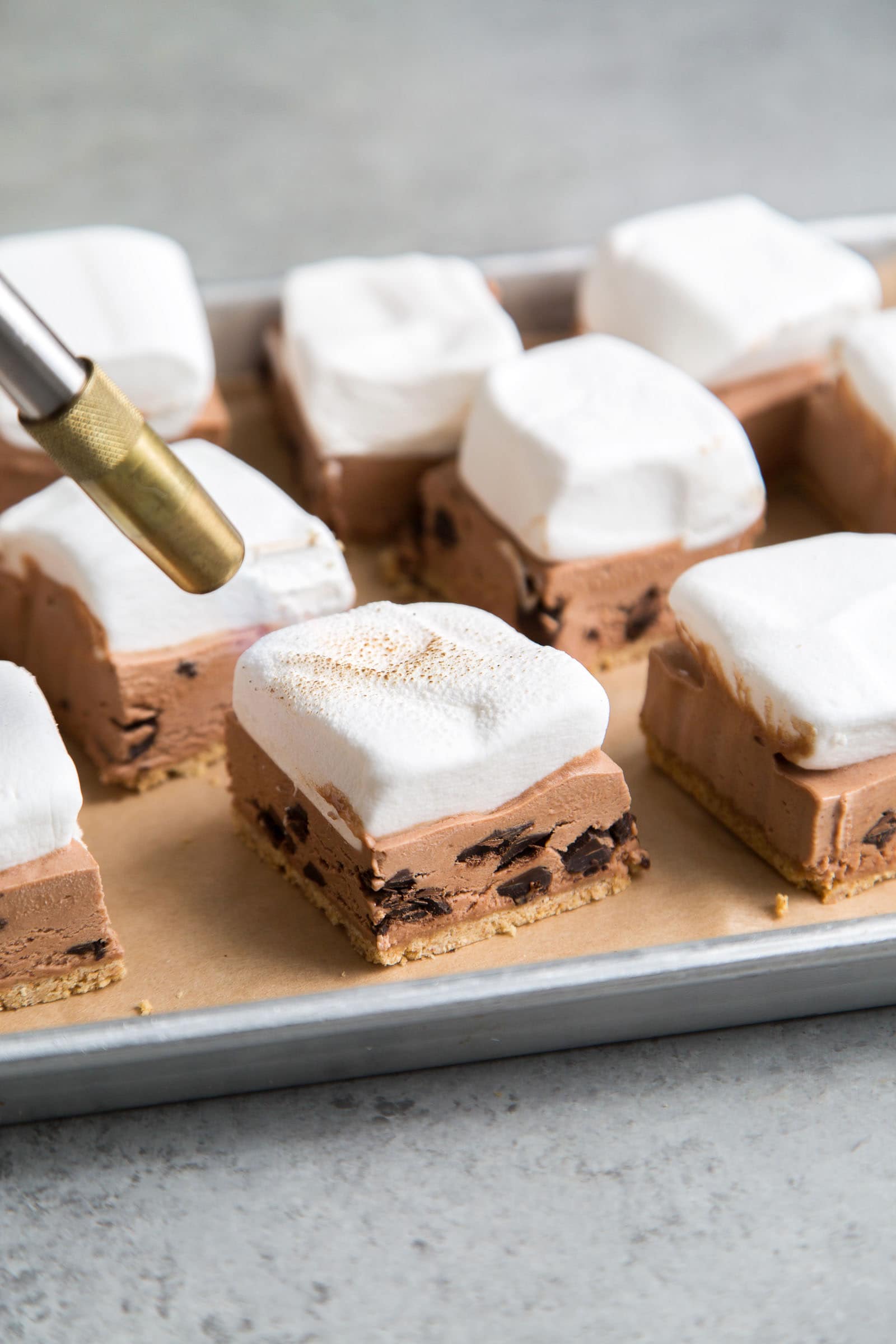 Here comes the BEST part (besides eating the s'mores): toasting the marshmallows!
Use a kitchen torch to brown the marshmallow tops. Be careful not to overdo it. You don't want to risk melting too much of the ice cream. At this point, you can eat them as is, or place a graham cracker square on top to eat it like a sandwich.
I forgot to mention one of the main reasons I love summertime so much- my birthday! (Along with Alex's and Charlie's birthdays, too.)
If I had pool birthday parties, I would totally make tons of these s'mores ice cream bars for guests. They're the perfect little bite size treat. And honestly, who doesn't like s'mores?!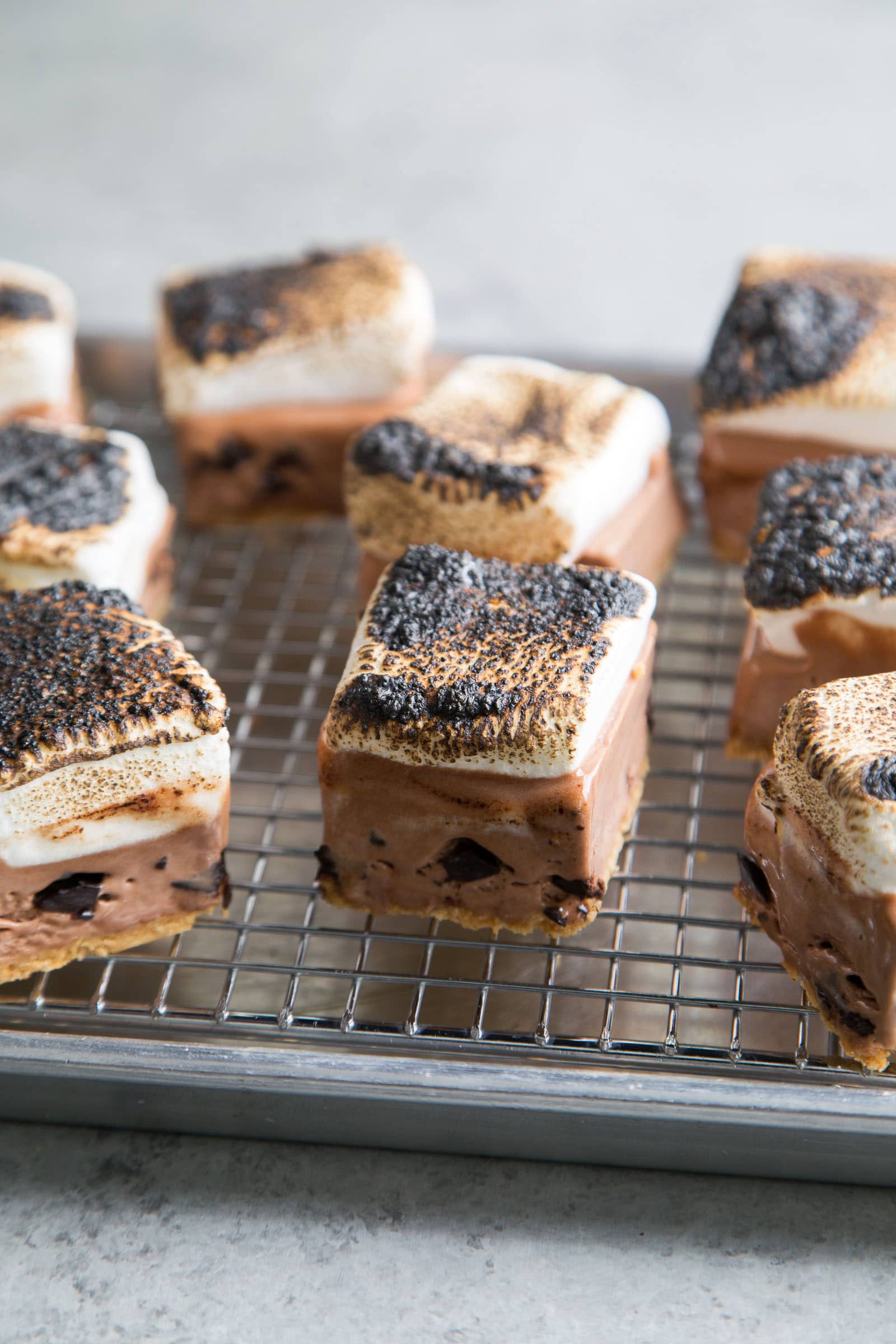 S'mores Ice Cream Bars
Ingredients
Crust:
1 1/2

cup

ground graham crackers

5

Tablespoons

unsalted butter

melted
Chocolate Chip Ice Cream:
2

cups

heavy cream

very cold

14

oz

can sweetened condensed milk

7

Tablespoons

unsweetened cocoa powder

1

cup

dark chocolate chunks

24

flat marshmallows* (see note)
Instructions
Line a 9 x 13-inch baking pan with parchment paper (or foil). Allowing parchment paper to run up along the sides of the pan. Set aside.

In a large bowl, combine ground graham crackers and melted butter. Transfer mixture to prepared baking pan and press into an even layer along the bottom of the pan.

Pour cold heavy cream, condensed milk, and cocoa powder into a large bowl. Using a hand mixer, whip mixture to stiff peaks. Fold in chocolate chips.


Spread chocolate ice cream mixture over graham cracker layer. Place marshmallows on top of ice cream. Cover baking pan with plastic wrap. Freeze for at least 3 hours until ice cream has set up. Overnight is best.


Gently remove s'mores ice cream bar from baking pan by lifting from parchment overhang. Place on a cutting board and cut into bars using marshmallows as guides.*


Brown the marshmallows tops with a kitchen torch. Enjoy immediately!

Recipe Notes
I use these "stacker marshmallows" for s'mores
If you are not serving these bars immediately after cutting, place cut bars in the freezer until ready to serve. Cut bars will keep in the freezer for a few weeks. Toast marshmallows before serving.
All images and text ©The Little Epicurean