This boozy ice cream float is made with homemade whiskey ice cream, dark chocolate syrup, a shot of bourbon, a splash of Irish cream, and chilled stout.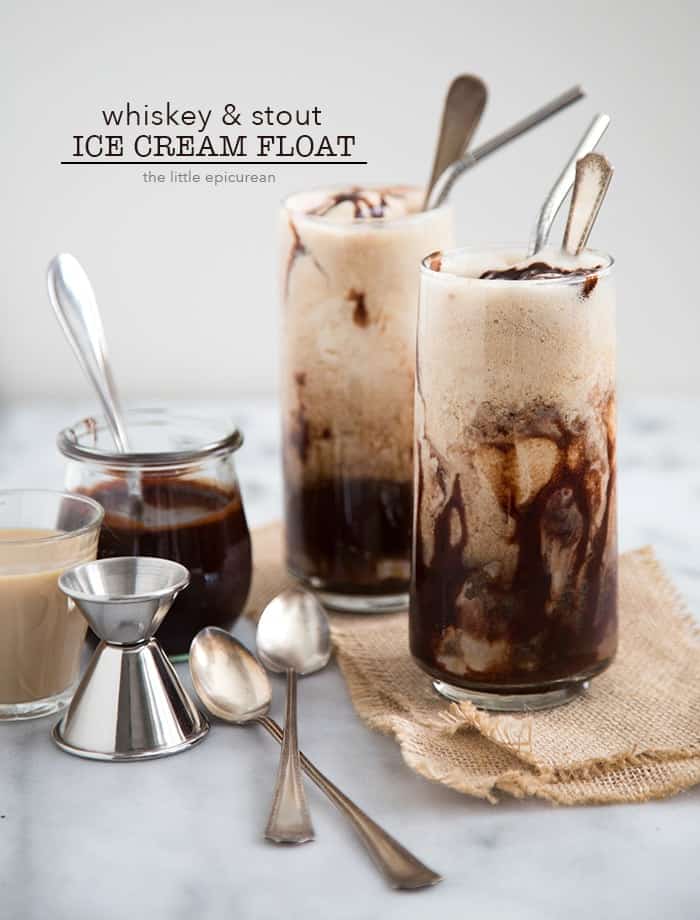 Boozy ice cream floats.  That's what's up this Halloween.  No trick-or-treating.  No costume party (because I'm too lazy to figure out what to wear).
This Halloween, you're all invited to come over to my place. We'll have a happy hour/dessert night and watch all my favorite spooky movies: Hocus Pocus, Teen Witch, and Casper. (Eeek, I hope my age isn't showing.)
Okay, so they're not the scariest movies, but they remain my favorites from childhood. Go ahead, make fun of me. I prefer my happy, feel good movies over any gory, blood-filled, scream-fest movies that are so popular during this time of the year.
And if you can't stand my movie choices, don't you worry. I'll keep you entertained with bottomless boozy whiskey and stout ice cream floats.
If that's not enough, I'll also have apple pie, baked pumpkin donuts, and Alex will be making his famous chipotle braised pork tacos.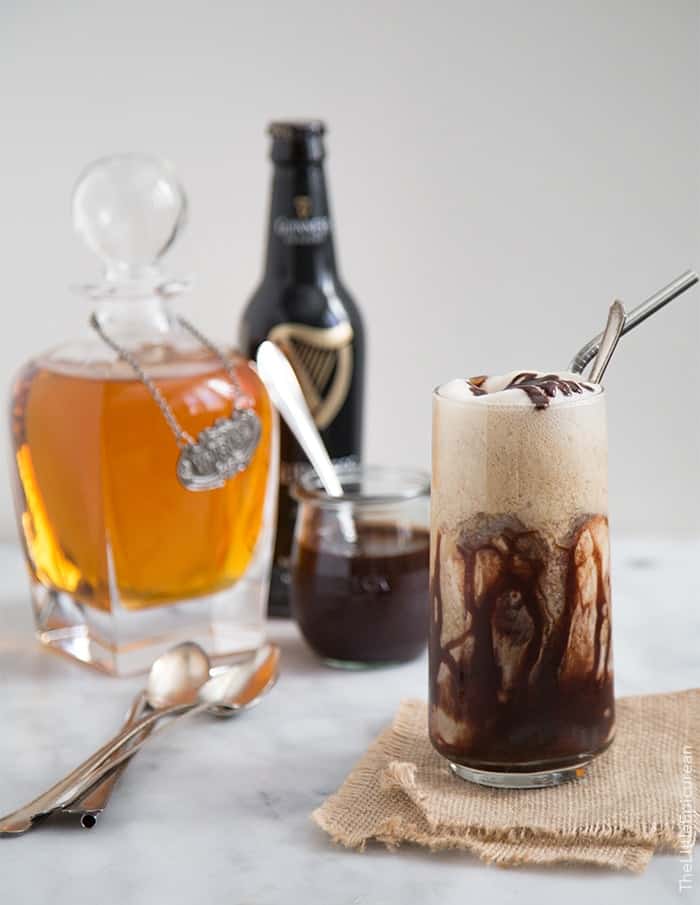 Chocolate Whiskey Ice Cream Float
Once upon a time in college, Guinness was my beer of choice. I had taken a health class and one of the few things I remembered from that course was that dark beer is better for you than light beer.
It has something to do with natural antioxidants and flavonoids, similar to red wine. Oh, and the fact that dark beer has fewer calories than light beer. That's plenty enough reason for an undergrad.
Good thing for me, I actually preferred the taste of dark beers. My roommates and I would concoct all sorts of mixtures using dark beer. For a while, I loved stout beer with a shot of amaretto. And then we tried stout beer with Irish cream.
It opened up a whole new world of flavors and is the inspiration for this boozy ice cream float. I can't think of Halloween without being reminded about all the fun times from college.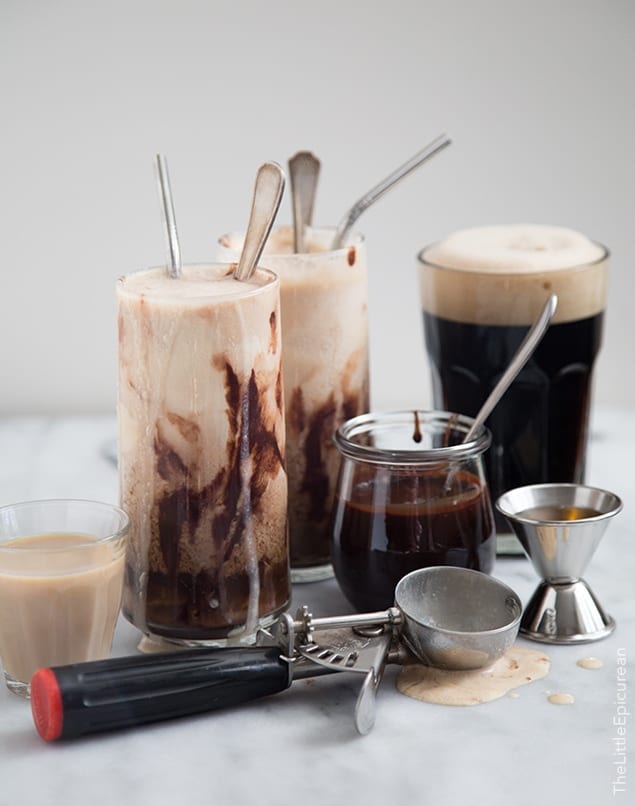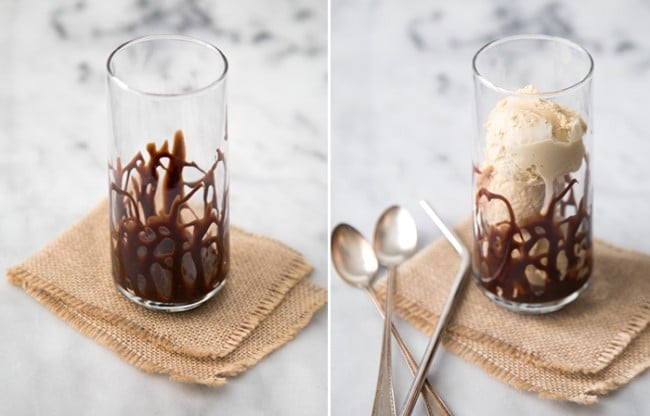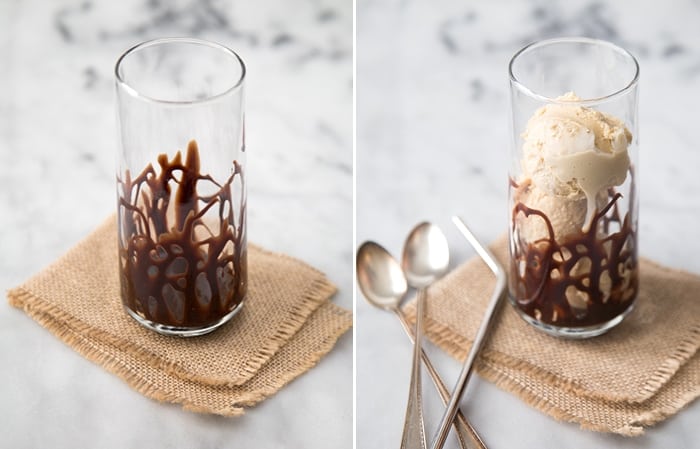 Assembly:
Homemade whiskey ice cream, dark chocolate syrup, a shot of bourbon, a splash of Irish cream, and enough chilled stout to fill the glass. YES to all, please!
Of all the components that make up this decadent dessert drink, I think the rich chocolate syrup ultimates unifies all the flavors together. The chocolate brings out the sweetness of the whiskey and stout. Plus, drizzling the chocolate syrup in the serving glasses is so fun! It makes me feel like Jackson Pollack.
Homemade syrup is unbelievably easy to make and it tastes a heck of a lot better than any store bought stuff. The recipe makes about 2 cups. Asides from using it for these boozy ice cream floats, you can use the syrup to make the ultimate chocolate milk! (It's super delicious, ask Alex.)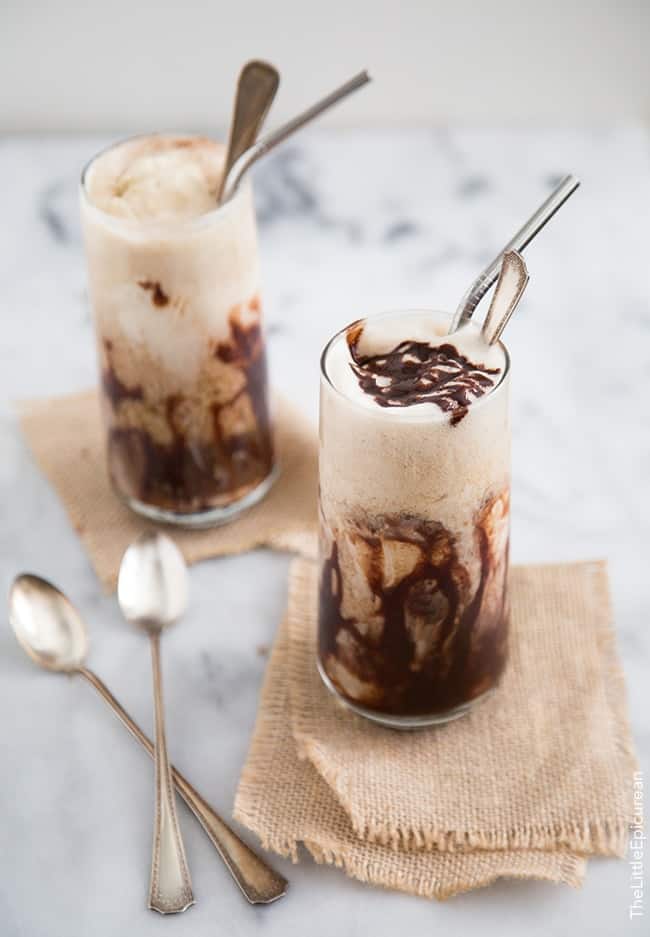 Halloween night, once the sun has set (because I can't drink until it's dark) come on over. My house is the one that smells like fresh baked apple pie.
No costumes, please. It will only scare Charlie. And speaking of Charlie, be sure to bring doggie treats. He won't let you pass the door unless you have a present for him.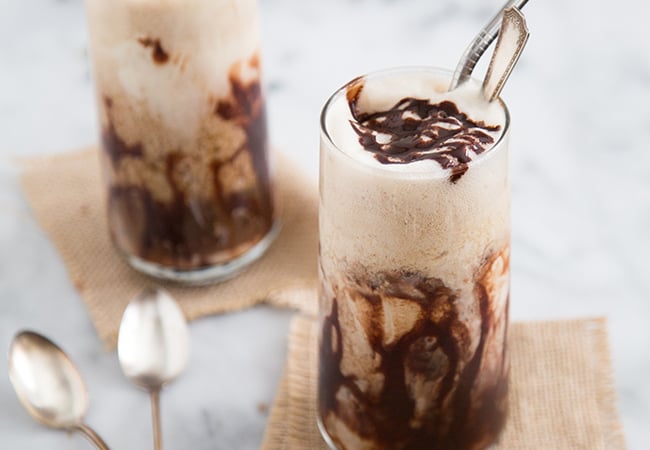 Boozy Whiskey Ice Cream Float
Homemade whiskey ice cream, dark chocolate syrup, a shot of bourbon, a splash of Irish cream, and enough chilled stout to fill the glass.Yield: about 1 quart ice cream
Ingredients
Components for one serving:
drizzle of chocolate syrup

3

scoops

whiskey ice cream

1

oz

Irish cream liqueur

1 ½

oz

bourbon of choice

6

oz

stout beer, chilled
Chocolate Syrup:
¾

cup

water

1 ¼

cup

granulated sugar

¾

cup

unsweetened cocoa powder, sifted

1

teaspoon

vanilla paste, or pure vanilla extract

½

teaspoon

kosher salt

1

Tablespoon

light corn syrup, or glucose syrup

1

teaspoon

instant espresso powder
Whiskey Ice Cream:
1 ½

cups

whole milk

1 ½

cups

heavy cream

¾

cup

dark brown sugar, packed

6

large egg yolks

¼

teaspoon

kosher salt

3

Tablespoon

whiskey of choice
Instructions
Ice Cream Float:
Drizzle chocolate syrup inside serving glass. Add 3 scoops of whiskey ice cream. Follow with Irish cream and bourbon. Top with chilled stout beer. Stir contents and enjoy immediately. Drizzle top of drink with additional chocolate syrup, if desired.
Chocolate Syrup:
In a medium sauce pot, combine water, sugar, and cocoa powder. Bring to a boil. Remove from heat. Whisk in vanilla, salt, corn syrup, and espresso powder. Cool to room temperature. Transfer to an airtight container and keep stored in the fridge. Keeps for 2 weeks.

Whiskey Ice Cream:
In a medium sauce pot, combine milk and cream. Set over medium heat and bring to a boil.

In a large bowl, whisk together brown sugar, egg yolks, and salt. Once milk begins to boil, lower heat. Temper hot milk into yolk mixture about ¼ cup at a time, whisking to distribute heat. Once all the milk has been added, transfer everything back into the pot.

Stir over medium-low heat until mixture reaches nappe consistency, or 180°F on a kitchen thermometer. Let sit at 180-185 degrees F for 3-5 minutes to pasteurize eggs.

Transfer to an airtight container and let mature in the fridge overnight.


Freeze mixture in ice cream maker according to your unit's instructions. Once the volume has increased and mixture has reached a soft-serve consistency, add whiskey. Transfer mixture to a freezer safe container. Let rest in the freezer for at least one hour before serving.