Crepe cake, also known as gâteau de crêpe or mille crêpe, is comprised over many thin layers of crepe sandwiched between pastry cream.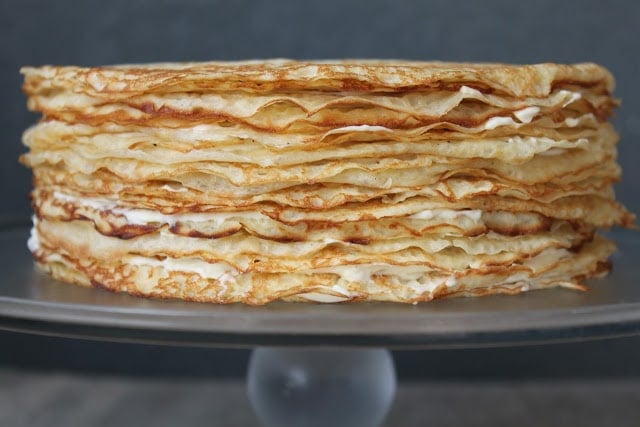 Crepes are great for any meal because they are so versatile.
Make a savory bacon, egg, and cheddar filled crepe for breakfast. Then, a sun dried tomato with feta and arugula crepe for lunch. Follow it all up with a grilled chicken fajita crepe for dinner.
And in between all those savory crepes I can have plenty of sweet dessert crepes!
Sliced strawberries with a drizzle of melted chocolate and a dollop of whipped cream, maybe a banana foster crepe with caramelized bananas and a scoop of vanilla ice cream…
Homemade Crepe Cake
Or I can make crepes into a cake!  Oui, un gâteau de crêpe.  
In France, this cake is called a mille crêpe.  Mille, meaning a thousand, refers to the many layers of this beautiful cake. This cake recipe makes about 30 layers.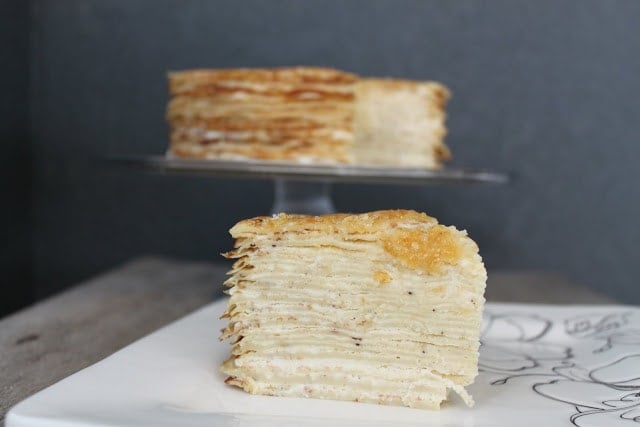 Where is Crepe cake popular?
I had my first crepe cake in Japan a few years ago and immediately fell in love. I'm still searching for bakeries and pastry shops in Los Angeles that serve this decadent treat.
Thankfully, the crepe cake is now finding fame here in the United States.
While snooping around online bakeries, I came across a beautiful mille crepe from the famous Lady M Cake Boutique located in the Upper East Side of New York City. Mille Crepes is their signature cake.
A 6 inch will cost you $40 and a 9 inch runs you $75. And if you don't happen to live in NYC, they have recently opened locations all over Southern California.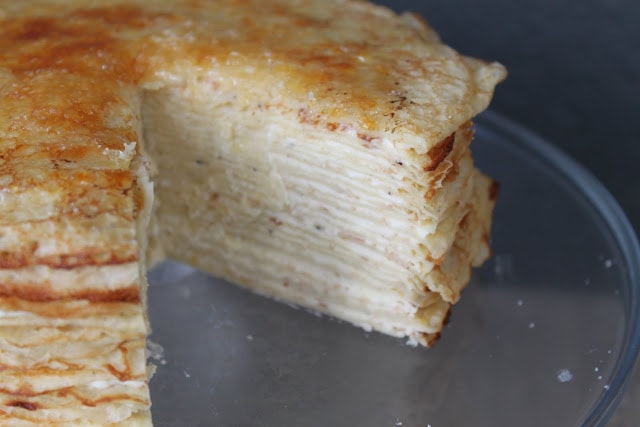 Does crepe cake requires special ingredients?
This is a simple recipe with a fairly inexpensive list of ingredients. If you don't have vanilla beans, you can easily swap in vanilla paste or vanilla extract. As for the other items, they are staples you'd normally have in your pantry.
Once you get the technique of swirling the batter in the crepe pan, making this cake is a breeze. It is also a lot easier and faster if you have more than one crepe pan cooking at a time.
You can make as many layers as you'd like or even steal a couple layers to make yourself a nice savory snack.
I use this steel crepe pan.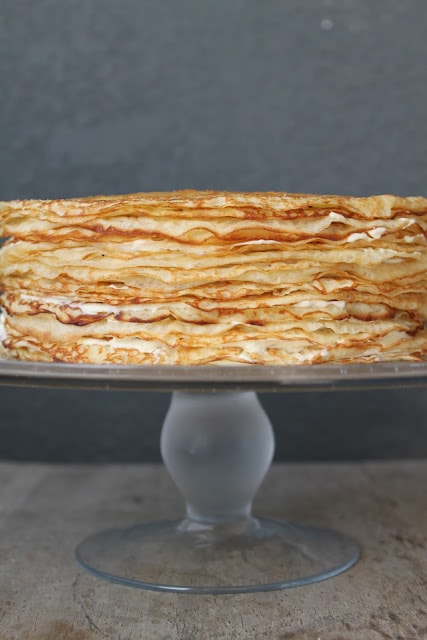 Once you've made pastry cream, you'll want it in all sorts of desserts. Here are a few of my favorite recipes with pastry cream: banana cream tarts, chocolate glazed eclairs, and speculoos banana cream parfait.
More Crepe Cake Recipes
Ready to try more crepe cake variations? Here are some favorites: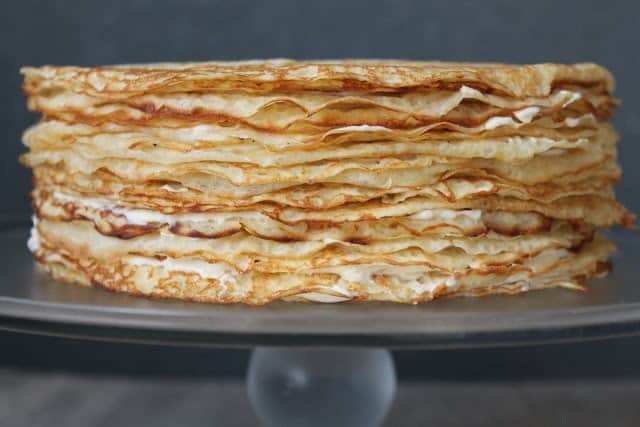 Gâteau de Crêpe (Crepe Cake)
Crepe cake, also known as gâteau de crêpe or mille crêpe, is comprised over many thin layers of crepe sandwiched between pastry cream.
Yield: 9-inch cake
Ingredients
Crepe Batter
6

Tablespoons

unsalted butter

3

cups

whole milk

6

large eggs

1 ⅓

cups

all-purpose flour

7

Tablespoons

granulated sugar

⅛

teaspoon

kosher salt
Pastry Cream
2

cups

whole milk

1

vanilla bean, split and scraped (or 1 teaspoon vanilla paste)

6

large egg yolks

½

cup

granulated sugar

⅓

cup

cornstarch, sifted

3 ½

Tablespoons

unsalted butter, room temp
Assembly
vegetable oil

2

cups

heavy cream

1

Tablespoon

granulated sugar

2

Tablespoon

Kirsch

optional 2 Tablespoons sugar for brûlée
Instructions
Crepe Batter
Brown the butter. In a small pan, cook the butter until it is fragrant and the milk solids have turn brown. Set aside.

In another pan, boil the milk. Turn off heat and allow to cool for 10 minutes.

Beat together eggs, flour, sugar, and salt in a stand mixer with a paddle attachment. Slowly add the hot milk and browned butter. Mix until smooth and combined. Pour into an airtight container and refrigerator overnight (or at least 2 hours).
Pastry Cream
In a saucepan, bring milk and vanilla bean (along with scrapings) to a boil. Set aside and let vanilla steep for 10 minutes, then remove the bean. Prepare an ice bath, buy filling a large bowl with ice. Have a smaller bowl ready (bowl large enough to hold the finished pastry pastry).


In another pot, whisk together yolks, sugar, and cornstarch. Temper in hot milk by gradually whisking it in. Place the pot over high heat and bring to a bowl, whisking vigorously for a minute or two.

Press the pastry cream through a fine-meshed sieve into the small bowl and place over the ice bath. Stir the pastry cream until the temperature reaches 140 degrees F. Stir in the butter. When the pastry cream is cool, cover and refrigerate.

Assembly
Bring the crepe batter to room temperature. Place crepe pan over medium heat. Lightly grease the surface with oil and add about 3 Tbsp of batter (if using a 9 inch pan) and tilt pan in a circular motion to cover the surface of the pan.


Cook until the bottom just begins to brown and then flip the crepe with your fingers. An offset spatula is helpful if your fingers cannot withstand the heat. Cook on the other side for no more than 5 seconds. Flip the crepe into a parchment lined baking sheet. Repeat until you have used all the batter or have at least 20 prefect crepes.


Whip the heavy cream with the tablespoon of sugar and Kirsch. Whip to soft peaks. Fold into the pastry cream in three stages.


Lay 1 crepe on a cake plate. Spread a thin later of pastry cream over the crepe. Cover with another crepe and repeat to make a stack. Remember to save your best looking crepe to place on top.


Chill cake for at least 2 hours. Let cake sit at room temperature 30 minutes before serving.


Optional: Before serving, sprinkle the top with 2 tablespoons of sugar and caramelize with torch.