Gouda Walnut Bread combines shredded gouda and toasted walnuts in a savory loaf that is perfect for sandwiches, especially grilled cheeses!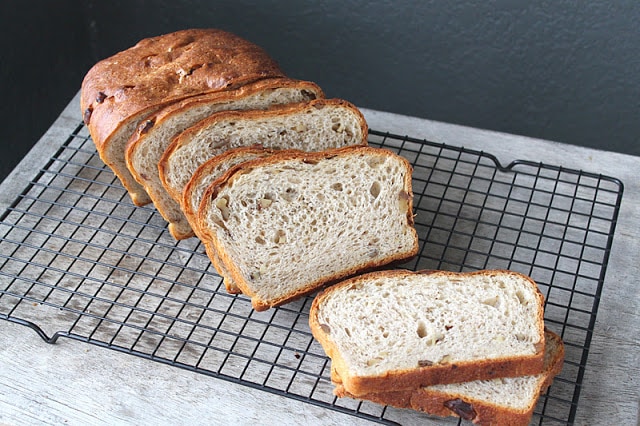 Bread is universal. Every country and culture has some sort of bread in their diet. Whether it be baked, fried, or steamed, bread exists everywhere.
Just think, Greek pita, Middle Eastern lavash, Italian focaccia, Chinese steamed buns, etc.
Even within the United States there are a great variety of breads. California, specifically San Francisco, for their famous sourdough breads. The East coast with their bagels, pretzels, and rye bread. Cornbread and flaky biscuits from the South.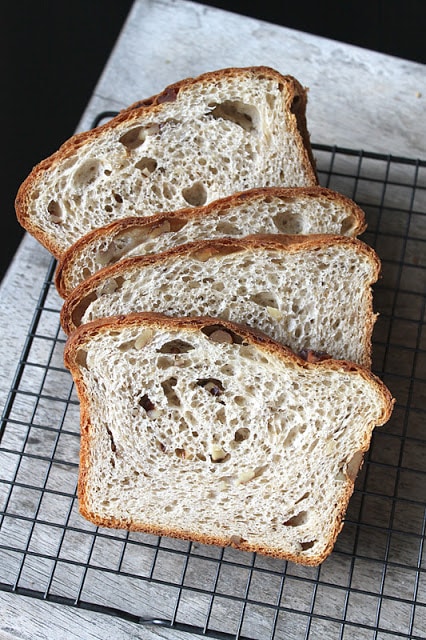 Gouda Walnut Bread
I love the simplicity and ease of bread making. It requires few ingredients but produces delicious results.
While browsing LA Times' food section, I came across a recipe for a Gruyere and walnut bread. It was an adapted recipe from one of my favorite bakers, Nick Malgieri.
Cheese baked into a bread? Genius! Of course I had to make it. Unfortunately, I was out of Gruyere so I substituted Gouda cheese.
I was quite surprised how delicious Gouda tastes with walnuts. Its a winning combination.
Ways to Use this Bread:
I toasted a slice of bread and it tastes very much like a giant Cheez-it cracker. I've made grilled ham and cheese sandwiches with this bread and I love the extra crunch you get from the walnuts.
This bread is also great to make into croutons and savory bread puddings.
You can experiment with different combinations of cheeses and nuts like Cheddar and sunflower seeds depending on what you have available. I'd even sprinkle in some dried cranberries for a little sweetness.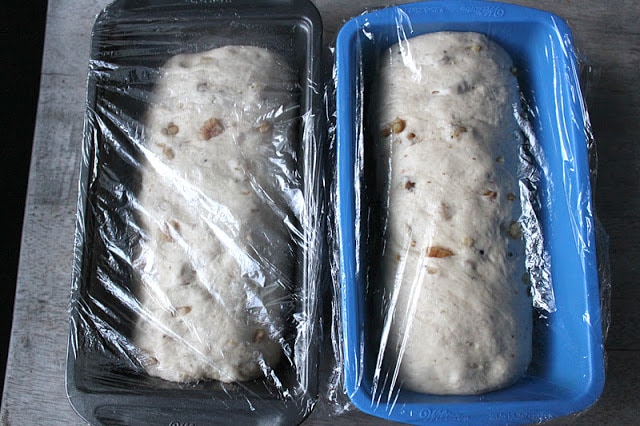 NOTE: The following recipe makes two loaves of gouda walnut bread. I decided to do a little experiment using one dark metal bread pan and one silicone bread pan.
Both produced the same results. I found no difference in the quality or appearance of the loaves. It was a little bit easier to unmold the loaf from the silicone because of the flexibility of the pan.
I'd probably use the silicone pan for dense quick breads like banana bread that sometimes stick to metal pans.


Gouda Walnut Bread
Ingredients
6 1/2

cups

bread flour

1

Tablespoon

granulated sugar

1

Tablespoon

fine sea salt

2

teaspoon

freshly ground black pepper

1/4

cup

unsalted butter, cut into cubes

1 1/2

cups

whole milk, scalded

1

cup

warm water, about 110 degrees F

2 1/2

teaspoons

active dry yeast

2

cups

loosely packed, coarsely grated Gouda cheese

2

cups

roughly chopped walnuts, lightly toasted
Instructions
Grease 2-9x5x3 inch loaf pans. Set aside.

Whisk together bread flour, sugar, salt, and pepper. Set aside.

In a small bowl, stir the butter into hot milk and let cool to room temperature (or slightly warm to the touch).

Once the milk butter mixture has cooled, pour warm water into the bowl of a stand mixer and whisk in the yeast. Let yeast sit for one minute and then whisk again until yeast has dissolved. Whisk in the cooled milk butter mixture.

Using a large rubber spatula, stir in half of the flour mixture into the wet ingredients. Continue to add the rest of the flour in 3 additions. Stir until a rough dough is formed and there is no longer any dry flour.

Using a dough hook, beat the dough in the stand mixer on medium speed until the dough is somewhat smooth, about 2 minutes. Stop the mixer and let the dough rest for 10 minutes. Add the cheese and nuts to the dough mixture. Beat the dough on medium speed until it is smooth, about 3 minutes.

Scrape the dough into a lightly greased large bowl. Turn the dough over so the top is also greased. Cover the bowl with plastic wrap and let dough rest at room temperature until it has doubled in bulk, about 1 hour to 90 minutes.

Turn the dough onto a lightly floured work surface. Press to deflate the dough and return to the greased bowl. Cover and let rest at room temperature until it has doubled in bulk.

After the second rise, turn the dough onto a lightly floured work surface. Divide the dough in half. Being careful not to deflate the dough, pull and stretch each piece into a rough 9-inch square. Tightly roll the dough towards you, pinching the edge in place when you get to the end.

Place the formed loaves in the pans, seam-side down. Cover with plastic wrap and let rest until dough has doubled in size, about 1 hour. When the loaves are almost completely risen, set a rack in the middle level of the oven and preheat oven to 400 degrees F.

Once loaves have doubled in size, uncover and place them in the oven, short side inward and equidistant from each other and the sides of the oven. Bake until the bread is deep golden and firm, with an internal temperature of more then 200 degrees F, about 45-50 minutes.

Unmold each loaf to a rack and cool on its side to prevent collapsing. For a soft crust, have a tablespoon of melted butter ready when you unmold the bread and use a brush to coat the surfaces of the loaf with the butter.

Once bread has cooled, slice it with a sharp serrated knife. Keep the loaves at room temperature. Keep leftovers in a sealed plastic bag at room temperature.