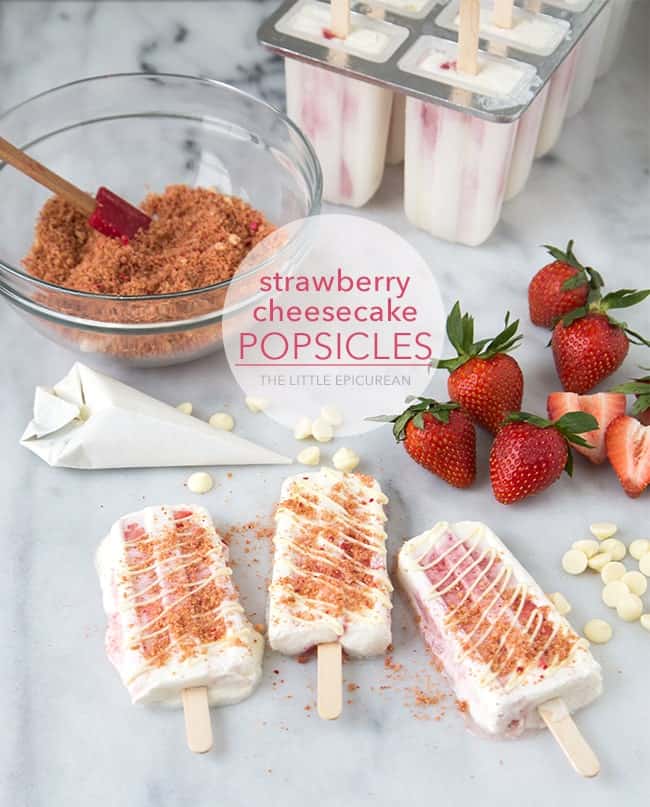 Sometimes a name just doesn't do the product justice.  While I decided to call these treats strawberry cheesecake popsicles, Alex thinks they should be renamed strawberry shortcake frozen bars.  They surprisingly taste quite similar to the bars by Good Humor.
These strawberry cheesecake popsicles came out of nowhere.  I had no intension of making them.  They sorta just happened.  And like most good things, they are the result of a fortunate accident.
Remember last week's roasted banana cheesecake ice cream?  Whenever I am playing in the kitchen and making up recipes, I always have a notebook right next to me so I can write down all the ingredients used and steps done.  When I was mixing together the ice cream, I wrote "sugar" but for some reason I forgot to write down an amount next to it.
Next thing you know, when its time for me to write my post and share the recipe, I have no idea how much sugar I actually used.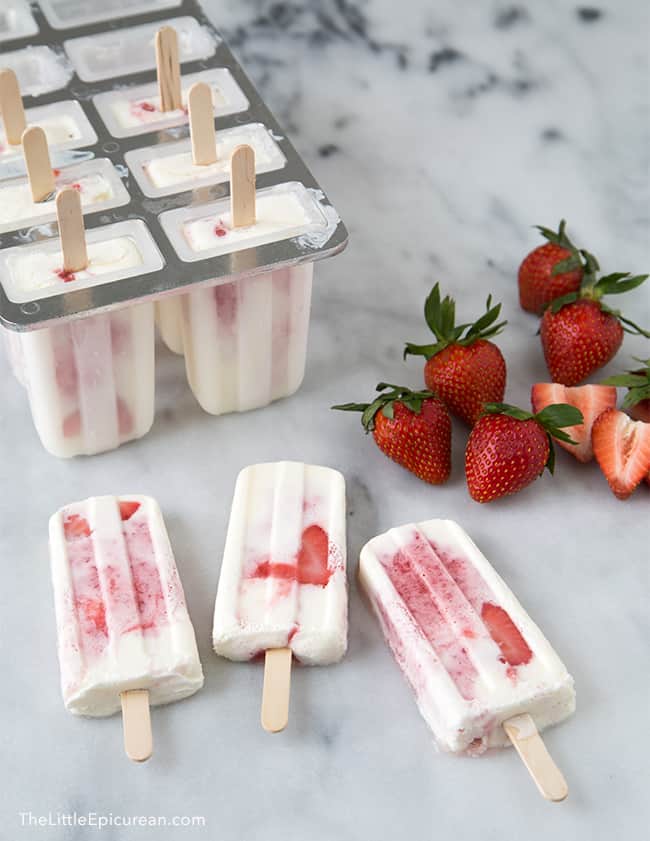 I could never share a recipe that I wasn't 100% sure of.  Rather than make another full batch of ice cream, I cut the recipe in half and made the ice cream base again to determine how much sugar I needed.  Unsure of what to do with this delicious cheesecake batter, I saw my popsicle mold on the shelf and this popsicle was born.  I didn't want a plain cheesecake popsicle, so I added strawberries.  Thank goodness for strawberry season!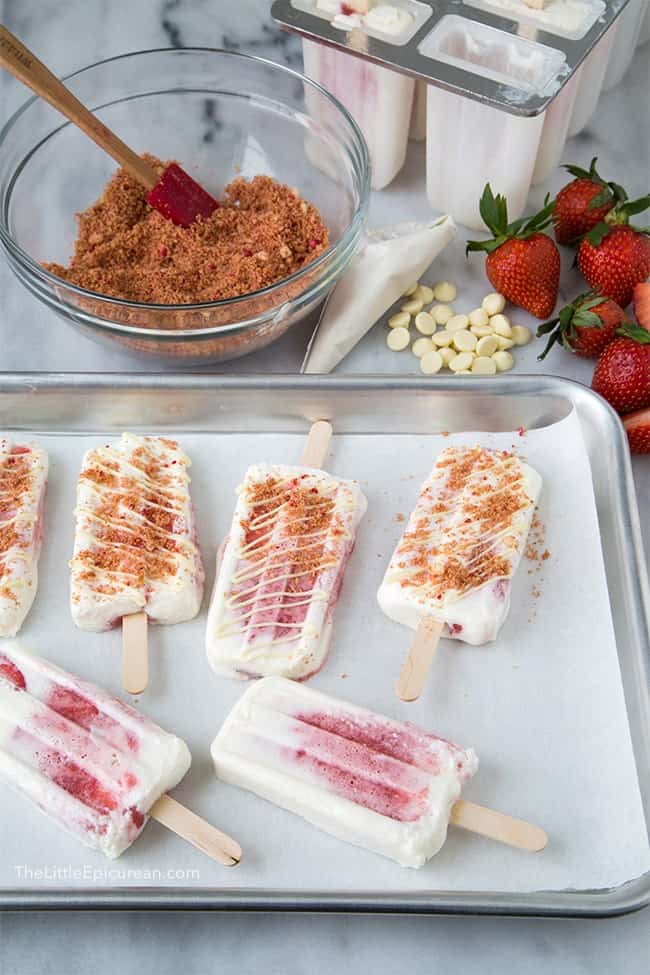 Once the popsicles were frozen, I whipped up this interesting concoction consisting of graham crackers, rice cereal, and freeze dried strawberries.  I pulsed it into a coarse powder and tasted it.  YUM!  It's just the perfect amount of crunch and texture these popsicles needed.  At first I just tried sprinkling them on the popsicles but they wouldn't stick.  I melted some white chocolate and it did the job.
No matter whether you make the cheesecake batter base into an ice cream or a frozen popsicle, it's one great summertime treat!
Strawberry Cheesecake Popsicles
Your favorite dessert just got better! Turn cheesecake into a portable frozen treat. These strawberry cheesecake popsicles taste quite similar to the Good Humor strawberry shortcake bars.
Ingredients:
4 oz cream cheese
1 tsp lemon juice
1/4 cup creme fraiche
3/4 cup whole milk
1/4 cup + 2 Tbsp heavy cream
1/4 cup granulated sugar
2 cups strawberries, sliced
2 Tbsp granulated sugar
Coating:
3 graham crackers
3 Tbsp rice cereal
3 Tbsp freeze dried strawberries
1 Tbsp sugar
4 oz white chocolate, melted
Directions:
In a food processor, combine cream cheese, lemon juice, and creme fraiche.  Process until smooth.  Add milk, cream and 1/4 cup sugar.  Puree until smooth.
Reserve a couple slices of strawberry.  Place remaining strawberries in a bowl.  Add 2 tablespoons sugar to sliced strawberries. Toss to combine.  Let mixture sit for 10 minutes  for strawberries to expel juices.  Lightly mash until strawberries resemble a chunky salsa.
Place a couple slices of strawberries into each popsicle mold.  Fill the popsicle mold about 1/3 full of cheesecake batter.  Follow with a heaping spoonful of strawberry sauce.  Fill mold with more cheesecake batter, followed with more strawberry sauce.  Add enough cheesecake batter until molds are almost full.
Place a layer of foil over the popsicle mold.  Insert wooden sticks into the mold and place in the freezer for at least 3 hours, or until popsicles are solid.
Coating:
In a food processor, pulse together graham crackers, rice cereal, freeze dried strawberries and sugar.  No need to grind into a powder, leave mixture a bit chunky for texture.
Drizzle melted white chocolate over frozen popsicle.  Sprinkle coating over chocolate.  Enjoy immediately.