Filipino Mais Con Yelo is a delicious and refreshing summer treat! This layered dessert consists of sweet corn, sweetened shaved ice, and corn flake cereal topped with homemade corn ice cream.
Grab a spoon and dig in!
You've probably heard of halo-halo. It's the most popular Filipino shaved ice treat.
I'd like to introduce you to another Filipino shaved ice layered dessert. Say hello to mais con yelo!
What is mais con yelo?
Maíz con hielo translates to "corn with ice" in Spanish. It is spelled mais con yelo or mais kon yelo in Tagalog (Filipino).
NOTE: Spain ruled over the Philippines for some 300 years. As such, many Spanish words are integrated into Tagalog.
Mais con yelo is a layered dessert consisting of sweet corn, shaved or crushed ice, sweet milk, and a scoop of ice cream.
Ice cream flavor varies, but it usually served with corn ice cream, cheese ice cream (queso), or a corn cheese ice cream (mais queso). Yes, I know that last one sounds like a strange combo, but it's delicious!
There are many variations on this popular dessert. This is my version. I will provide you several options or additions to make on your own.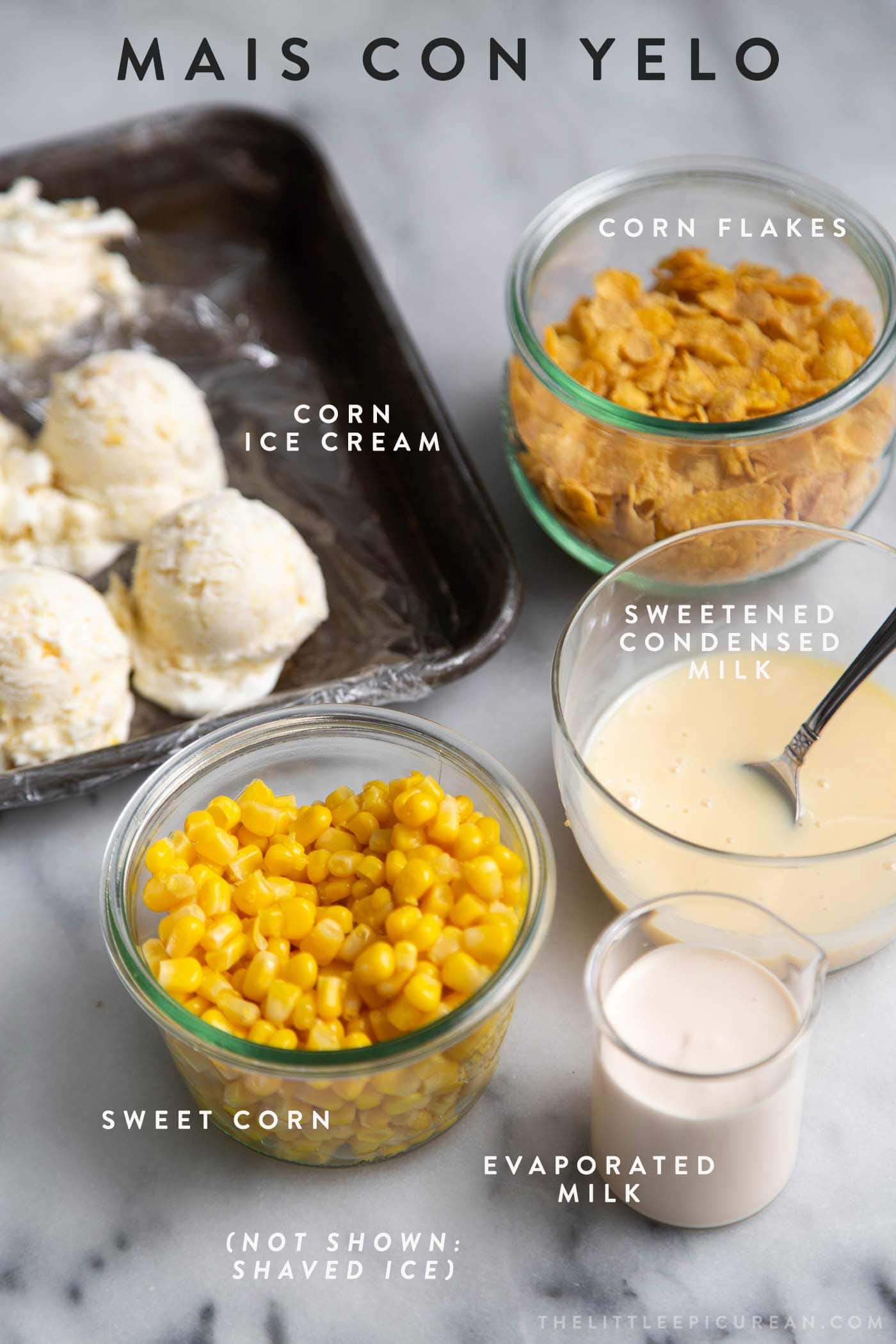 Dessert Components:
Sweet Corn
Splurge of fresh corn during the summer months when corn is in season. Cook the corn in salted water, shuck the kernels, and chill until ready to use.
Otherwise, use canned corn or defrost frozen corn. Some people also like to use creamed corn.
Shaved Ice
I prefer to use shaved ice. Crushed ice also works.
Ice is important component of this dessert. The ice will melt as you eat the mais con yelo, helping to calm this otherwise very sweet treat.
Scroll down to see my recommended shaved ice machine.
Sweetened Condensed Milk
Use canned sweetened condensed milk. If you've got some time on your hands, try out this homemade version.
Evaporated Milk
Evaporated milk is shelf stable milk that has been cooked to remove much of its water content. It is sometimes called "unsweetened condensed milk."
Evaporated milk is sweeter and slightly thicker than regular milk.
Alternative options for this recipe include: milk (any kind), soy milk, oat milk, or half & half.
Corn Flakes
Corn Flakes cereal adds a nice crunch to mais con yelo. I'm not sure if it is a traditional component, but we always added it at my house!
Use Frosted Flakes cereal if you've got a sweet tooth! Corn Pops or Kix cereal are also good options.
Corn Ice Cream
Mais con yelo is usually topped with corn ice cream, cheese ice cream (queso), or corn cheese (mais queso) ice cream.
These ice cream flavors are found at Filipino supermarkets (Seafood City or Island Pacific). It is also often available at 99 Ranch Market or large Asian supermarkets.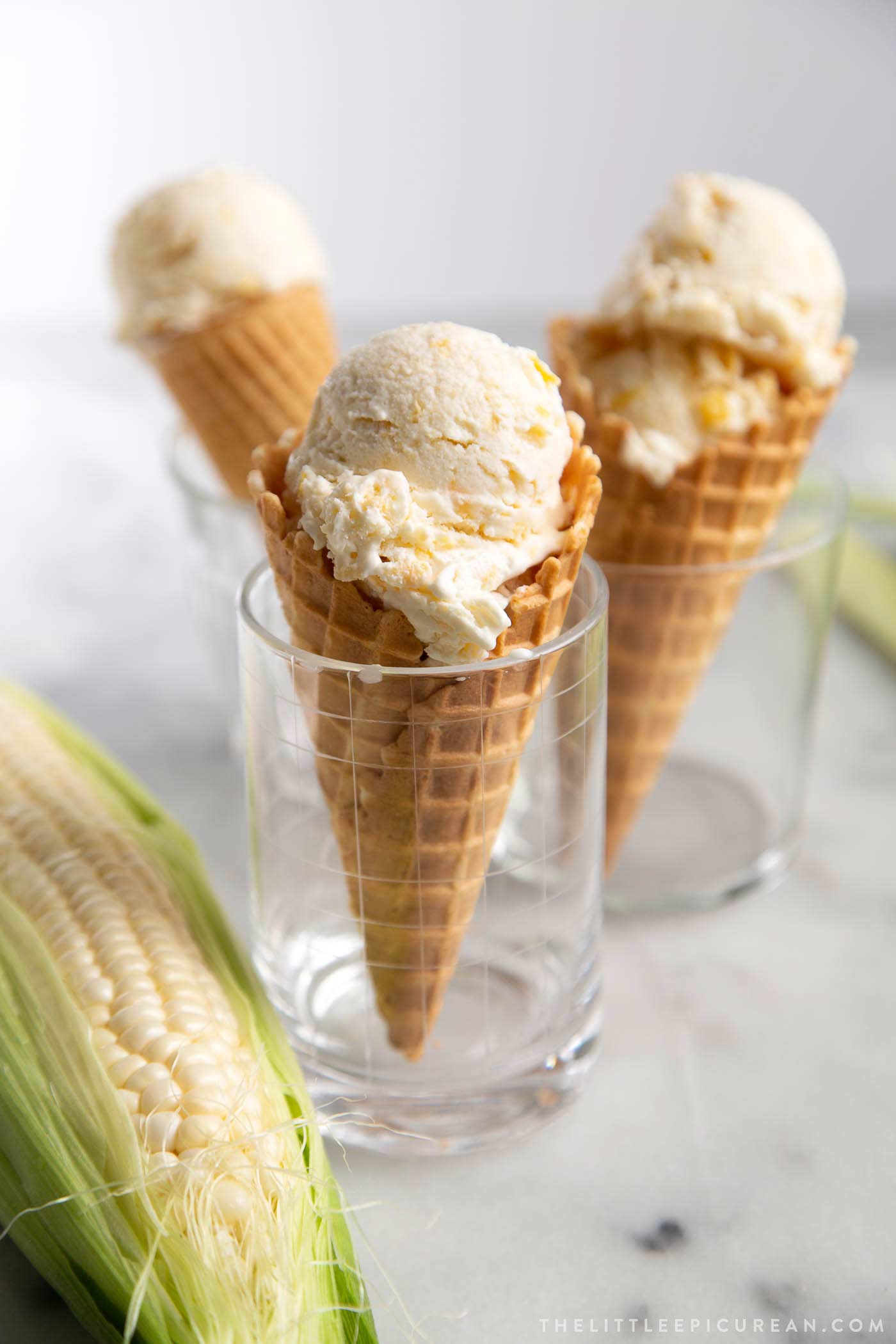 Better yet, make this easy no churn corn ice cream! It the ice cream photographed below.
This corn ice cream does not require any special equipment and can even be mixed together by hand!
Let's assemble this layered shaved ice dessert!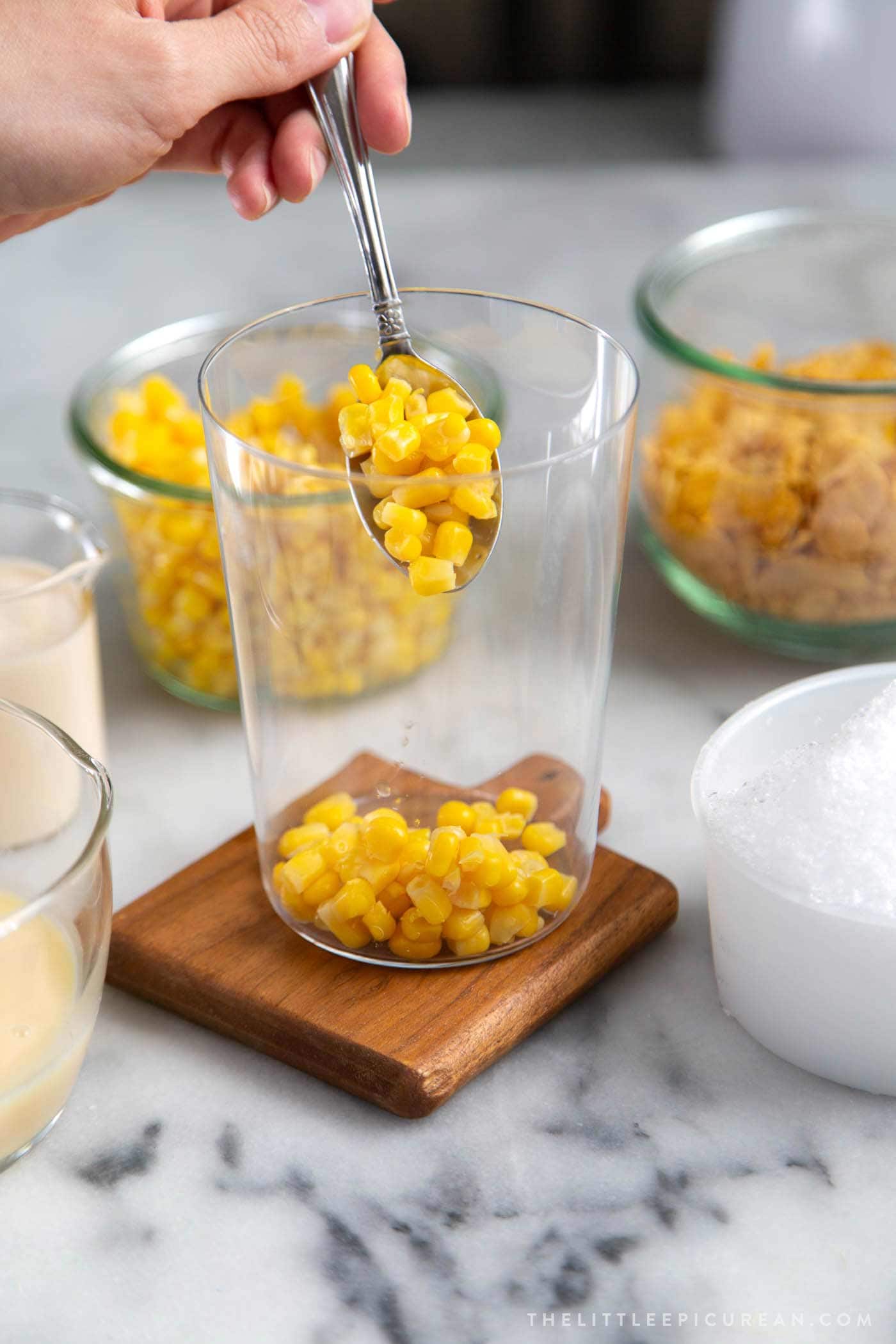 1. Add a couple tablespoons of corn kernels to the bottom of serving glass. No exact measurements. Add as much or as little corn as you'd like.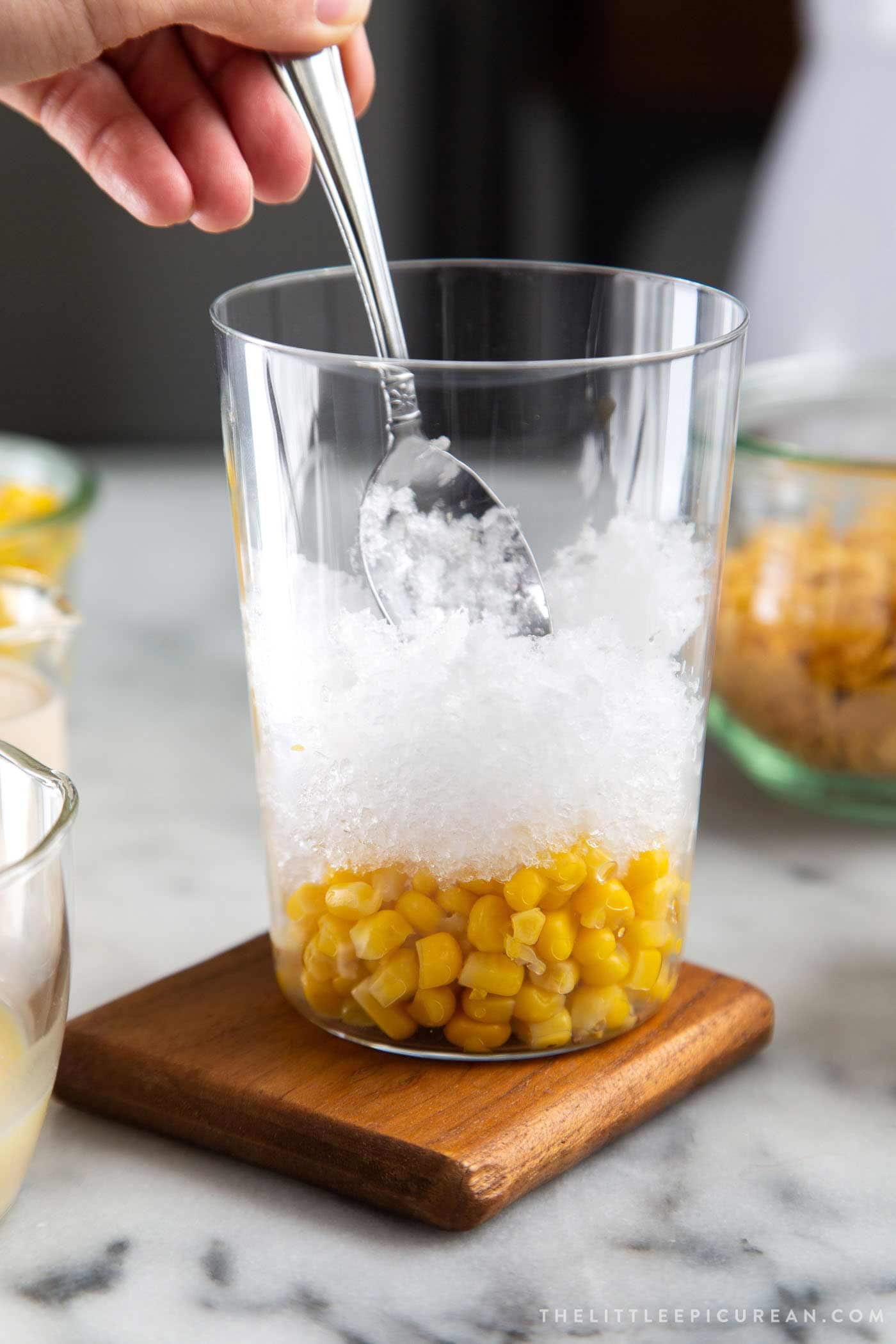 2. Add layer of shaved ice over corn. Keep the shaved ice soft and fluffy. Do not pack it in!
3. Drizzle about 1 to 2 teaspoons sweetened condensed milk over shaved ice. Once again, not an exact measurement. Use your judgement based on how sweetness preferences.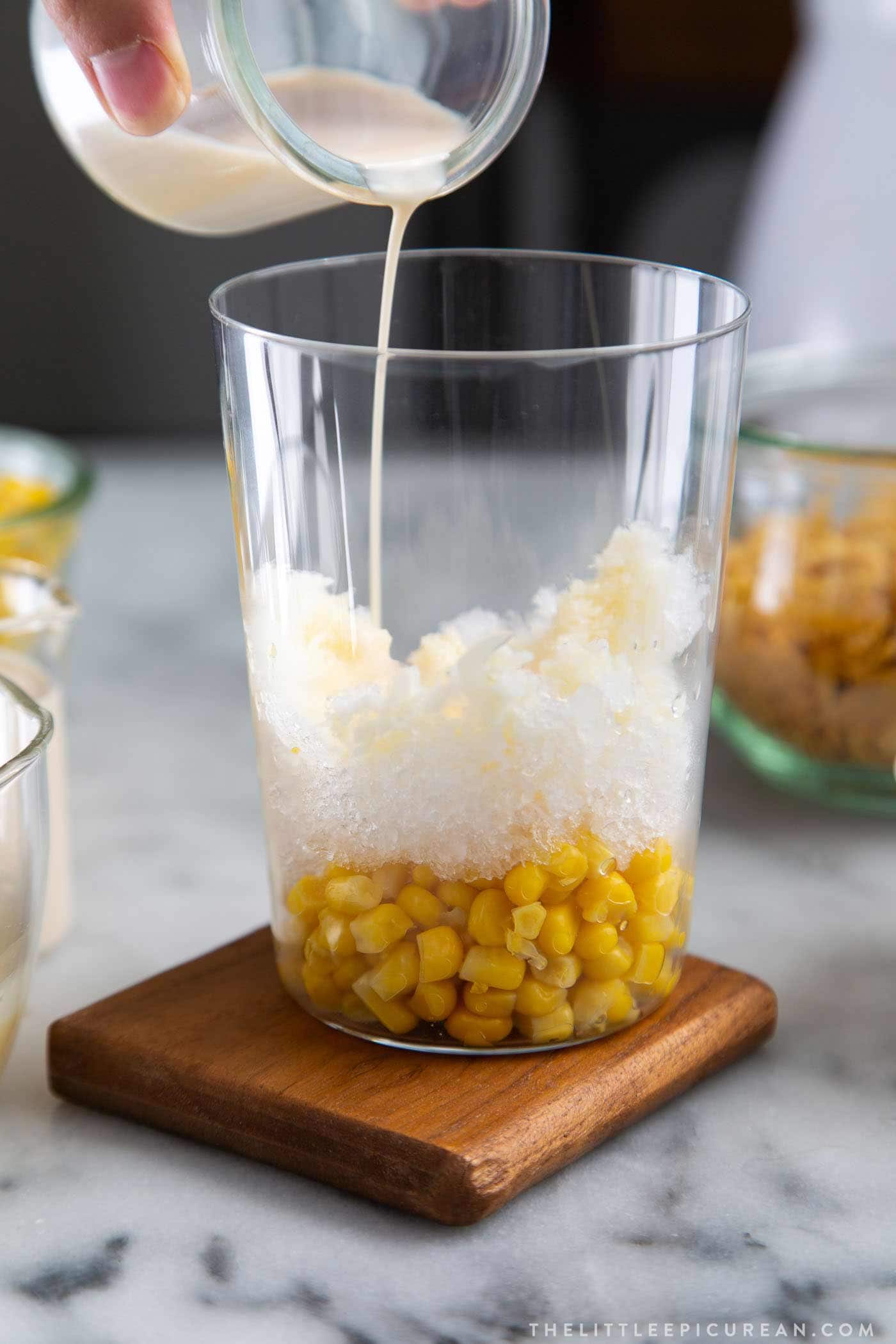 4. Pour in about 2 tablespoons of evaporated milk. Evaporated milk is sweeter than standard milk. It's also a little thicker. Add more milk to your liking.
NOTE: Asides from evaporated milk, you could use: regular milk (whole, reduced fat, etc), soy milk, oat milk, etc. It's best a sweet tasting milk. If you have a major sweet tooth, use half & half!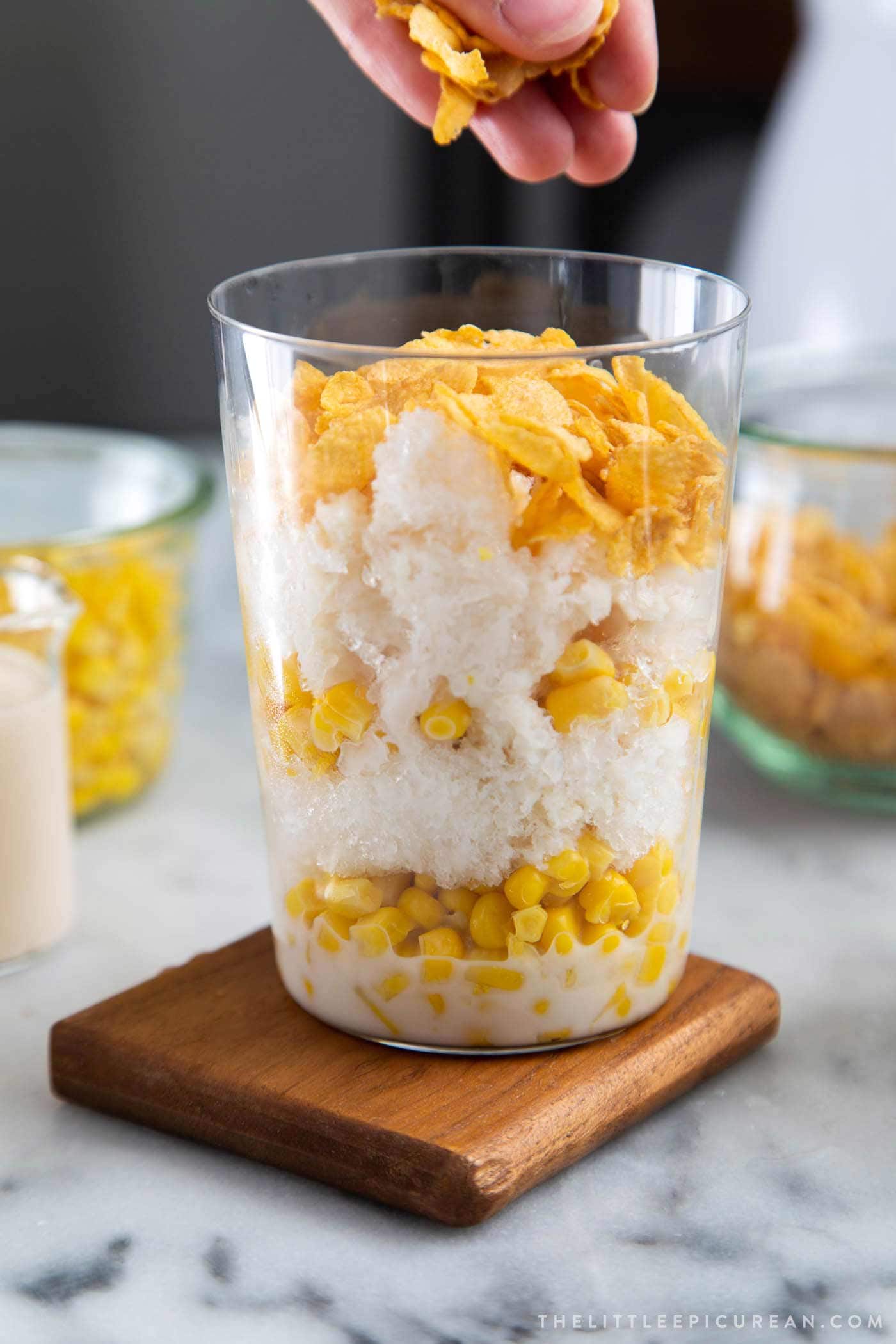 5. If desired, add another layer of corn, shaved ice, sweetened condensed milk, and evaporated milk. Otherwise, add a layer of corn flakes.
NOTE: For a sweeter treat, use Frosted Flakes cereal instead of corn flakes! Corn Pops or Kix cereal are also good options.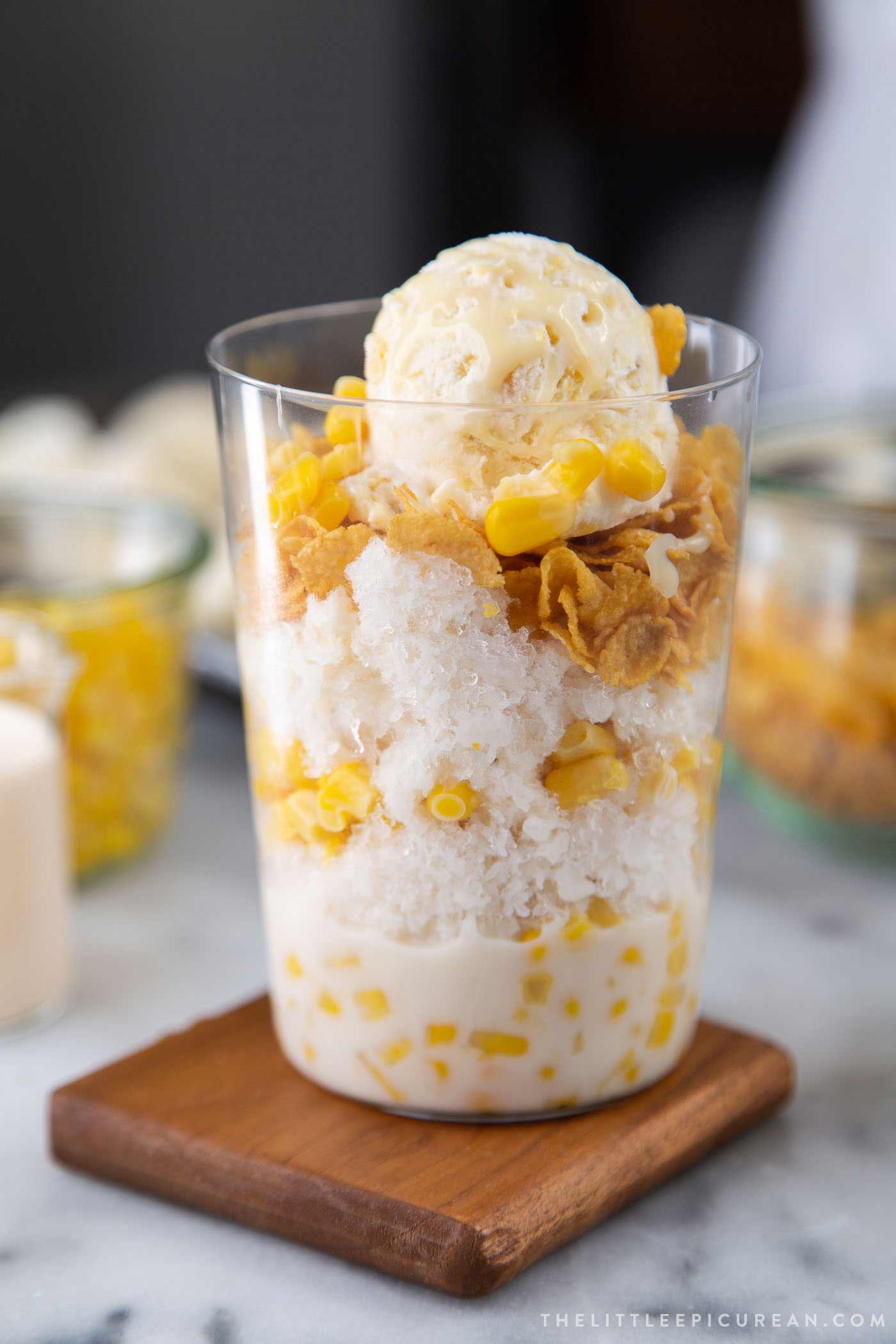 6. Top with a scoop of corn ice cream for the finishing touch! At this point, you could also drizzle a little sweetened condensed milk over the ice cream.
ENJOY IMMEDIATELY!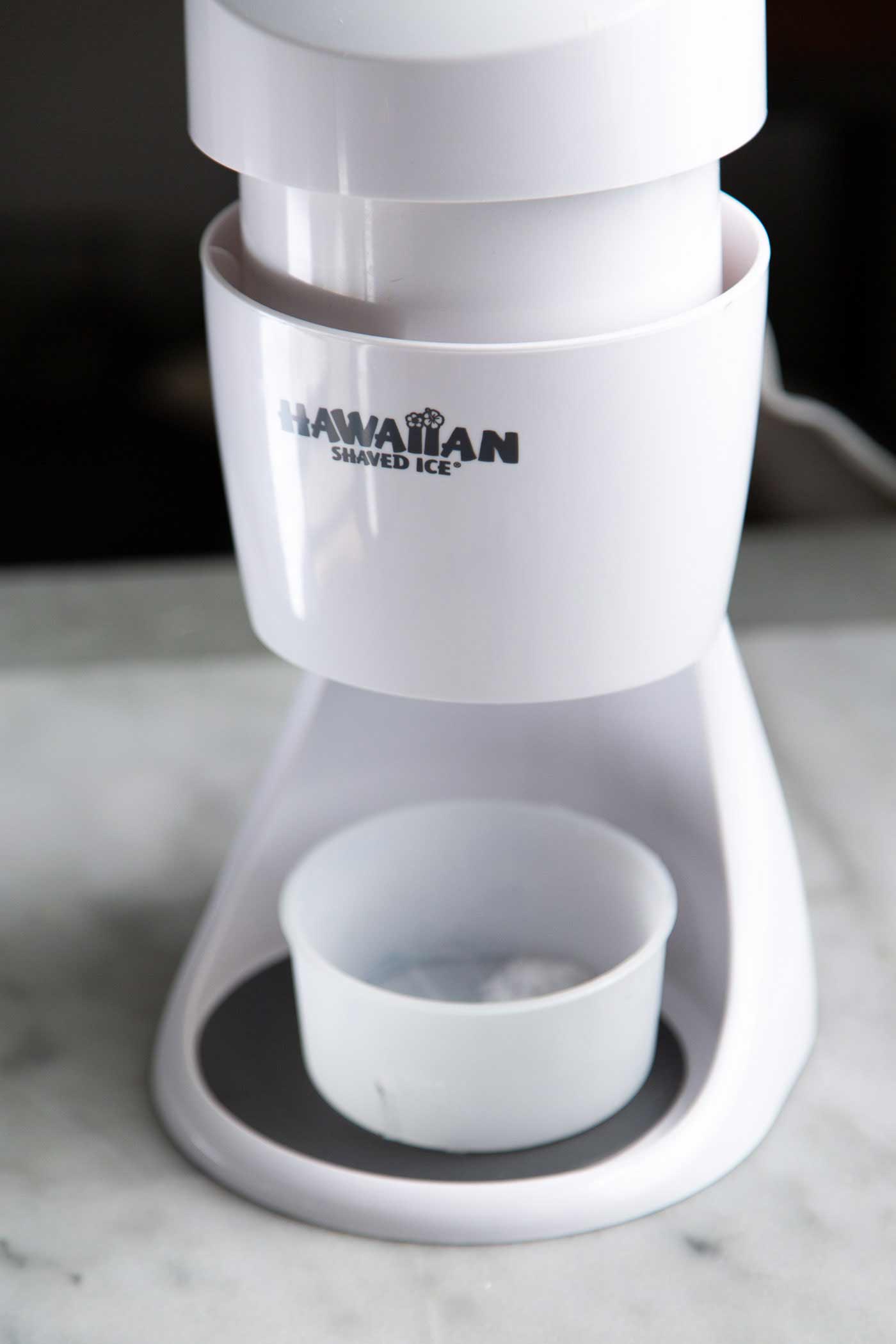 Recommended Ice Shaver Machine for Mais Con Yelo and other Filipino shaved ice desserts
I've had this electric ice shaver machine for several years. I use it weekly during the summertime months. Five years later and the machine is still going strong.
Use of the machine does require some preparation. The machine comes with a round ice tray that must freeze with water ahead of time. The round ice mold creates consistent fluffy soft shaved ice
However, if you want shaved ice in a hurry, you could simply add large ice cubes to the machine. This method will result in uneven shaved ice, but still effective.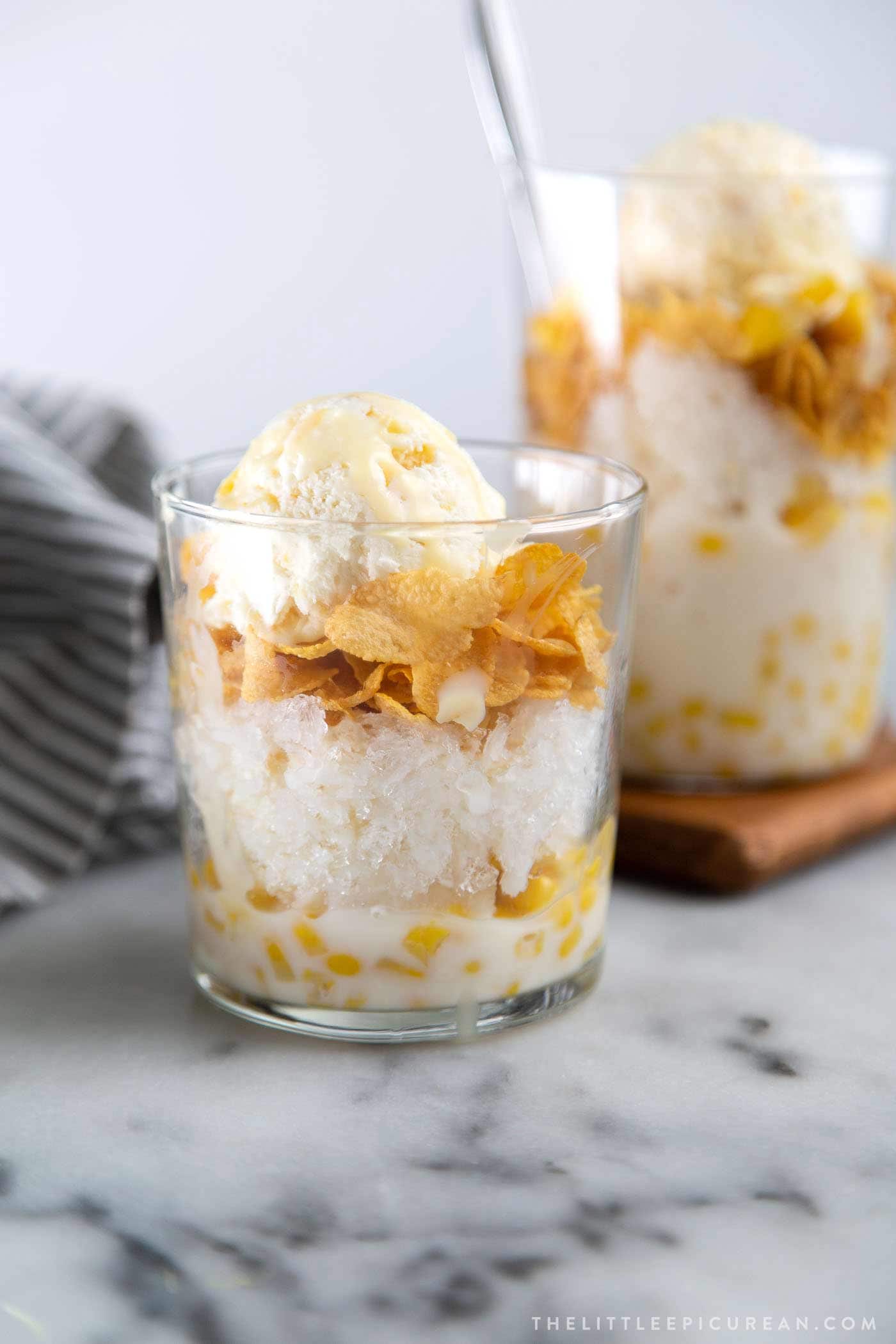 Can mais con yelo be prepared ahead of time?
Unfortunately, no. This is one of those a la minute desserts that should be enjoyed as soon as it is assembled.
You may prepare the different components ahead of time. Once assembled, you can't place the dessert in the freezer for later. The shaved ice will freeze into a solid block. The corn kernels will also freeze into an unpleasant mess.
How to eat mais con yelo?
Mix all the components together before taking bite. Or, dip the spoon all the way down to the bottom of the serving glass and gather little bits of each component.
There is no wrong way to enjoy this dessert…unless you don't finish. That would be wrong.
How to make Mais Con Yelo even better?
Similar to Halo-Halo, there are many options for additional mix-ins. Try adding one or a few of these to your mais con yelo:
canned creamed corn
sweet beans (like munggo)
slice of leche flan (Filipino creme caramel)
coconut gel (nata de coco) or macapuno (gelatinous coconut string)
caramel sauce
Filipino Mais Con Yelo
Yield: serves 1, multiply as needed
Ingredients
sweet corn,

canned or boiled fresh

shaved ice

sweetened condensed milk

evaporated milk,

or milk of choice

corn flake cereal
Instructions
In a serving glass, add a couple tablespoons of sweet corn. Top with shaved ice. Drizzle about 2 teaspoon sweetened condensed milk over ice. Pour about 2 Tablespoon evaporated milk over sweetened ice.

If desired add another layer of corn, shaved ice, and milk.

Otherwise, sprinkle corn flakes cereal over ice. Finish with a scoop of corn ice cream. If desired, drizzle additional sweetened condensed milk over ice cream. Enjoy immediately!
Recipe Notes
Use drained canned corn. Or, cook fresh cobs of corn and chill before use.
Evaporated milk is sweeter and slightly thicker than regular milk.

Use your choice of milk in place. Good alternatives are whole milk, half & half, a splash of heavy cream. Non-dairy alternatives such as soy milk and oat milk are also great options.

 Good substitutes for corn ice cream include: vanilla ice cream, corn & cheese ice cream (mais queso ice cream), coconut ice cream, or coconut almond chip ice cream.