These passion fruit rose popsicles are fun and tasty way to cool down during the summer. Rose wine is blended with passion fruit, pineapple, and strawberry.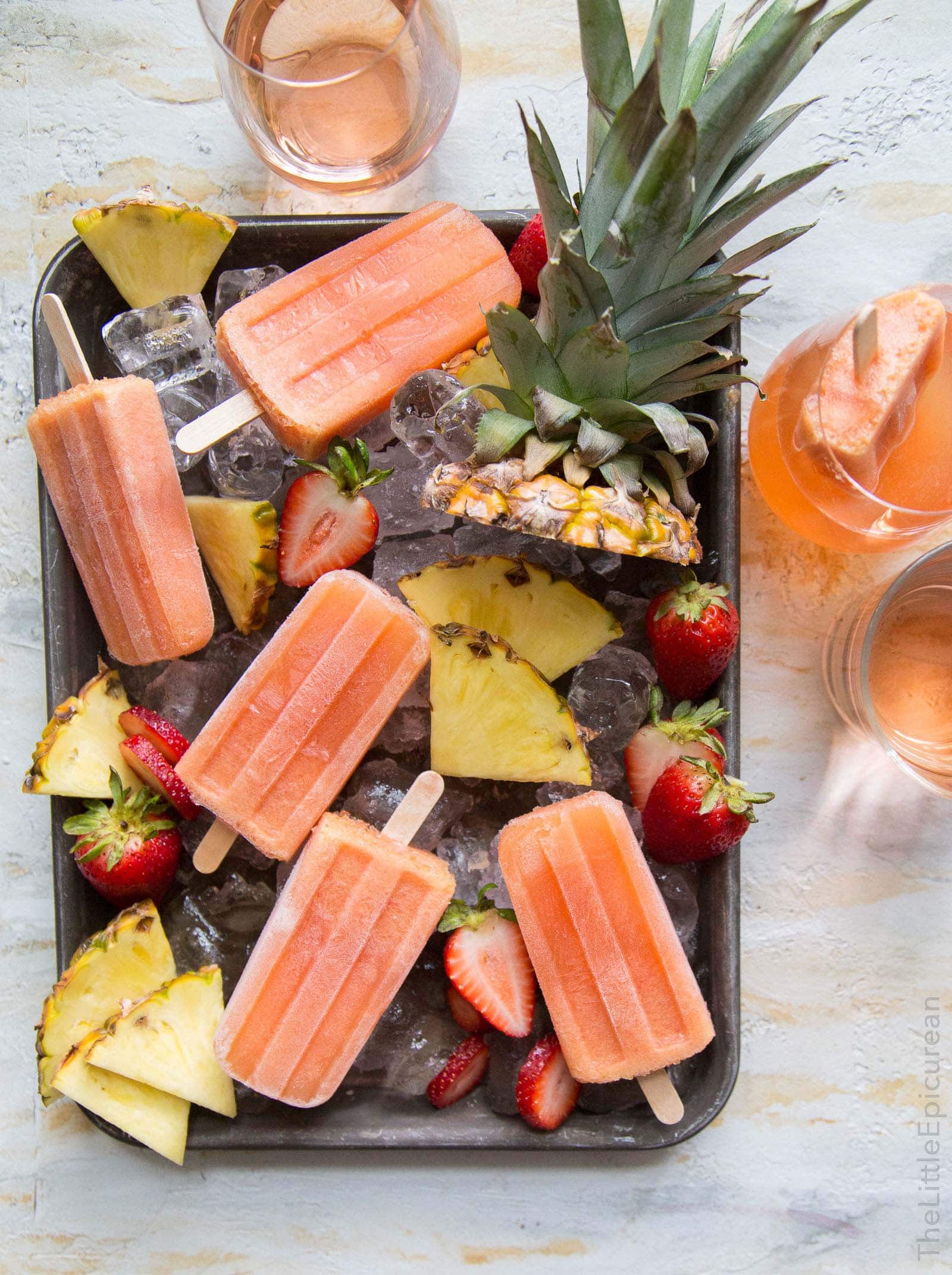 I just returned from Vegas where it was 114 degrees F at noon and 90 degrees at midnight. To say it was hot is the biggest understatement of the year.
It was so hot that I couldn't (wouldn't) lounge by the pool. I didn't want to melt outside. I stayed indoors all weekend in the super frosty air-conditioned hotel and I LOVED IT.
Immediately after Vegas, I jumped on another plane to head for the Big Island of Hawaii for a dear friend's bachelorette party! (I'm actually in Hawaii right now as I write this. Aloha!)
Popsicle Week!
I love summertime. Asides from travels and vacations, it's popsicle season! Billy of Wit & Vinegar is hosting another Popsicle Week!
Last year I made these kiwi coconut popsicles. The year before that I made these Pimm's popsicles. I'm back with another boozy ice pop- passion fruit rosé popsicles!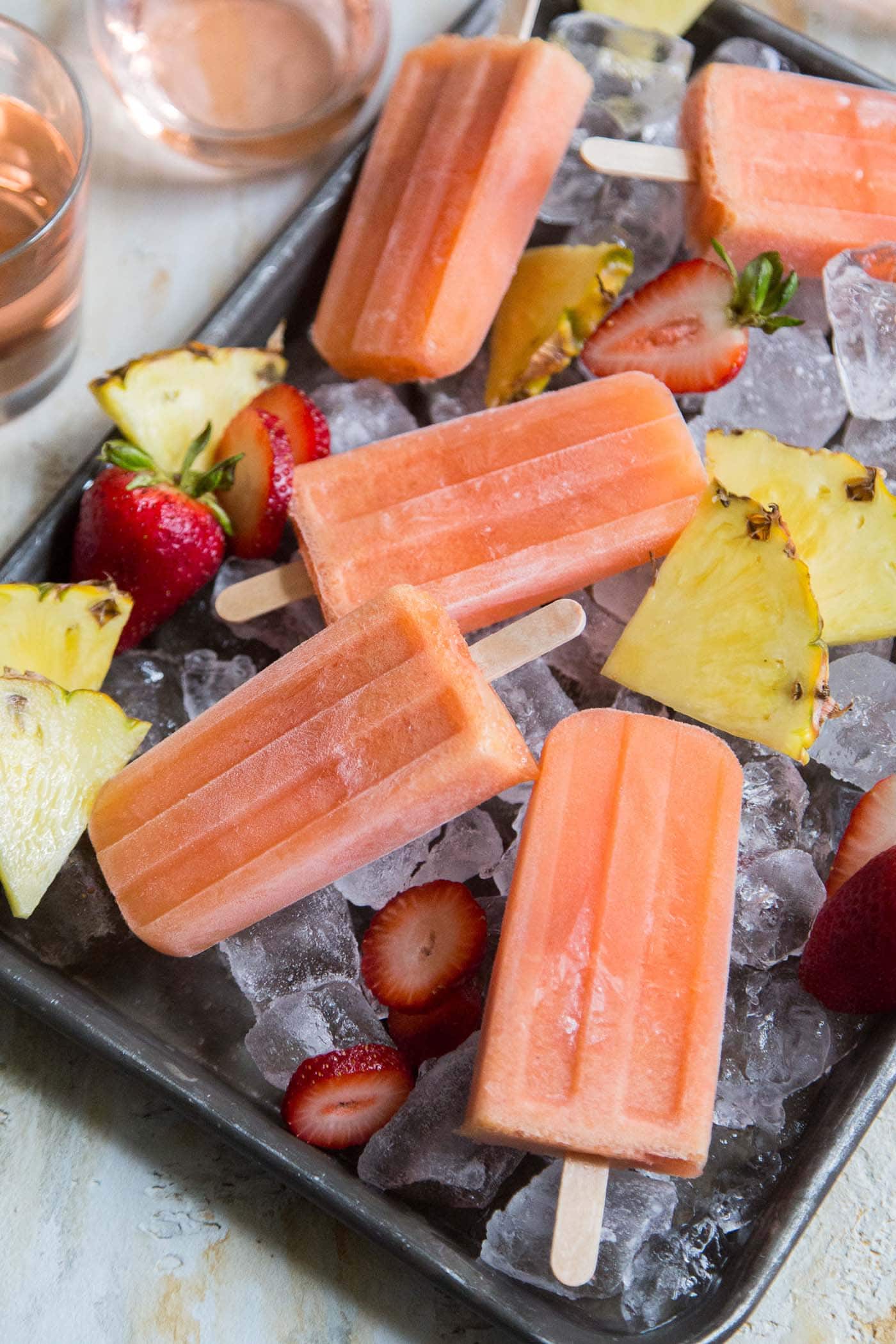 Passion Fruit Rosé Popsicles
This summer (and for every summer after that), you can drink your rosé and eat it, too!
I'm a big fan of boozy popsicles. They're so fun to share with friends poolside or while your just lounging around trying to keep cool from the summer heat.
These passion fruit rosé popsicles are the perfect combination of tropical flavors. Best of all, they're SO EASY to make.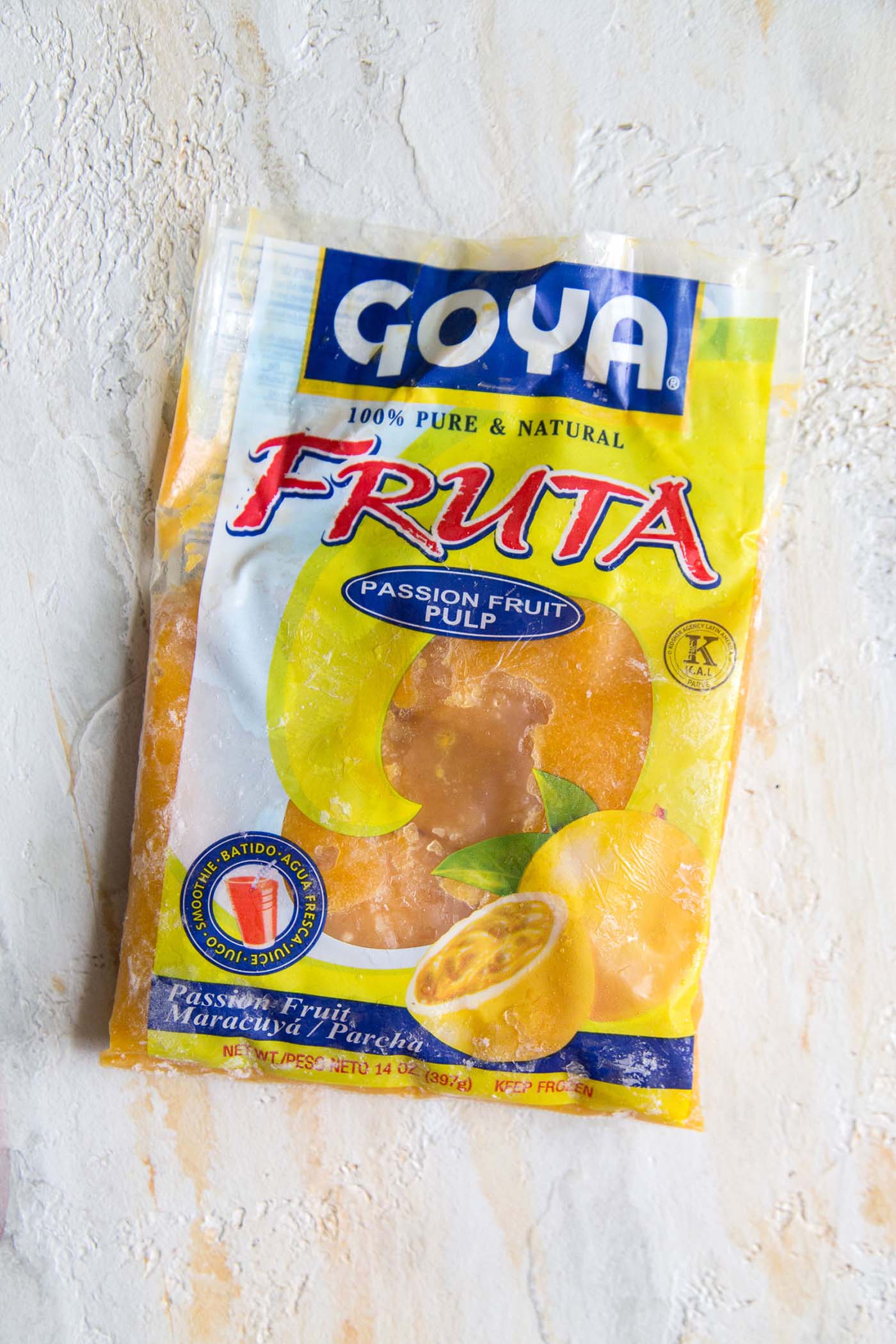 Passion Fruit (also known as lilko'i)
I loveeeee passion fruit. (aka liliko'i. aka super tasty tart tropical fruit.) When I can't find fresh passion fruit (because they can be hard to come by on the mainland), I use frozen passion fruit pulp.
The one photographed above is one of my favorites. It's ingredient list in simple: just passion fruit pulp. Look for the unsweetened pulp that's free of preservatives and other ingredients.
Passion fruit is tart and acidic. I added pineapples, strawberries, and some simple syrup to balance out the flavors. Paired with a dry rosé, it makes for one delicious cocktail. Rather than drink our sangria, let's eat it!
Simply combine all the ingredients in a blender and process until smooth. Pour the mixture into popsicle molds, giant ice cube trays, or small paper cups. Pop them in the freezer until the liquid is solid.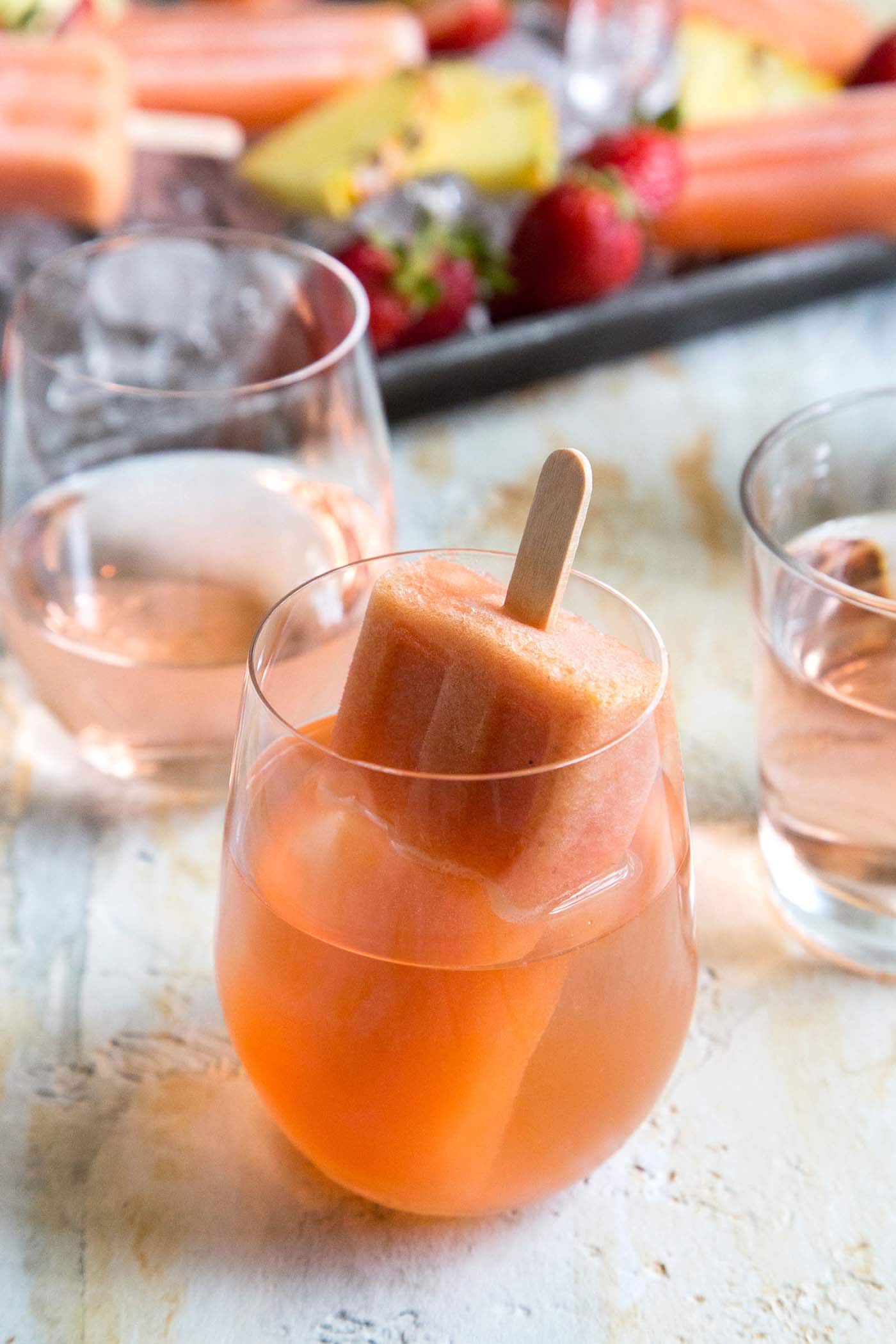 While these passion fruit rosé popsicles are more than enough on their own, you can definitely kick it up by serving it with a glass of chilled rosé.
Passion Fruit Rosé Popsicles
Yield: makes 10 popsicles
Ingredients
4

oz

passion fruit puree

1

cup

rosé wine

1/2

cup

frozen pineapple chunks

3/4

cup

frozen strawberries

1/3 cup + 3 Tablespoons

simple syrup*
Instructions
Combine passion fruit puree, wine, pineapple, strawberries, and simple syrup in a blender. Process until smooth.

Pour liquid mixture into the popsicle mold. Insert wooden popsicle sticks. Freeze for at least 6 hours until popsicles are solid.
Notes
To make simple syrup: bring to a boil equal parts water and granulated sugar. Once sugar has dissolved, remove from heat and cool to room temperature. Keep simple syrup chilled in the fridge until ready to use.
All images and text ©The Little Epicurean