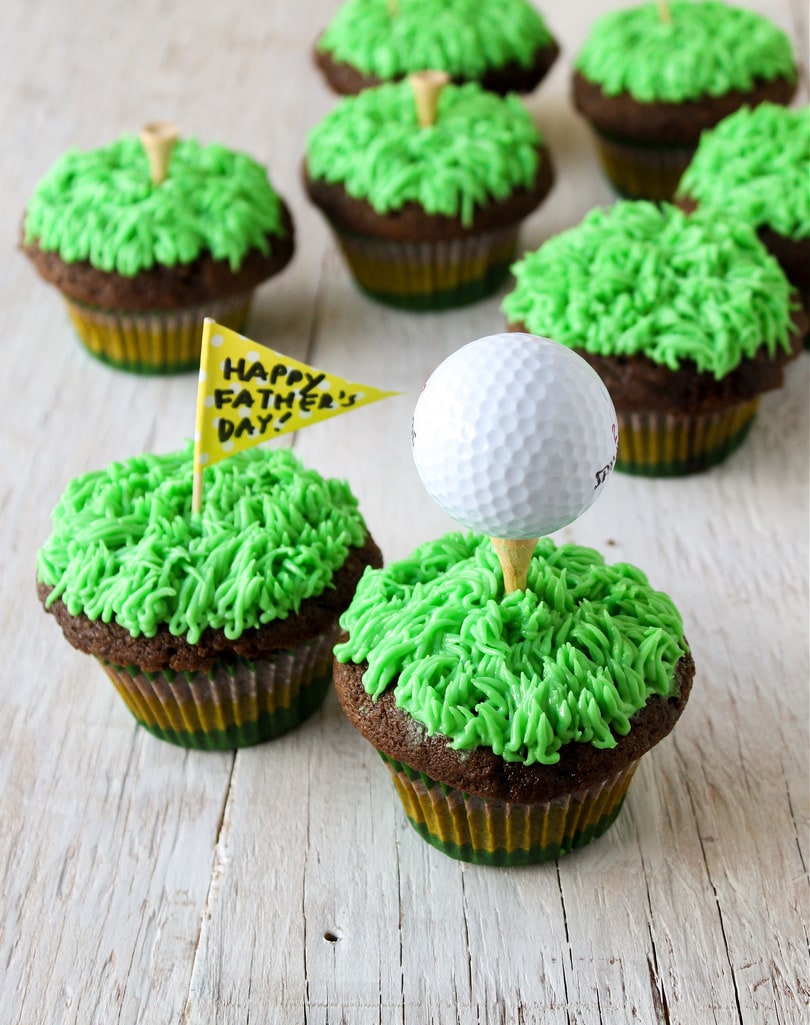 Whenever I go out to buy cupcakes, I notice that most of the other patrons happen to be women. However, is it safe to assume that women eat more cupcakes than men? I don't think so. I don't know many guys who can deny a cupcake. While some of my female friends tend to be picky with sweets, most of my male friends will eat whatever cupcakes I happen to leave unattended on the kitchen table.
Father's Day is this Sunday. How will you be celebrating? Perhaps with these golf inspired mocha cupcakes?

This is a nice festive cupcake that can be served at multiple events and occasions. It is not limited to Father's Day and golf fans. Using the same grass frosting, you can transform it into a garden by adding flowers or add a soccer ball/baseball/football to change the sport. Regardless how you choose to decorate it, these cupcakes are fun, whimsical and will surely delight its recipients.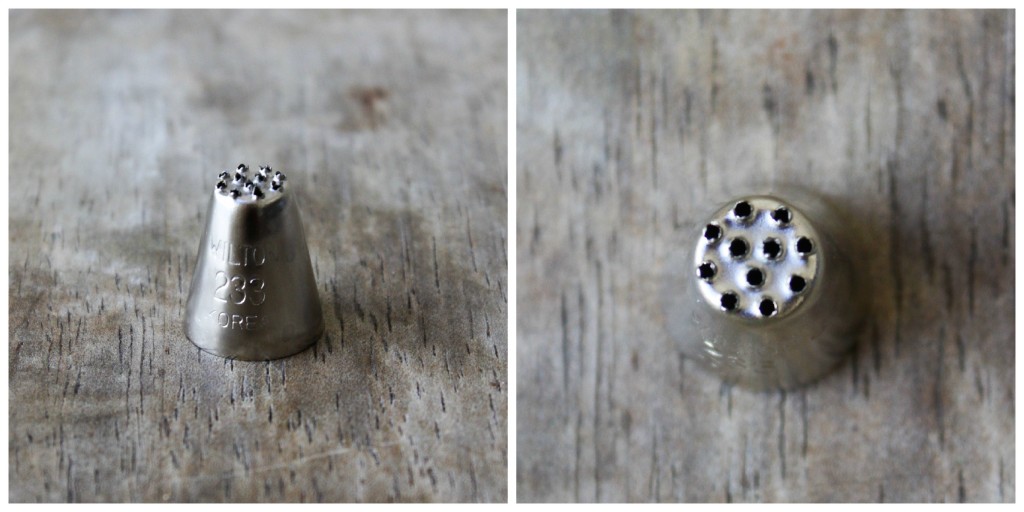 While you can use any cupcake flavor and frosting of your choice, I opted for a dark and rich mocha cupcake accompanied with a smooth and velvety cream cheese frosting. The magic of the cupcake is in the texture and illusion of the grass. This is done by using a special Wilton piping tip (Wilton 233). I wanted to the grass to look playful and vibrant, so I used Americolor electric green food gel coloring. Liquid food coloring works too, but be careful not to add too much to cause your frosting to get watery.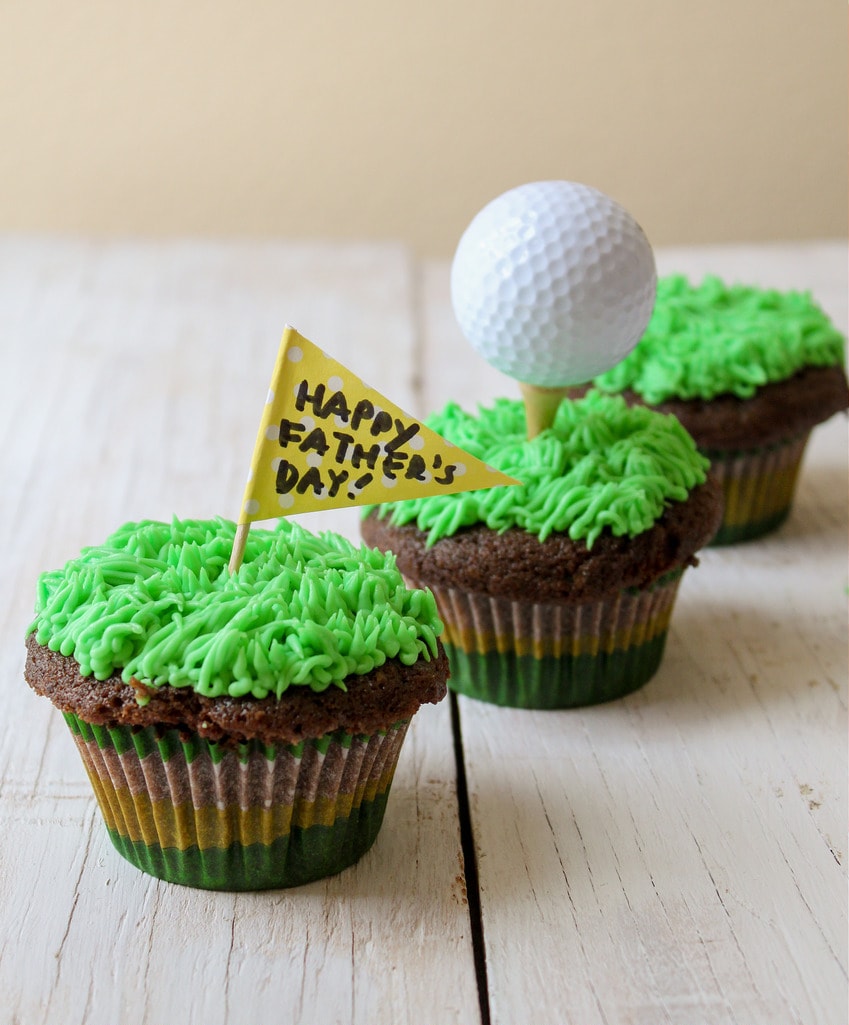 My family does the same thing every year for Father's Day; we take my dad to his favorite restaurant in Costa Mesa. It's a small place that is always packed to the brim with a line of hungry people out the door. Since they don't take reservations, we arrive an hour before opening to stake our claim and ensure a table for dinner. Once seated at the tiny table, we try out best to cram into the tight booth and try hard not to keep bumping elbows. It may seem uncomfortable, but it is some of the best moments I can remember together as a family. Nobody fights, no one is silent, everyone eats, everyone smiles and we all leave happy and full. No need to order dessert at the restaurant because we'll have these cupcakes waiting for us at home.
Happy (early) Father's Day!
Mocha Cupcakes
Ingredients
1

cup

cake flour

1

cup

all-purpose flour

3

Tbsp

unsweetened cocoa powder

2

tsp

baking soda

½

tsp

kosher salt

½

cup

unsalted butter

room temp

1 ½

cup

light brown sugar

packed

2

large eggs

room temp

1

tsp

pure vanilla extract

½

cup

sour cream

room temp

¾

cup

strong espresso

room temp

1

Tbsp

instant espresso powder
Cream Cheese Frosting:
1

cup

unsalted butter

softened, room temp

4

oz

cream cheese

softened, room temp

3

cup

confectioners' sugar

sifted

green food gel coloring

as needed
Instructions
Cupcakes:
Preheat oven to 325 °F. Line muffin tin with paper liners or grease.

In a medium bowl, combined cake flour, all-purpose flour, cocoa powder, sea salt, and baking soda. Sift all dry ingredients together and set aside.

In the bowl of a stand mixer fitted with a paddle attachment, cream butter. Once smooth, add brown sugar and mix until incorporated. Add eggs one at time on low speed. Scrape down sides of bowl as needed.

On low speed, add the flour mixture in three additions, alternating with sour cream. Mix on low speed until combined.

In another bowl, whisk together vanilla, brewed espresso, and espresso powder. Add to batter slowly until incorporated.

Divide batter between cupcake liners, filling each cup about ¾ full. Bake in preheated oven for 20-25 minutes until a toothpick inserted in center of cake comes out clean. Remove cupcakes from tin and allow to cool on wire racks. Once cooled to room temperature, cupcakes are ready for frosting.
Cream Cheese Frosting:
In the bowl of a stand mixer fitted with a paddle attachment, cream together butter and cream cheese until smooth. Add sifted powdered sugar one cup at a time. Beat on medium speed until thickened and smooth. Add a couple drops of green food gel. Mix to incorporate.

Transfer frosting to a piping bag fitted with a Wilton 233 tip. Pipe grass onto cooled cupcake. Decorate with wooden golf tee and golfball. If golf tee is sinking to the bottom of the cupcake, try letting the frosted cupcake chill in the fridge to stiffen a little.